Bumgarner is a Royal pain in Series opener
Giants' ace delivers gem, improves to 3-0 with 0.41 ERA in Fall Classic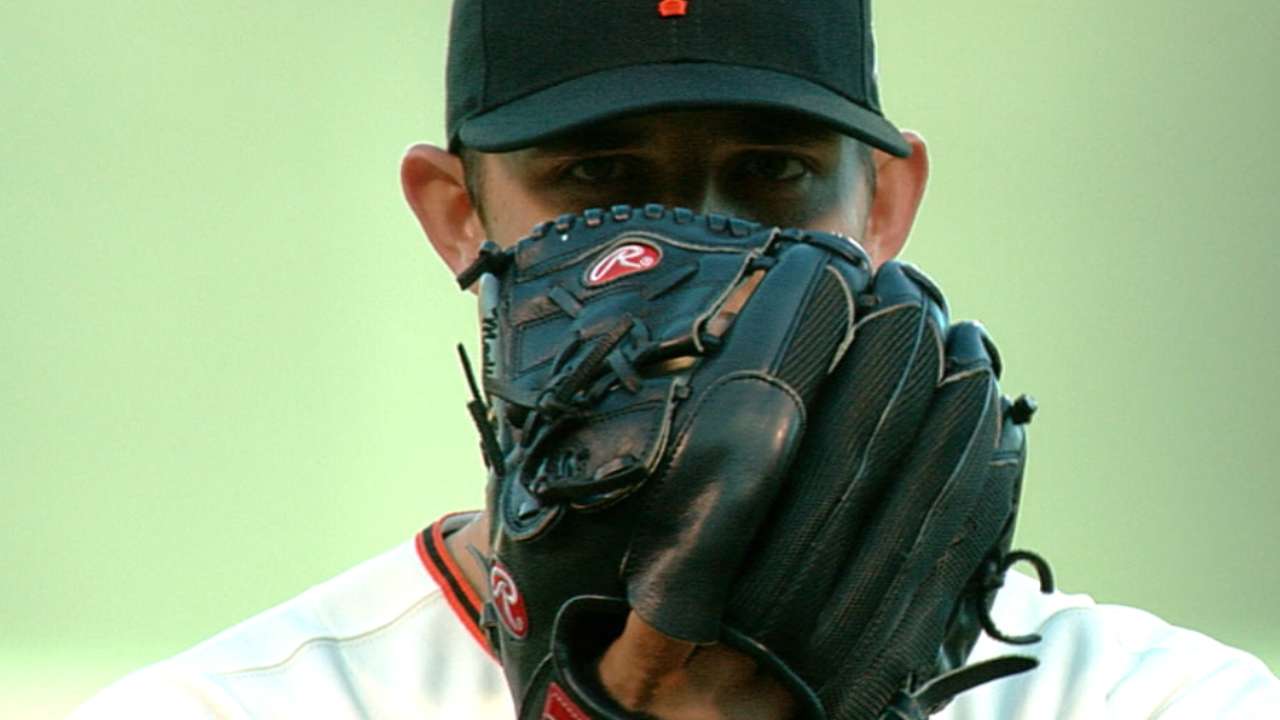 KANSAS CITY -- The Giants have this pitcher, Madison Bumgarner, and he's pretty darn good. He's had an ERA under 3.00 in each of the last two seasons and made the All-Star team both times.
The Giants have another pitcher who shows up in the World Series who looks just like him and answers to the same name. But this Madison Bumgarner isn't just really, really good. He's practically unhittable. That guy allowed just three hits and one run in seven innings on Tuesday night as the Giants beat the Royals, 7-1, in Game 1 of the World Series at Kauffman Stadium.
When Bumgarner gave up a home run to
Salvador Perez
in the seventh inning, it was the first run he'd allowed in the Fall Classic after 21 straight scoreless innings dating back to his World Series debut in 2010. That's the second-longest stretch to start a career behind Hall of Famer Christy Mathewson, who reeled off 28 straight scoreless innings in World Series play.
In three career World Series starts, Bumgarner is 3-0 with an 0.41 ERA.
The Giants insist that these two Bumgarners are actually the same guy.
"I think he's a guy who is able to elevate his game. He's extremely competitive, even in the regular season," said catcher Buster Posey. "So to say he's a different pitcher, I don't know if that's fair, because I think he's giving everything he's got each start."
Added San Francisco's Game 2 starter Jake Peavy: "I think the guys who have success in the postseason treat it a lot like the regular season. Madison doesn't do anything different. This is a special kid. Great game plan. The biggest thing with Madison is he doesn't care. He's not rattled by any crowd participation. He's not rattled by the situation in the game. He's just going to make his next pitch."
Bumgarner shrugged off questions about his dominant performance.
"I felt pretty good," he said casually. "It was just about going out and making pitches and executing. I know that's a boring answer, but for me, that's all it is.
"I'm just trying to make pitches and take all that other stuff and push it aside and concentrate on moving the ball around, getting ahead, getting outs and getting us back in the dugout."
The only time the Royals managed a real threat came in the third inning. Omar Infante led off by reaching on a fielding error by shortstop Brandon Crawford and Mike Moustakas doubled down the right-field line to leave runners on second and third with nobody out.
"He's got that ability, when things get a little hairy, to take it up a notch," Posey said.
Bumgarner struck out Alcides Escobar and Nori Aoki and then, after walking center fielder Lorenzo Cain, got cleanup hitter Eric Hosmer to ground out, ending the inning and keeping the scoreless streak alive.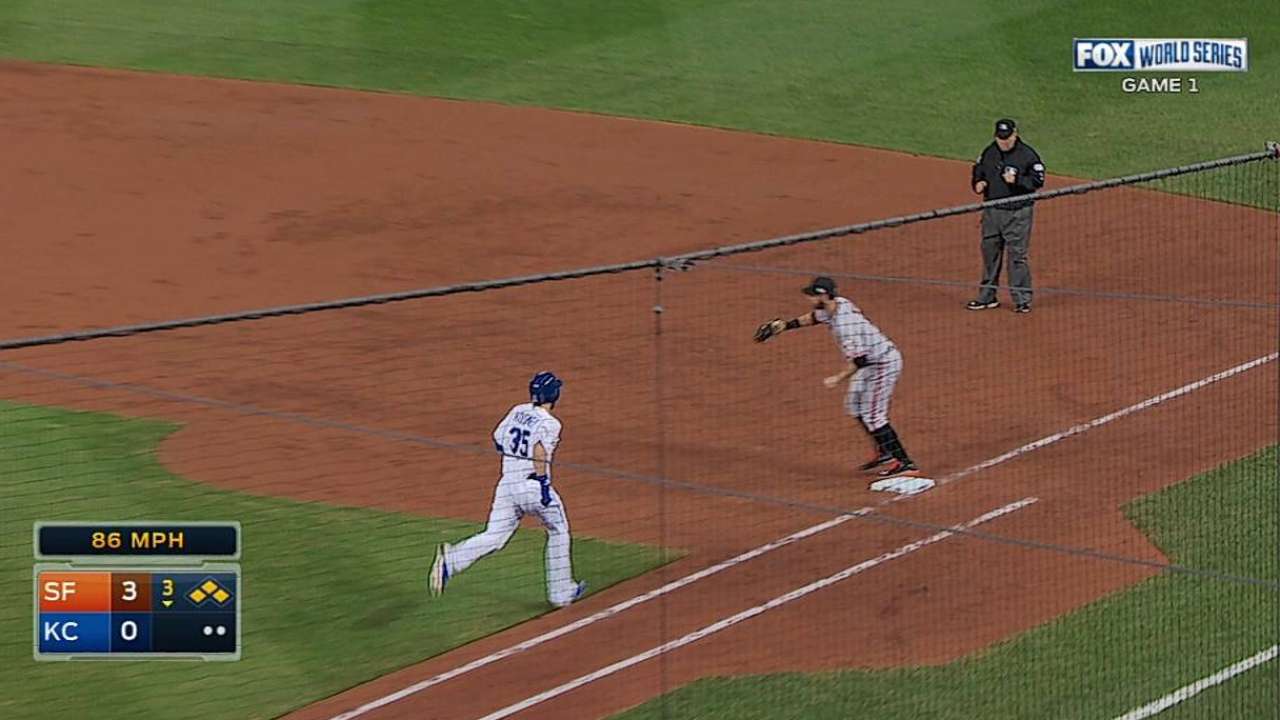 • Video: Bumgarner escapes a jam
"That's tough, but you've got to keep going," Escobar said. "I was looking for fastballs. I'm not going to look for curveballs or sliders or anything. The pitch I hit best is the fastball. He threw me a slider, and I hit a foul ball. Then he threw me a slider for a strike, fouled it after that, and then I struck out [on a fastball]. His ball moves a little bit. It's not as easy as it looks.
"When Aoki struck out, I said, 'Wow, that guy is tough.' Because Aoki doesn't strike out much."
"It changes everything," Hosmer said of grounding out in that situation. "It's considered a cutter; it looks more like a slider because he can really slow it down. That's one of his key pitches. You see it the whole way and then, when you go to swing, it has that bite going away from you. That's what makes him so good."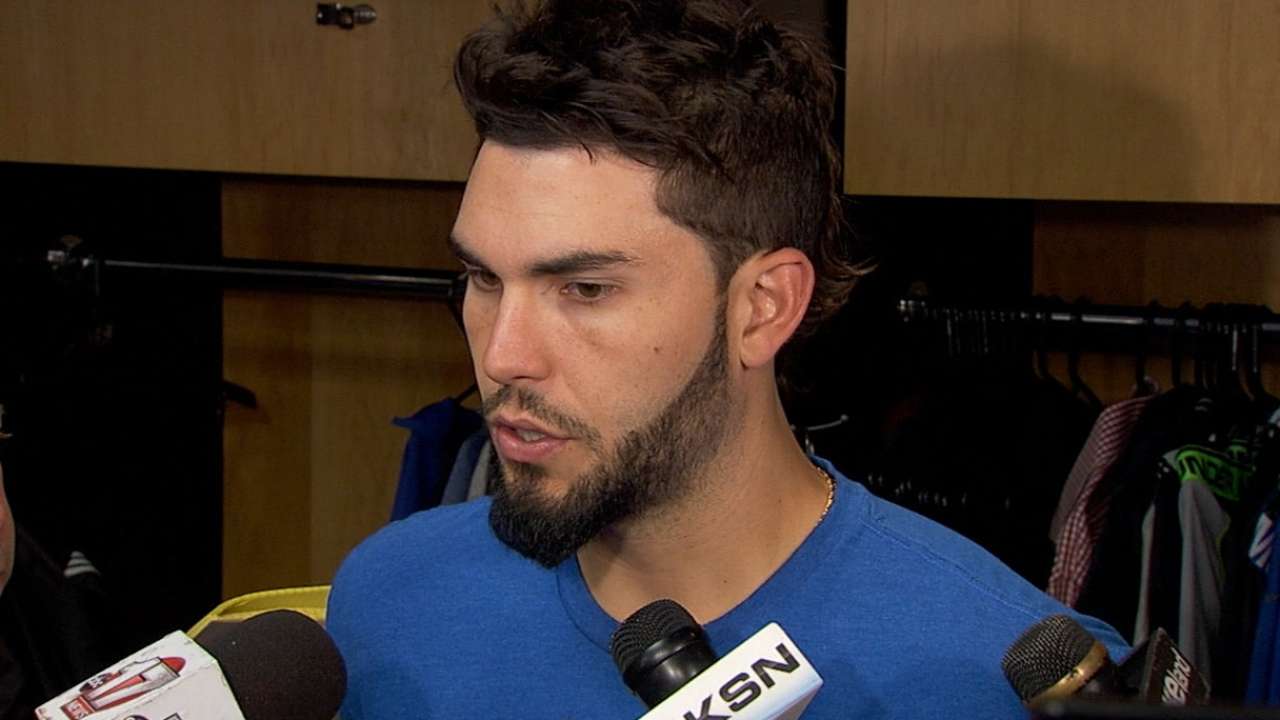 • Video: Hosmer on Bumgarner's performance
Said Bumgarner: "Those strikeout situations, we were going for them and trying to keep them off the board. One of my favorite things to be able to do in baseball is to work through a situation like that one.
"It's tough not to pay attention to a streak when you've got it going. I don't care. I'm not here to try to set records and keep streaks going and whatever, but you do know about it. A World Series game is not something you exactly forget about, so you remember what they were."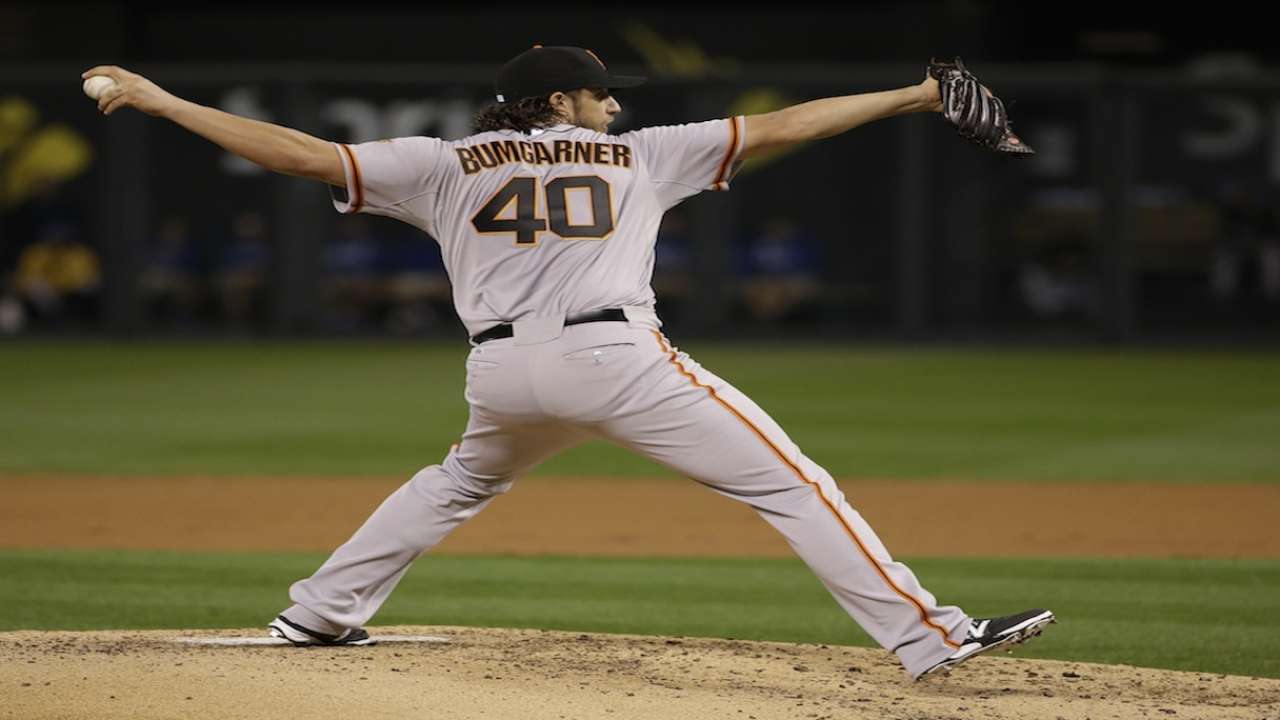 • Video: Bumgarner on his scoreless streak
Peavy also noted Posey's role.
"A lot of times Buster doesn't get the credit he deserves," he said. "Watch the game. You see the special makeup he had and how impactful a catcher can be. Bum deserves every bit of the credit. I'm not taking anything away from him. I'm just telling you you're throwing the right pitches, for the most part, because of Buster's intelligence."
In the first inning, with Cain on first and two outs, Hosmer drilled a long drive to center field that Gregor Blanco ran down on the warning track, which also might have saved a run.
"Huge," said Royals manager Ned Yost. "And [the third inning] was the biggest one. After [the double], we didn't have any opportunities to do anything from that point. He just held us down and did a really good job of getting out in front, throwing strikes with really, really good stuff. We just couldn't do anything with him."
The great stuff included a mid-60s curve that even Posey didn't know was coming.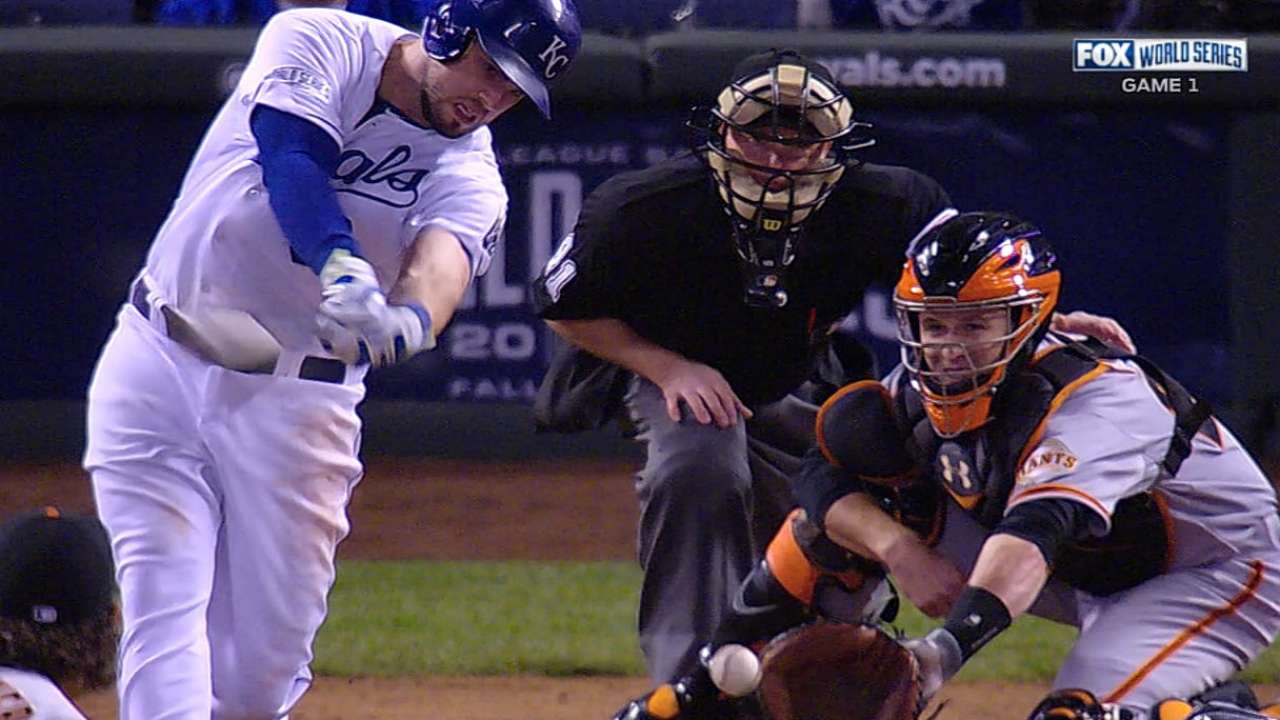 • Video: Bumgarner takes something off
It didn't hurt, of course, that Bumgarner had a 3-0 lead before he took the mound and that the Giants tacked on two more in the fourth and another pair in the seventh.
"He's just changing speeds with the curveball," Posey said. "He's mixed it in throughout the year."
And it's not just the World Series that brings out the best in Bumgarner. He's made five starts this postseason and gone at last seven innings in each of them. The National League Championship Series MVP has a 1.40 ERA in those games. In his career, Bumgarner has given up three earned runs over 39 2/3 innings (0.68 ERA) on the road during the postseason.
So, yeah, there's only one Madison Bumgarner. Right now, in the postseason, he's one of a kind.
Paul Hagen is a reporter for MLB.com. This story was not subject to the approval of Major League Baseball or its clubs.