Giants showcase stellar defense against Royals
Crawford's error in Game 1 of World Series is first by SF position player since NL Wild Card Game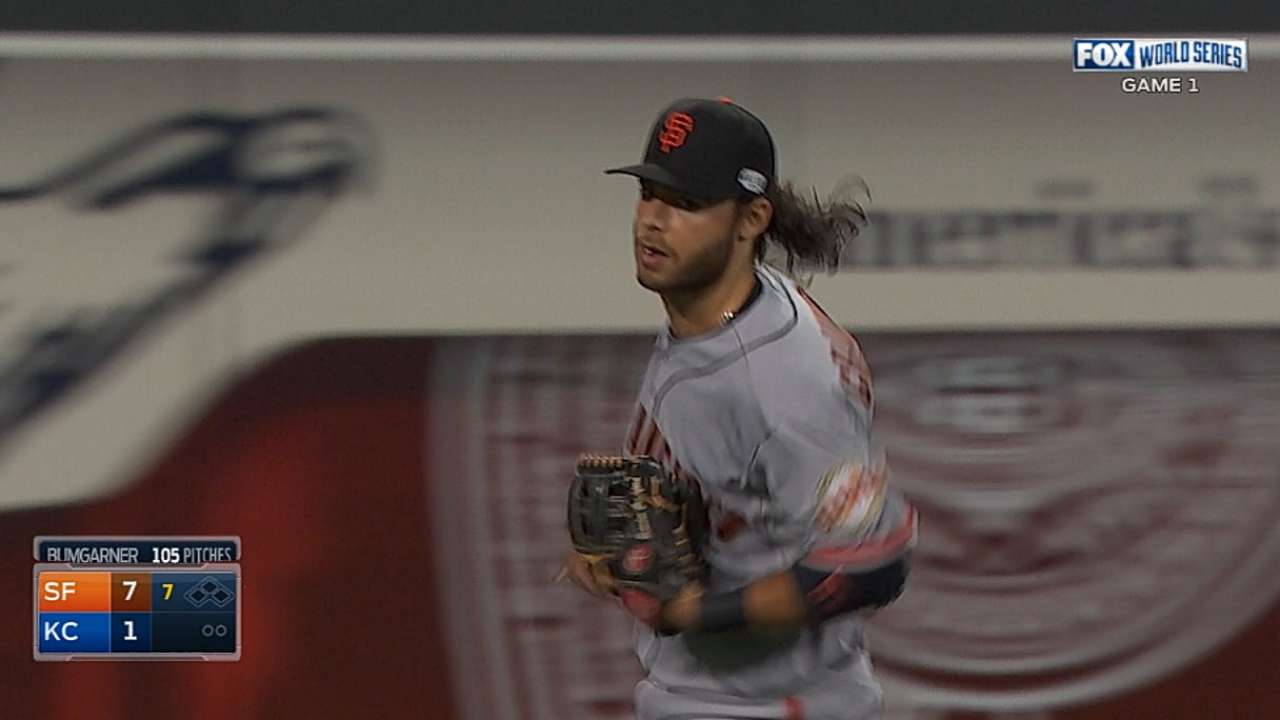 KANSAS CITY -- The most unsung aspect of the Giants' success is how well they play defense. Alas, when shortstop Brandon Crawford booted a grounder softly hit by Royals second baseman Omar Infante to open the bottom of the third inning on Tuesday night, it was the first error by a San Francisco position player since the National League Wild Card Game on Oct. 1.
That's a period of 20 days.
"Which was probably also made by me," Crawford said after the Giants' 7-1 win in Game 1 of the World Series at Kauffman Stadium behind seven innings of three-hit, one-run pitching by left-hander Madison Bumgarner.
Actually it was. Crawford and Joaquin Arias both made errors during that lopsided victory over the Pirates at PNC Park. Since then, Bumgarner made a throwing error on a bunt that cost the Giants their only loss against the Nationals in Game 3 of the NL Division Series and the team was flawless in its five-game win against the Cardinals in the NL Championship Series.
Those outside San Francisco are starting to notice.
"Our defensive play probably gets overlooked a little bit," Crawford said. "I've been asked that a lot recently, so maybe it's starting to get noticed a little bit more. It seems like our team kind of gets overlooked on a national level. I don't know if it's just defense or it's our entire team in general."
And that brings us back to Game 1 of the World Series. Sure, Crawford committed that error, leading to the one big threat the Royals mounted against Bumgarner. But the Giants made several fine defensive plays throughout the game to ensure the victory.
During the third inning in question, Mike Moustakas followed with a double, putting runners on second and third with none out. Bumgarner then dug in, striking out Alcides Escobar and Nori Aoki. Lorenzo Cain walked to load the bases. On the next pitch, Eric Hosmer grounded out.
"I was definitely breathing a little sigh of relief after that," Crawford said. "I would have felt terrible if that [error] had made a big difference in the game. He's such a big-game pitcher. He always seems to work out of those situations."
Bumgarner himself snared a line drive off Aoki's bat for the second out of the first inning. Later, he turned a key double play on ball hit back to the box by Salvador Perez to end the second. And later still, Bumgarner knocked down Hosmer's shot toward the mound with his glove, scurried for the ball and easily threw him out at first to end the sixth.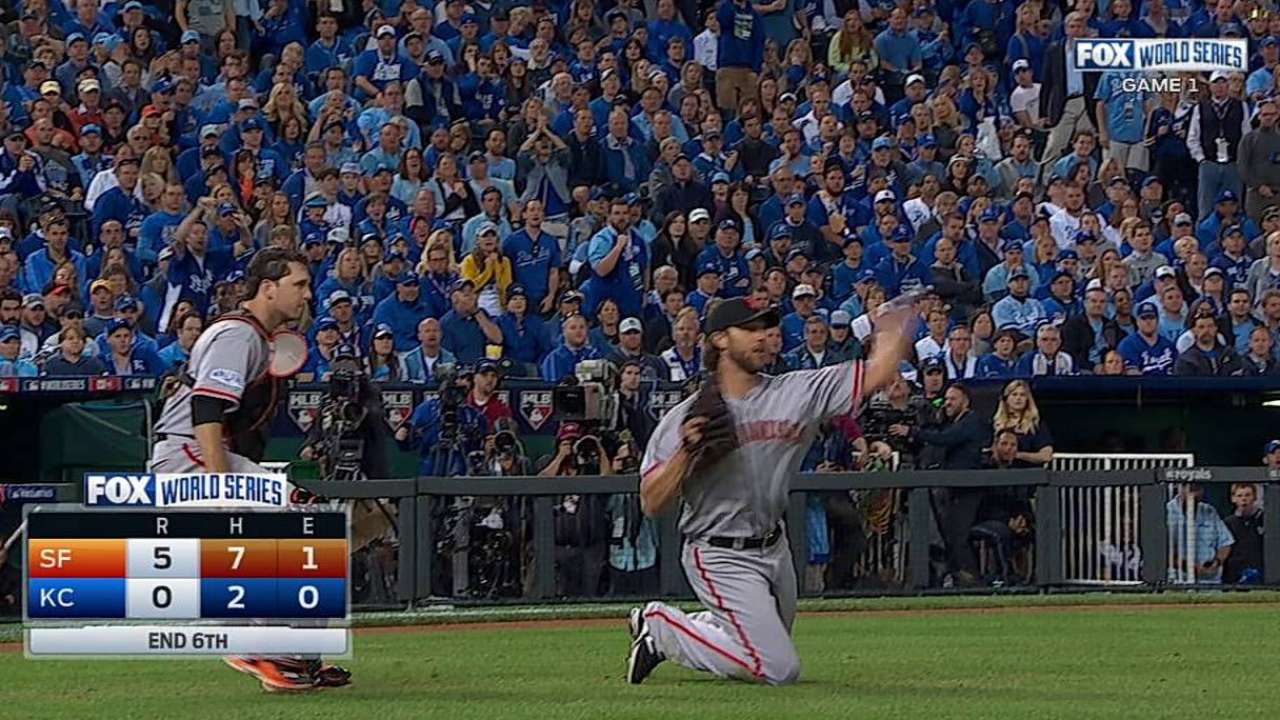 • Video: Bumgarner recovers for the out
"It wasn't really special," Bumgarner said about that trio of defensive plays. "I'd prefer them to not hit it back at me, but that's the way the game goes. So you've got to be ready for them."
And let's not forget the great running one-handed snare center fielder Gregor Blanco made on Hosmer's jolt toward the right-center-field fence that ended the first inning. Had any one of those plays not been made, the outcome certainly could have changed.
And Kansas City is supposed to be the team renowned for its defense.
"Do I think the [Giants are] comparable? Absolutely, I absolutely do," Royals manager Ned Yost said. "That play Blanco made on Hosmer, I didn't think there was any way he was going to catch that ball. And he ran it down and caught it, fairly easily. But it was a spectacular play."
Let's let Blanco explain it. He just seemed to keep going and going and going.
"And all of a sudden, I found the ball," Blanco said. "I didn't think I was going to catch it at first. But I was able to keep running and I never gave up. I made the catch, and I knew at the moment it was huge for Bum so he could keep throwing his pitches and stay confident doing it. That's what I like to do when I do stuff like that."
The Giants have now won seven World Series games in a row, dating to Game 3 of the 2010 Fall Classic they won in five games over the Rangers, and nine out of 10 overall. The streak also includes a sweep of the Tigers in the World Series two years ago. In those seven consecutive wins, San Francisco has made only three errors.
Defense is certainly a big part of the winning equation.
"Yeah, well, it's such an important part of the game," Giants manager Bruce Bochy said. "We're a team that leans on our pitching and our defense. They go hand in hand. These guys have done a great job defensively, especially late in September and through this postseason. We have some gifted defenders, and Crawford is right up there at the top for me. Sure, he made an error, but these guys have really done a great job of concentrating on their defense. And that wins games for you. You hope to score enough runs, but it's pitching and defense."
Barry M. Bloom is a national reporter for MLB.com and writes an MLBlog, Boomskie on Baseball. This story was not subject to the approval of Major League Baseball or its clubs.