MLB.com Columnist
Mike Bauman
And away they go: SF, MadBum keep winning on the road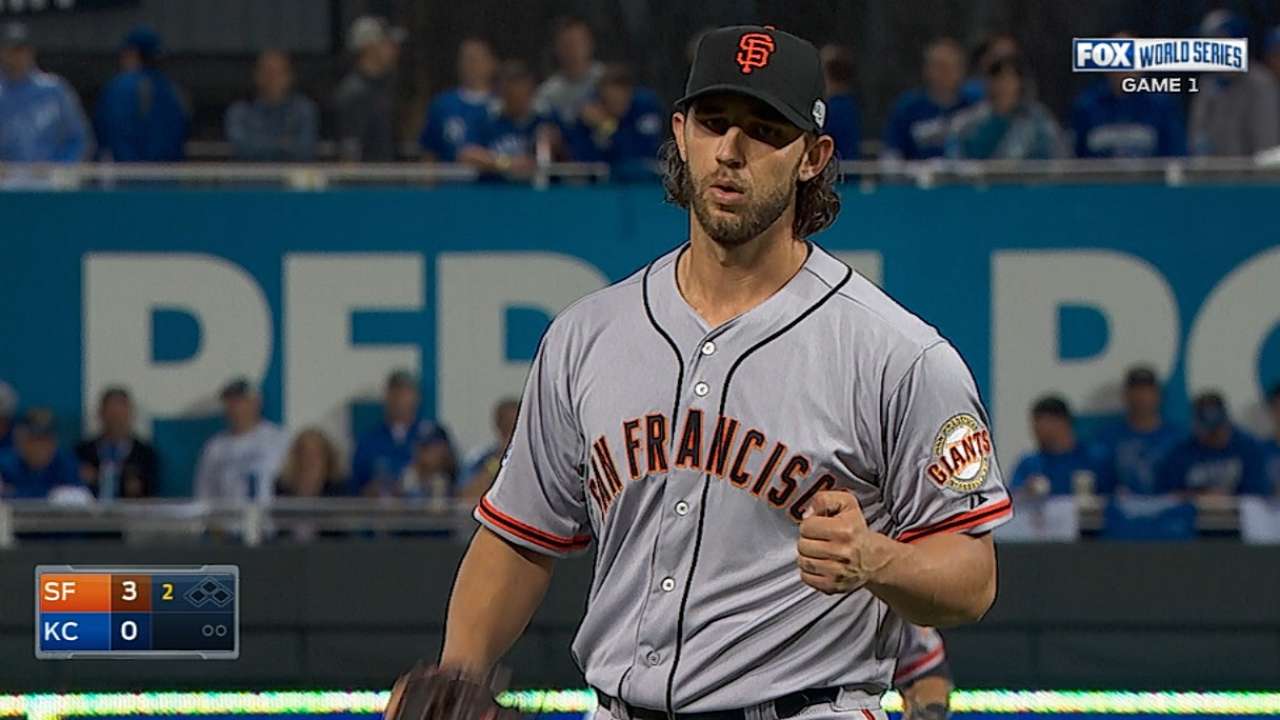 KANSAS CITY -- The Giants don't fear the postseason road. In fact, they play some of their best baseball away from the pleasant confines of AT&T Park.
This outlook has been particularly helpful this October, because they have had the home-field advantage nowhere.
The 2014 World Series opened on Tuesday night, and nothing changed. The Giants were on the road, and they were winners. The Royals had won eight straight postseason games, but there wasn't much chance for number nine, because San Francisco scored early and often on its way to a 7-1 victory.
The Giants are 5-1 on the road this postseason. They are 4-1 at home, so they're not exactly slumping there either, but for a club that hasn't had home-field advantage in any of the rounds, road performance is a necessity.
The other half of it is this: The opposition can't have a home-field advantage when Madison Bumgarner starts on the road, in the postseason, for the Giants. He gives up runs in October at roughly the rate of one every four years.
On Tuesday night, Bumgarner had a shutout for 6 2/3 innings. That gave him 32 2/3 straight shutout innings on the road in the postseason, a Major League record. Entering the game, the last run scored off Bumgarner in the postseason came in 2010.
Kansas City catcher Salvador Perez ended that streak with a solo home run in the seventh, but by that time, the outcome of the game was not in doubt.
"I think what had a lot to do with the ballgame tonight was Madison Bumgarner," Royals manager Ned Yost said. "He was fantastic."
Exactly.
But as good as Bumgarner has been at home, why has he been even better on the road in the postseason?
"Some things are hard to explain in this game," said Giants manager Bruce Bochy. "I can't tell you anything that would make sense of it. He's been the other way, too. He's pitched great at home. I know he had a little streak there where the splits, the home and the road splits, were quite a bit different. But there is nothing I can give you to explain that.
"He's been pitching well at home, too. But he's comfortable on the road. This is a big stage, a loud crowd, but he just keeps that maniacal focus you like ... and he's as good as anybody I've seen at it."
That "maniacal focus" came in handy in the third inning, when the game was still a game. A rare Giants error and a double by Mike Moustakas put runners on second and third with nobody out and the top of the order coming up.
Strikeout, strikeout, walk, ground ball: Threat extinguished.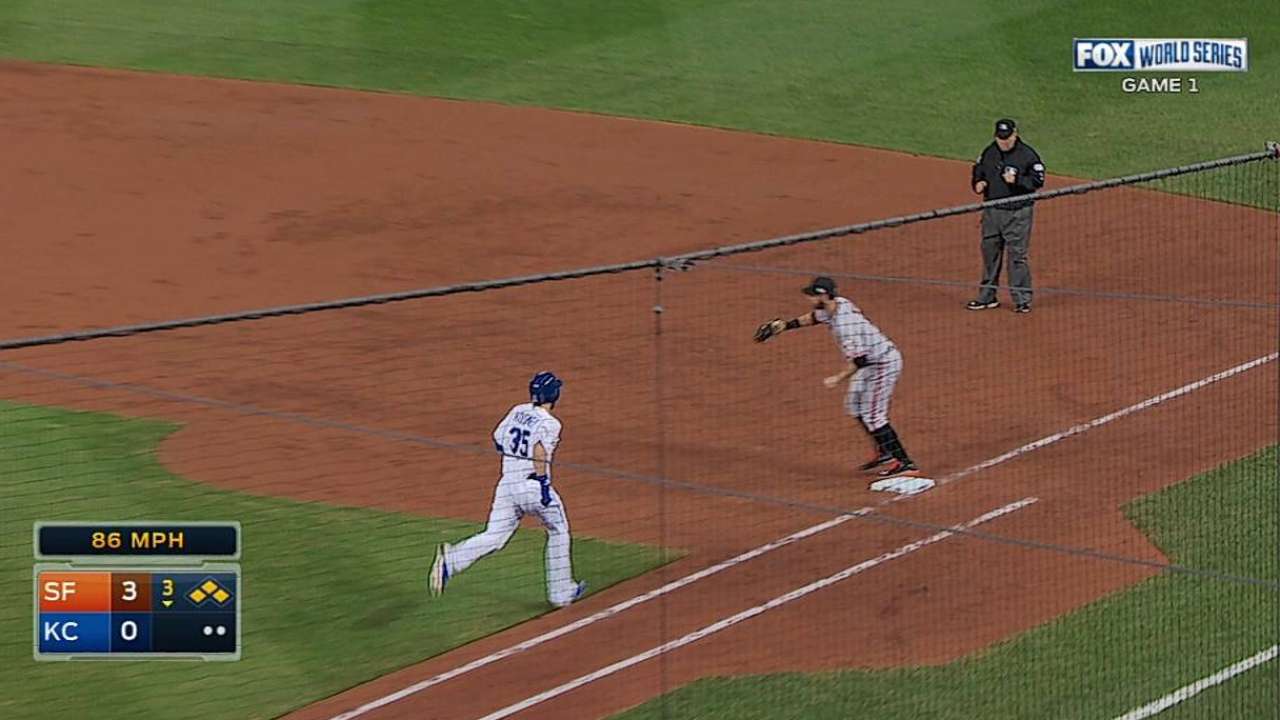 • Video: Bumgarner escapes a jam
"He bowed his neck and made some great pitches to get out of that," Bochy said.
It was by any definition an extraordinarily good night, even by Bumgarner's lofty postseason standards. He is 3-0 with a 0.41 ERA in three World Series starts. Bumgarner is 3-1 with a 1.40 ERA in five starts during this postseason. But he expressed no interest whatsoever in records or any related measurements of greatness. He was doing his job.
"You know what? I felt pretty good," Bumgarner said. "It was just about going out and making pitches and executing. I know that's a boring answer, but for me, that's all it is. I'm just trying to make pitches and take all that other stuff and push it aside and just concentrate on moving the ball around, getting ahead and getting outs and getting us back in the dugout."
Mission accomplished. Let's keep in mind that Kansas City has been waiting for postseason baseball for 29 years. The crowd at Kauffman Stadium had been saving up on noise for nearly three decades. And the fans were suitably optimistic, with the Royals having won eight straight postseason games.
All that didn't faze the Giants. They had Bumgarner pitching. They had, the one error aside, their typically sound defense, and they had hitting. Hunter Pence supplied a two-run homer in the first that gave San Francisco a three-run lead. That in itself would have been more than enough the way Bumgarner was pitching.
The Giants have an approach that will win for them anywhere, and that is exactly what their mind-set did in 2010 and '12, and has done so far in '14. They are 30-11 in the three postseasons.
"I don't totally have any answer for the success that we've had," Pence said. "It's been an awful lot of fun, and it's been a privilege to be a part of 2012, the postseason run, and the run that we're a part of right now and this opportunity to be in the World Series this year.
"But there is no one way. It's just ... You feel like we have a group of guys that really care, that really love to play the game. And it's kind of our motto to play together, play as a family, and love and enjoy every bit of it.
"So, yeah, if I had any answer other than that, it's just that we go and compete together as a unit."
It could be just that. That kind of unified, united, all-for-one-one-for-all approach might be a large part of why the Giants have made themselves at home on the road. That and a pitcher who gives up an October road run every four years.
Mike Bauman is a national columnist for MLB.com. This story was not subject to the approval of Major League Baseball or its clubs.