With one swing, Pence silences Kauffman Stadium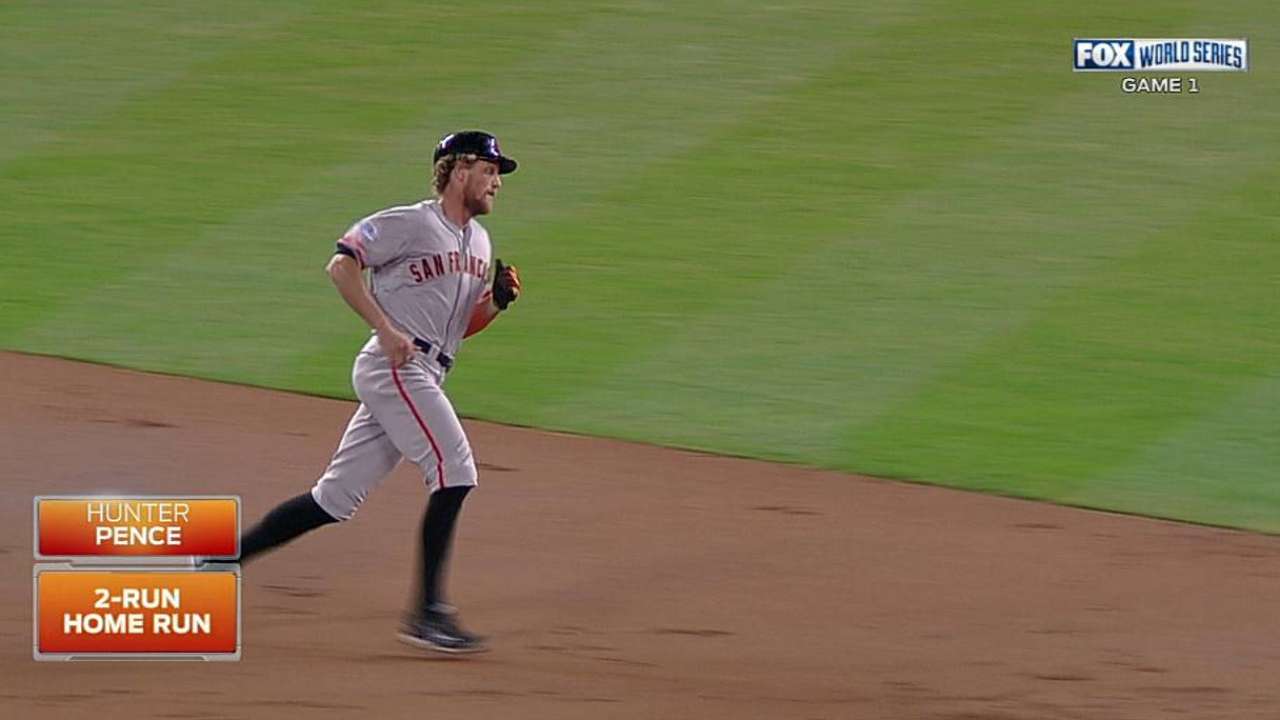 KANSAS CITY -- The Royals wielded Kauffman Stadium like a weapon. Twenty-eight empty Octobers had transformed this old ballpark into a bludgeon for the Royals, who leaned on its decibels in dispatching the A's, Angels and Orioles. The Royals spoke glowingly of their home leading up to the World Series, knowing it would again be an ally -- and there it was on Tuesday evening, lighting up the Missouri landscape with its screaming, shaking, blue-towel-waving cacophony.
Then Hunter Pence thundered a first-inning homer straight into the middle of it, silencing everything but his own emotions in the Giants' 7-1 Game 1 victory.
Told later of Kauffman's quiet at that moment, Pence started laughing.
"It was really loud in my head," Pence said.
The crowd rallied, of course, because three decades' worth of anticipation does not fade so easily. But for a few eerie seconds in the first inning, Kauffman was pin-drop quiet. Jarringly quiet. Hear-the-guy-chewing-on-his-hot-dog-two-sections-over quiet.
Pence made that happen.
"That's a huge home run that he made," Giants manager Bruce Bochy said. "Hunter, he picked us up."
It unfolded like this: With Royals starter James Shields laboring, but also threatening to escape the rally relatively unscathed, Pence walked to the plate with Pablo Sandoval on second base and two outs. The Giants clutched a one-run lead. Pence ran the count to 2-2, took ball three just off the outside edge of the plate, then fouled away a low-and-inside fastball.
Kauffman buzzed. On the seventh pitch of the at-bat, Shields attempted to sneak a fifth straight fastball past Pence, but he elevated it -- and by promptly crushing it over the center-field fence, Pence hushed nearly all of the 40,459 souls at Kauffman. A few cheers bubbled up from the dots of orange and black sitting here and there, yet even those seemed distant amid such aggressive silence.
"I got deep in the count to Pence and I made a bad pitch up in the zone, and he took advantage of it," Shields said. "Tonight I didn't do my job."
Much of the optimism that remained in the building after the homer filtered out three innings later, when Pence doubled and scored to spark a two-run rally off Shields and Danny Duffy. That gave San Francisco a five-run lead, shifting Pence -- who finished 2-for-3 with two walks, two RBIs and two runs scored -- up the Giants' list of October somebodies.
"He's a guy that's hitting in the heart of our order," Bochy said. "You're looking for those guys to drive in runs."
Pence's success in that arena shouldn't be surprising, but his understated reputation sometimes makes it so. A foreigner in his own clubhouse, Pence is not Madison Bumgarner, Buster Posey or Sandoval, headliners on each of San Francisco's last three pennant-winning teams. More than anything, he has grown famous for the signs that fans have taken to directing at him in ballparks across America. Pence's teammates seem to talk about his role as a clubhouse leader and part-time comic as much as they discuss his prowess at the plate.
Pence had not been much of an October star before Tuesday; he hit safely in nine of his first 11 games this October but did not contribute the capstone performance in any of them. He even shared his Game 1 interview session -- typically reserved for the star of the game -- with Bumgarner, spending much of it talking about him.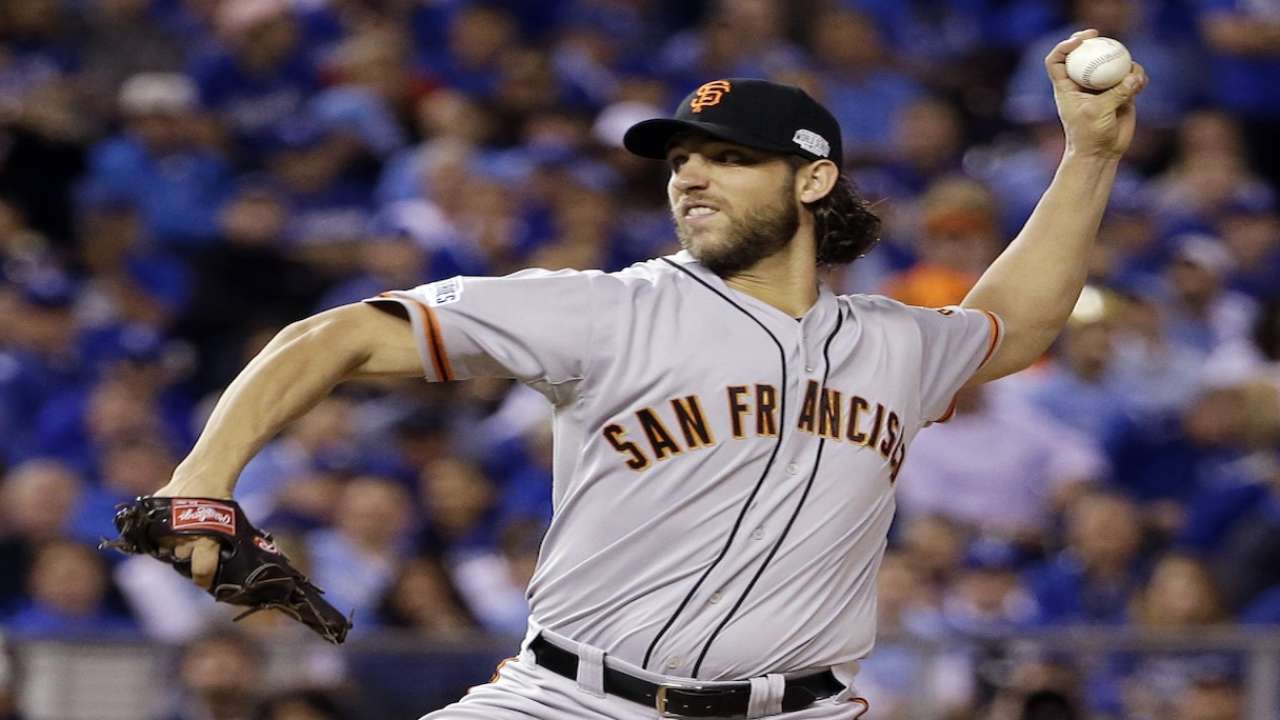 • Video: Bumgarner, Pence discuss Game 1 win
In a way, such understatement has become his role. Many criticized general manager Brian Sabean when he signed Pence -- then 30 years old and less than a year removed from his worst season as a big leaguer -- to a five-year, $90 million contract last September. Pence responded with a .277 average and 20 home runs this season, playing in all 162 of the Giants' games.
"He's tireless," Bochy said. "He's a special guy in that respect, because not a lot of guys can get themselves up every day the way he does. He's a tireless worker, and I've said this: He's the lowest-maintenance player I've ever had. I just put his name in the lineup and leave him alone."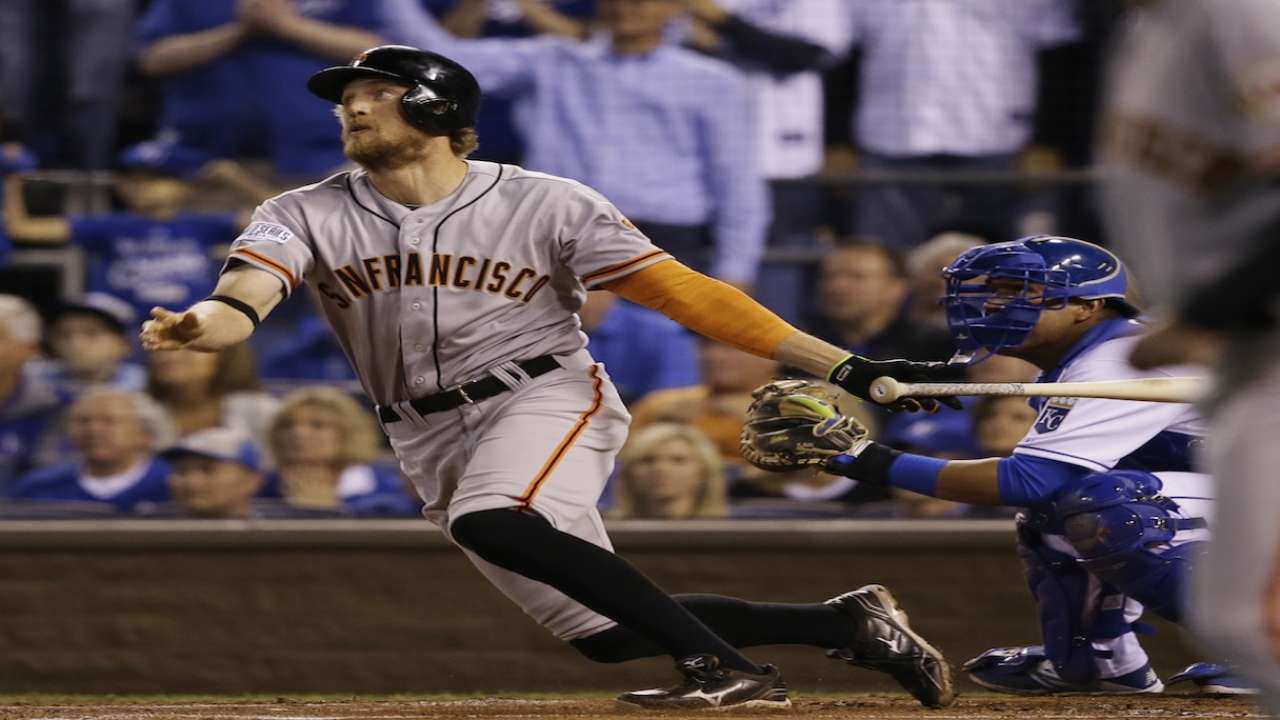 • Video: Bochy on Pence's personality, passion
Let Pence do his thing, in other words. Let him hit. Let him silence a ballpark that does not want to be silenced.
"If you're going to be worried about how loud the crowd is going to be, then you're in the wrong place mentally," Pence said. "And probably in the wrong business."
Anthony DiComo is a reporter for MLB.com. Follow him on Twitter @AnthonyDicomo. This story was not subject to the approval of Major League Baseball or its clubs.