Bochy trusts instincts, pushes right buttons
Game 5 another example of manager's moves paying off, like sticking with Ishikawa in left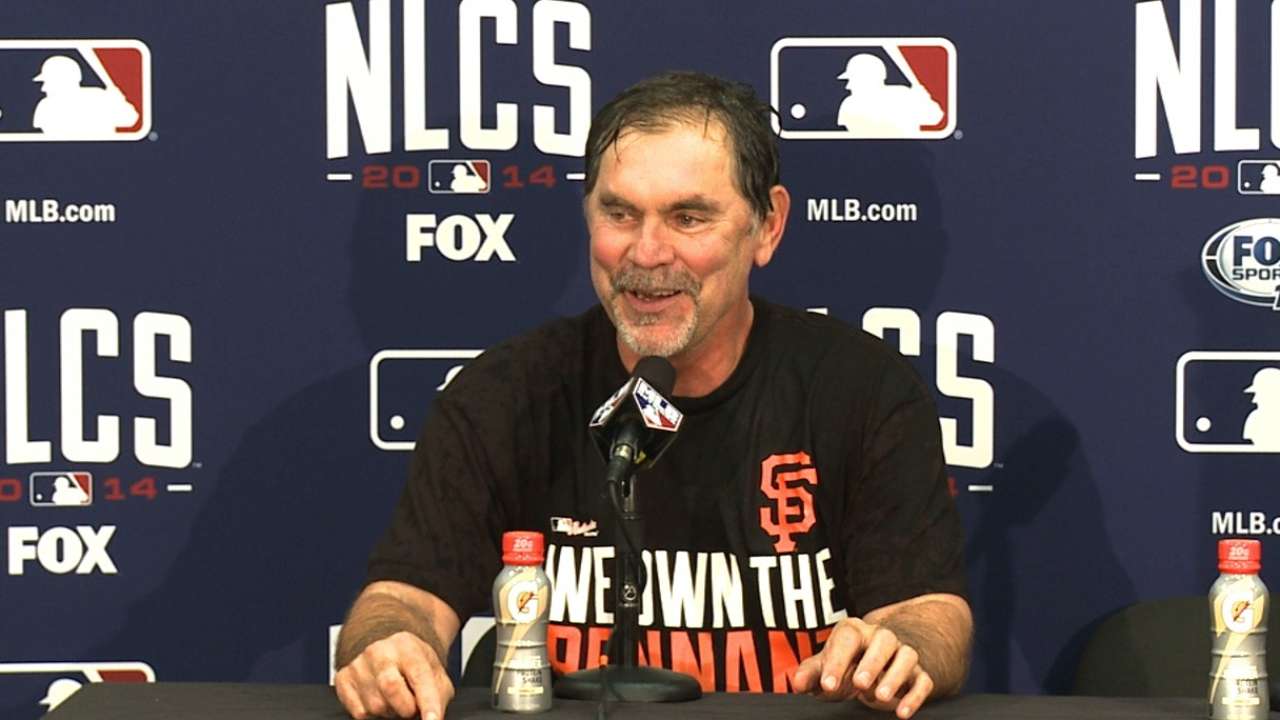 SAN FRANCISCO -- Once again, everything manager Bruce Bochy touched in Game 5 of the National League Championship Series turned to gold for his Giants on Thursday night at rollicking AT&T Park.
This 6-3 victory, courtesy of Travis Ishikawa's three-run walk-off homer in the ninth inning off Michael Wacha, was characteristic in so many ways of the 29 other postseason triumphs in this magical run by the two-time World Series champions, whose sights are set on a third Fall Classic crown.
With
Madison Bumgarner
engaging Cardinals right-handed ace
Adam Wainwright
, Bochy went with his lefty lineup, meaning Ishikawa was in left field. That is a story in itself. A Giant for his first four years, including the 2010 World Series championship season, Ishikawa began this season with the Pirates. He had made all of three starts in left in his Major League career coming into the postseason.
A third-inning line drive by Jon Jay that took off and sailed over Ishikawa's outstretched glove handed Wainwright a lead when Jay rolled into second with an RBI double. Surely there were those who knew Ishikawa's history -- 197 of 200 career starts at first base -- must have been questioning Bochy's judgment.
Ishikawa found a way to repay his manager's faith. He was still in the game in the ninth when Cards manager Mike Matheny summoned Wacha and his 95-98 mph heat in a relatively unfamiliar relief role.
Pablo Sandoval's single and Brandon Belt's one-out walk set the stage for Ishikawa's blast over the wall in right field that will have him part of Giants lore forever.
"Yeah, I'm sure he's going to wake up and realize what just happened," Bochy said in the afterglow. "He's such a great kid. For him to go out and play left field when he hasn't been out there a lot, and not just play, but do a good job. ... I know the one ball [by Jay got past him], but this guy's been a big part of our offense since he's been out there in left field.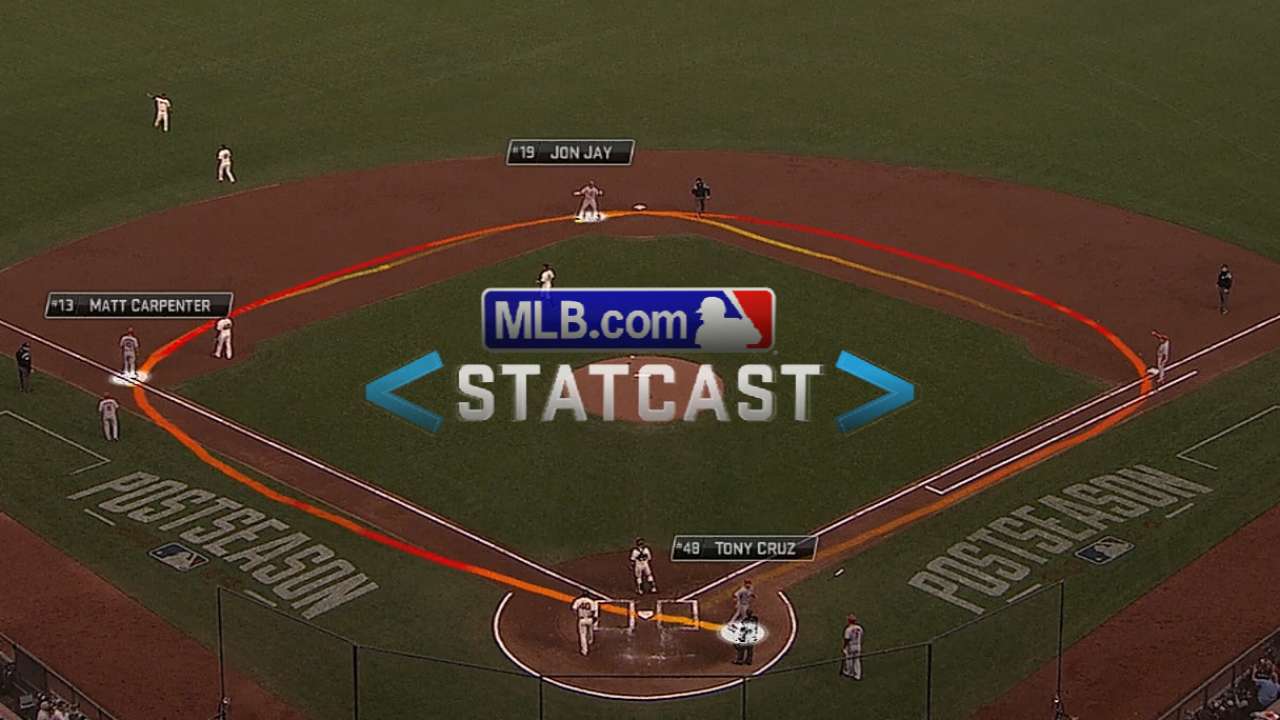 • Video: Ishikawa's misplay in left
"It's all about perseverance, and he didn't give up. He said there's a time or two when he thought about it, and I'm sure it's all worthwhile now. He's in his second World Series."
This Fall Classic collision with the Royals will be Bochy's fourth World Series. He lost the first one with his 1998 San Diego Padres against the Yankees, but he is 2-for-2 in San Francisco, where his fortunes have changed. Bochy's 30 wins in 41 postseason games with the Giants underscore the remarkably true nature of his instincts.
With Bumgarner dealing through eight innings but trailing by a run thanks to solo homers by Matt Adams and Tony Cruz in the fourth, the Giants' task was to come back against the Cardinals' bullpen.
Wainwright, Matheny concluded, was done after seven superb innings. When right-handed sidewinder Pat Neshek emerged from the bullpen, Bochy summoned his big right-handed bat, Michael Morse, to swing for Bumgarner.
Neshek, brilliant all season (1.87 ERA, 71 games) and through seven postseason appearances, left a pitch in Morse's happy zone, and the slugger launched a tying shot over the left-field wall. In 62 career pinch-hit opportunities, Morse had gone deep once. Pure Bochy magic, at its finest.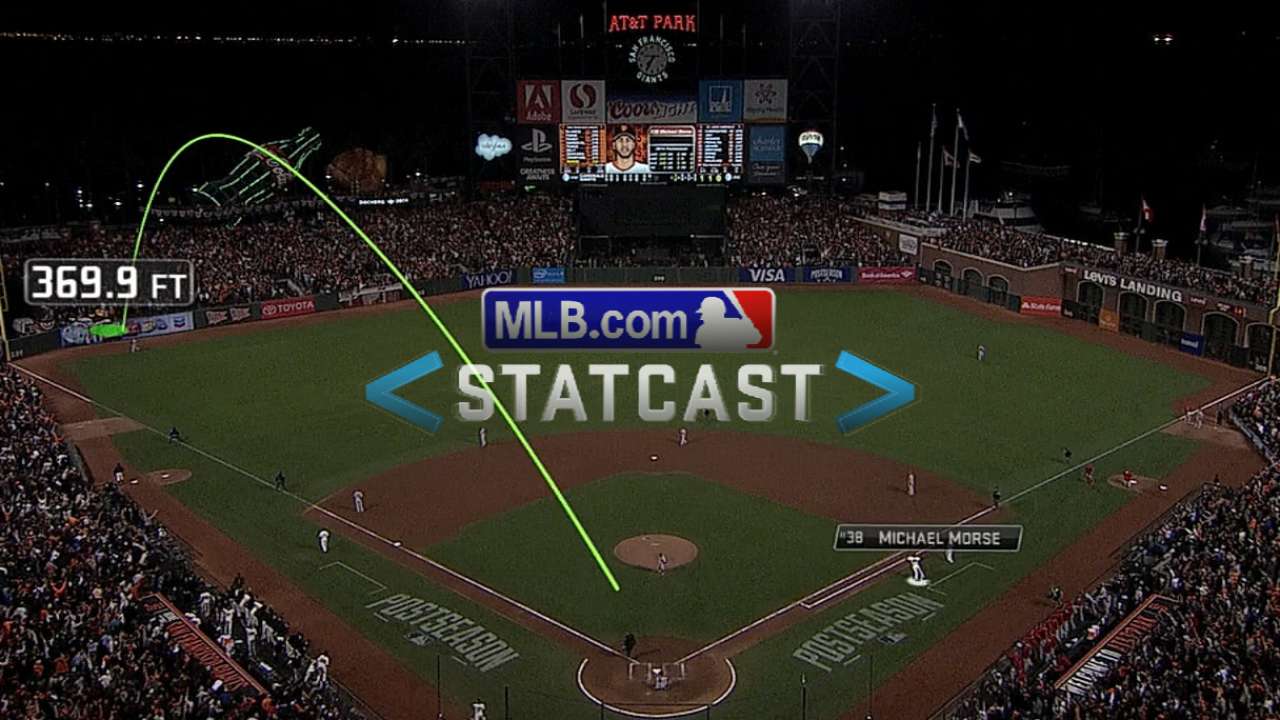 • Statcast: Morse hits tying homer
"He's a big reason why we're here," Bochy said of Morse, the 6-foot-5, 245-pound Floridian. "He carried us at times earlier in the season. Of course, the injury that he had, the oblique, set him back, and now his role changed. But it's a good role, because he's a threat off the bench -- and it's the perfect time to put him up there: a one-run game ... off a tough right-hander."
Here was Bochy, trusting those instincts.
"This guy has not had but a few at-bats in the last month," Bochy said, "and for him to do what he did, it doesn't get any more clutch than that. When he came in high-fiving everybody, I thought he was going to break some hands. He plays with a lot of fire, a lot of emotion, and he saved us."
This was Morse's way of thanking Bochy for the opportunity to make a little history.
But now the Cards, tough as rawhide, were threatening to reclaim the lead in the top of the ninth. Santiago Casilla, who hadn't given up a run in his past 12 appearances, started the ninth, because that's what closers do for the home team with no save situations forthcoming in a tie game.
Casilla loaded the bases with two out. Matheny had rookie left-handed hitter Oscar Taveras, who homered from the left side in Game 2 off the bench, coming up to bat for right-handed-hitting Peter Bourjos.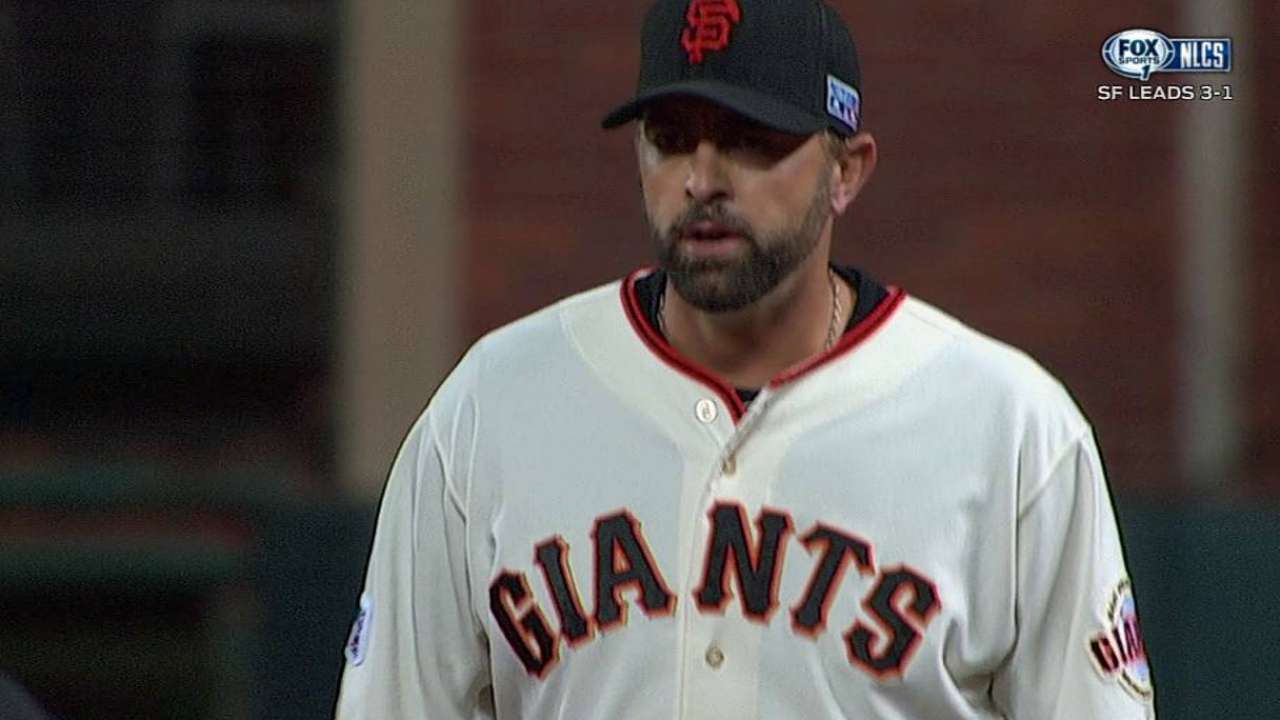 Bochy replaced his closer with veteran lefty Jeremy Affeldt, who in 25 2/3 innings had given up 11 hits with a 1.05 ERA. Taveras tapped a grounder back to Affeldt, who ran it over to first himself to quell the threat.
The win, courtesy of Ishikawa's blow, was Affeldt's first in 29 postseason appearances.
On to Kansas City go the Giants for a third World Series in five seasons, trusting their leader's judgment in all things.
Lyle Spencer is a national reporter for MLB.com. This story was not subject to the approval of Major League Baseball or its clubs.