MLB.com Columnist
Tracy Ringolsby
Giants' unsung heroes go on power trip at right time
Ishikawa caps three-homer night for SF, which entered with just two in postseason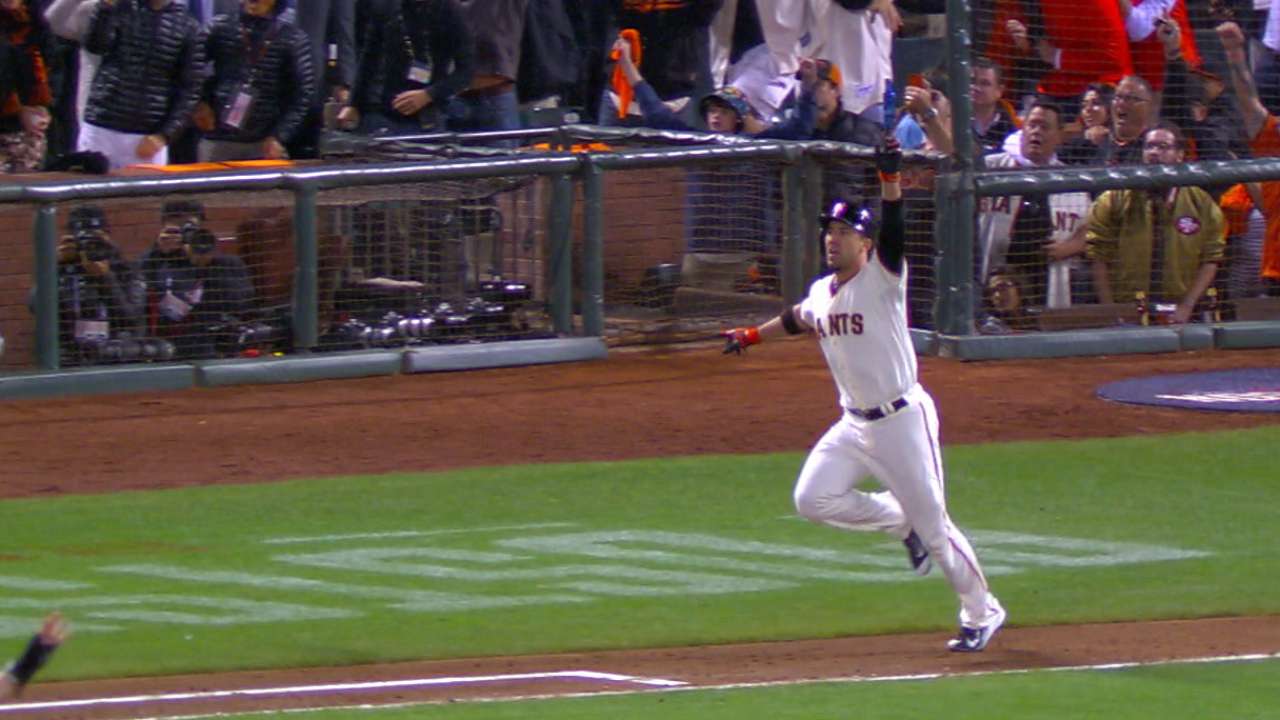 SAN FRANCISCO -- Bobby Thomson, move over. You will never be forgotten. That home run you hit back in 1951 that sent the Giants to the World Series is easily the best known in baseball history.
Don't, however, hog the stage. Travis Ishikawa deserves some time in the spotlight, himself.
It may not have been a win-or-go-home tiebreaker game with those Brooklyn Bums, like that day Thomson sent a Ralph Branca pitch over the fence at the Polo Grounds. But dang, it wasn't bad at AT&T Park on Thursday night, either.
Ishikawa, three months removed from tears and thoughts of giving up the game, capped off a sudden power display by the Giants with the three-run walk-off home run that rallied them to a 6-3 victory over the Cardinals in Game 5 of the National League Championship Series, sending San Francisco to the World Series for the third time in five seasons.
Yep, those same Giants who had hit only two home runs combined in their nine previous games this postseason simply overpowered the Cards in a victory that allowed them to bring a premature ending to the best-of-seven series.
And while they don't have to go back to St. Louis for possible NLCS games this weekend, they will be headed to the Show Me State next week to open the World Series against the AL champion Kansas City Royals in the second all-Wild Card matchup in World Series history. The Giants were a part of that last one, too, back in 2002, but they fell short in seven games against the Angels.
This year? Who knows?
Nothing has been too predictable with these Giants, not even in the postseason. This is a team that managed to stun the Pirates, 8-0, in the NL Wild Card Game, knock off the Nationals in four games in the NL Division Series, and win three of the first four games in the NLCS by scoring runs on wild pitches, throwing errors and groundouts, but with only two home runs through those first nine games.
And then they clinch their trip back to the World Series by not only getting that three-run walk-off blast from Ishikawa off Michael Wacha, but pinch-hitter Michael Morse's game-tying home run off reliever Pat Neshek leading off the bottom of the eighth, and a two-run Joe Panik home run in the third off Adam Wainwright that gave San Francisco a 2-1 lead.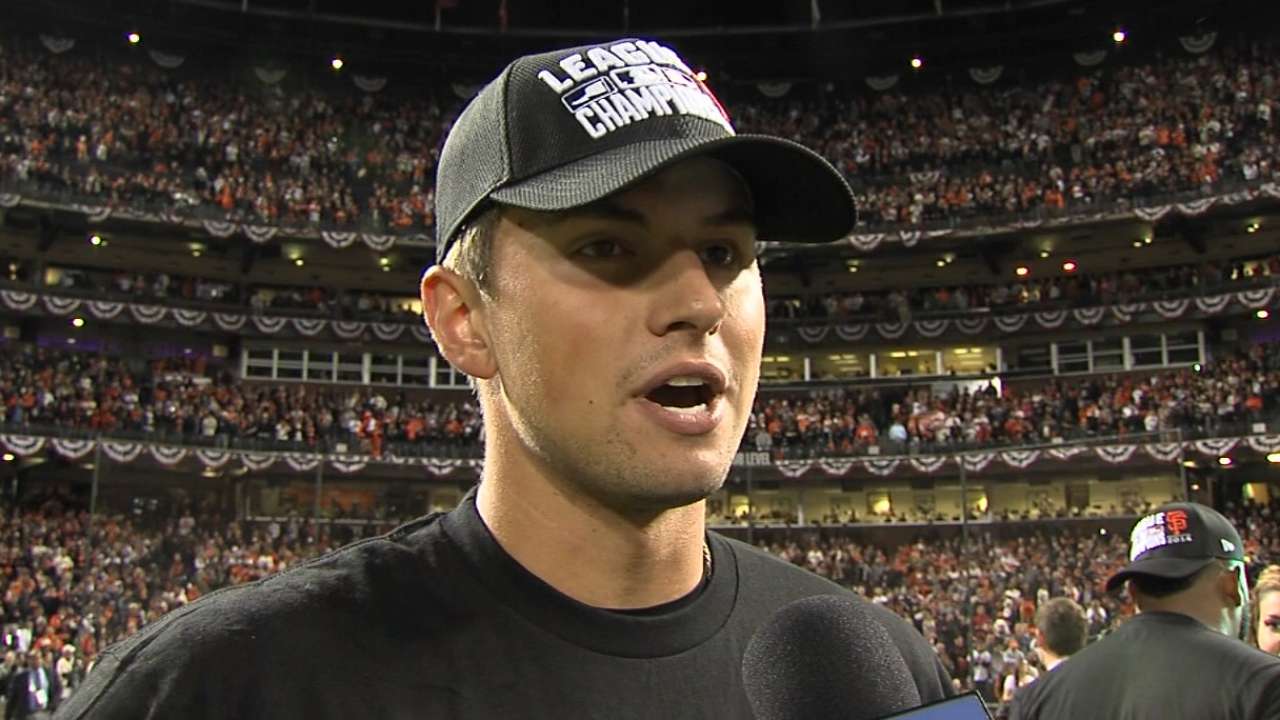 "It tells you what kind of team we have," said Morse. "It's just another thing that we can do. We've got plenty of guys who can get the job done."
That was never more evident than in the NLCS.
Think about it.
Morse, an offseason free-agent addition from Baltimore, was an early-season sensation. He had 13 home runs and 41 RBIs in his first 61 games, and the Giants bashed their way to the top of the NL West, winning 40 of those 61 games and building a big lead. Then Morse went cold, hitting only three more home runs, before being sidelined with an oblique injury that limited him to one game in September. It kept him from even being on the roster for the NL Wild Card Game and the NLDS, and had him in a pinch-hit role in the NLCS.
"I knew I wouldn't be on [the NLDS roster]," said Morse. "I didn't have enough at-bats. I wouldn't feel comfortable at the plate, and I definitely wouldn't feel comfortable in the field. So I knew I was going to have time to get ready for [the NLCS]. I went down to Arizona and got a lot of at-bats [in the instructional league], really fine-tuned myself and got ready."
Morse was ready to face Neshek, a sidearming right-hander who had given up only five home runs in 346 plate appearances by righties the last three years, including the postseason, before Morse greeted him with the game-tying shot in the eighth.
"If there's one guy in their bullpen I didn't want to face this whole series, it was him," said Morse. "But for [manager Bruce] Bochy to go out there and take our ace [NLCS MVP Madison Bumgarner] out of the game, I told myself, 'You can't waste this at-bat.'"
Morse didn't.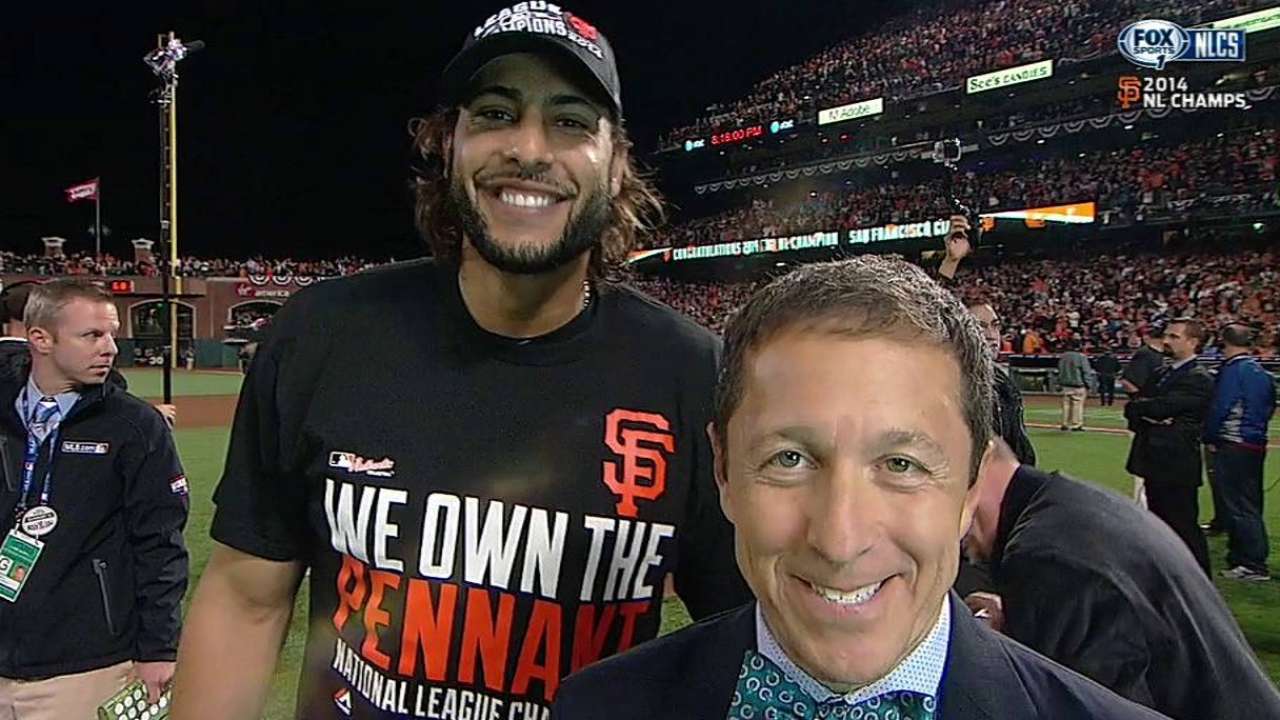 Neither did Panik, a Minor Leaguer without a lot of hype who was the seventh of seven players to get a start at second base for San Francisco. He hit .305 in 72 regular-season games and laid claim to the everyday job for the postseason.
"We were saving the best for last and did whatever it takes," said Panik. "It was all about the long ball [Thursday night]."
And the final chapter was written by Ishikawa, a part of the 2010 World Series championship team, who had kicked around the big leagues since then, and after being released in April, signed a Minor League deal with the Giants.
"I wasn't even thinking I'd get called up," he said.
In July, in fact, Ishikawa was thinking about the real word.
"When you reach a certain age, I've been 30 all year, and you're not only in the Minor Leagues, but you're struggling in the Minor Leagues," Ishikawa said, "there are times you wonder if God is continuing to put me through this trial or if it's Him telling me that it's time to hang 'em up and do something else.
"I remember calling a buddy of mine, halfway through the year, crying, not knowing what to do. It didn't feel like I could hit a ball on a tee if you put it there. He encouraged me and told me he loved me. I was able to take hope in that and continued to try and persevere."
Ishikawa is enjoying the ultimate reward, starting in left field in the big leagues for the first time in his life, filling the void created by the injury to Morse.
"This guy has been incredible since he's been here," said Morse. "He's just a great, great guy in the clubhouse. You know his story; it just keeps getting better and better."
And it got just about as good as it can get on Thursday night.
Tracy Ringolsby is a columnist for MLB.com. Read his blog, Write 'em Cowboy. This story was not subject to the approval of Major League Baseball or its clubs.