Ishikawa becomes postseason's latest unlikely hero
Giants veteran goes from unemployed to NLCS standout in a few short months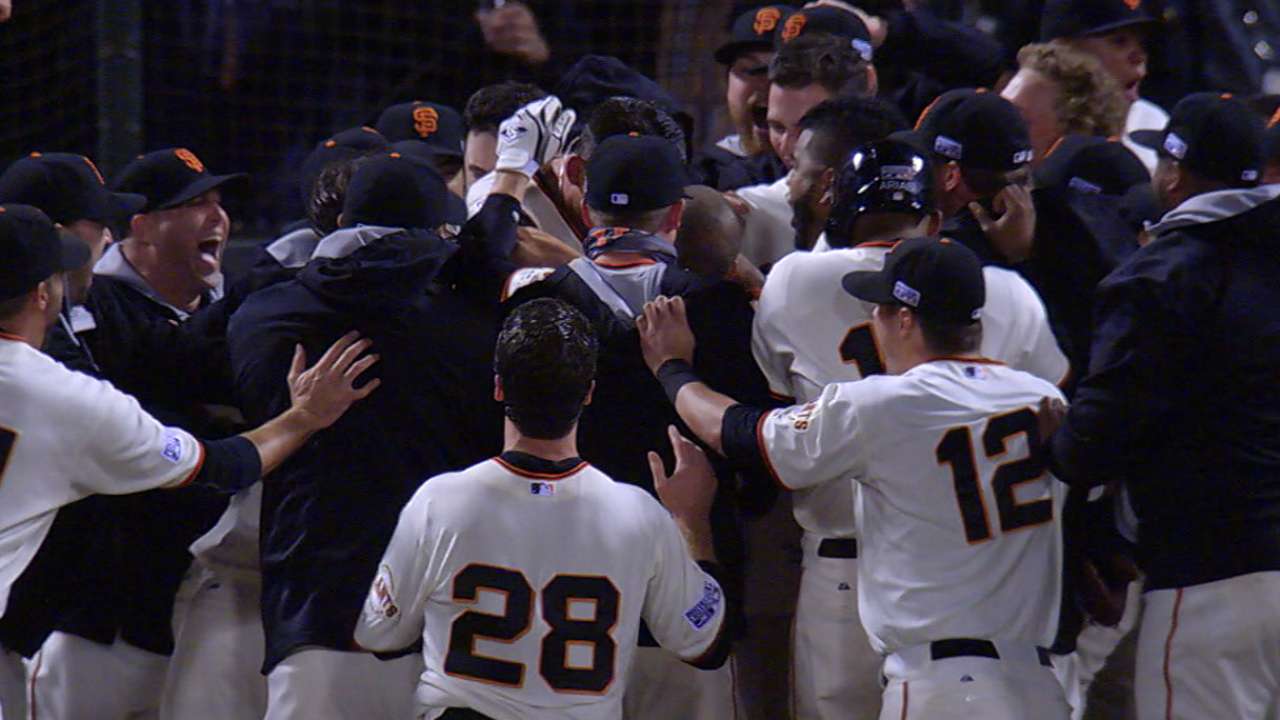 SAN FRANCISCO -- The idea of retirement flitted across Travis Ishikawa's mind, because that is how 30-year-old unemployed baseball players tend to think. This was around midsummer, after the Pirates cut Ishikawa and thrust his career in doubt. The thought of standing on the turf in October at AT&T Park, a PR type shuffling him off to a hero's news conference, lived only in the realms of fantasy.
But it was Ishikawa who hit the three-run walk-off homer in the Giants' pennant-clinching 6-3 win over the Cardinals in Game 5 of the National League Championship Series. It was Ishikawa who held court with the media a few heartbeats later, calling it "gratifying" and "happy" and "crazy" and "fantastic." It was Ishikawa who stared baseball mortality in the face and, for one night at least, proved that its rules did not apply to him.
"He thought he was going to be a pinch-hitter off the bench," teammate
Jeremy Affeldt
said. "For him to do what he did … this is something that he can cherish for a long time."
In a way, Ishikawa has come to represent so much of what these patchwork Giants have been about all October. Signed to a Minor League contract as injury insurance for first baseman Brandon Belt, Ishikawa played well enough to return to the big leagues in July, to earn a dozen or so pinch-hit opportunities and endear himself to management. When Michael Morse suffered an oblique injury that kept him sidelined for most of September and into October, Ishikawa began starting in left field by default. By sheer default.
It was there, in left, that Ishikawa nearly ripped the happy ending out of his storybook, misplaying Jon Jay's fly ball into a go-ahead double in the third inning on Thursday night. But San Francisco starting pitcher Madison Bumgarner escaped the resulting jam with minimal damage, and Ishikawa did not make any more defensive mistakes. For the first time all series, the Giants did not substitute him out of the game in the later innings, keeping him lined up for a key at-bat in the ninth.
Ishikawa prepared for it when Pablo Sandoval singled off Michael Wacha to open the inning. He grabbed his helmet when Hunter Pence flied out, stepping into the on-deck circle as Belt walked on four pitches.
"I don't know if I was jumpy a little bit, just missing down a little bit on the fastball," Wacha said. "I wasn't able to throw strikes there."
With his family watching and a sea of black and orange screaming, Ishikawa then walked to the plate and ripped a 96-mph fastball over the right-field fence.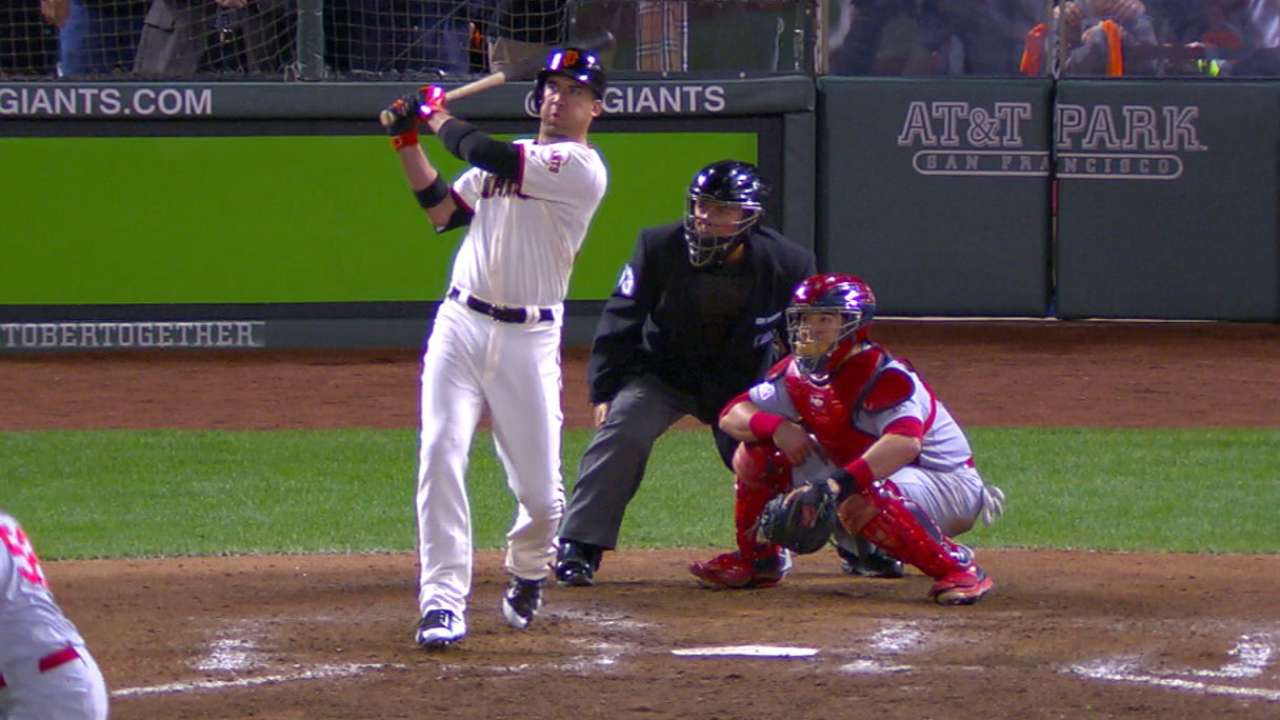 • Video: Giants radio calls Ishikawa walk-off homer
"And after that, I don't remember," Ishikawa said. "I don't remember anything else after that."
What happened was Ishikawa jogged around first base, mouth agape, almost floating across the diamond. Teammate Jake Peavy, who did not realize the ball had gone over the fence without his glasses, intercepted Ishikawa between second and third base and started clapping him on the back. A few more teammates joined in the fracas, jogging with him as he rounded third, headed toward home and melted into a mess of jumping, screaming, childlike Giants.
"I don't remember touching third," Ishikawa said. "I don't remember touching home. The next thing I remember was being thrown down with my jersey ripped off, and I was just so out of breath from yelling and screaming, I had to have guys help me stand back up to finish celebrating."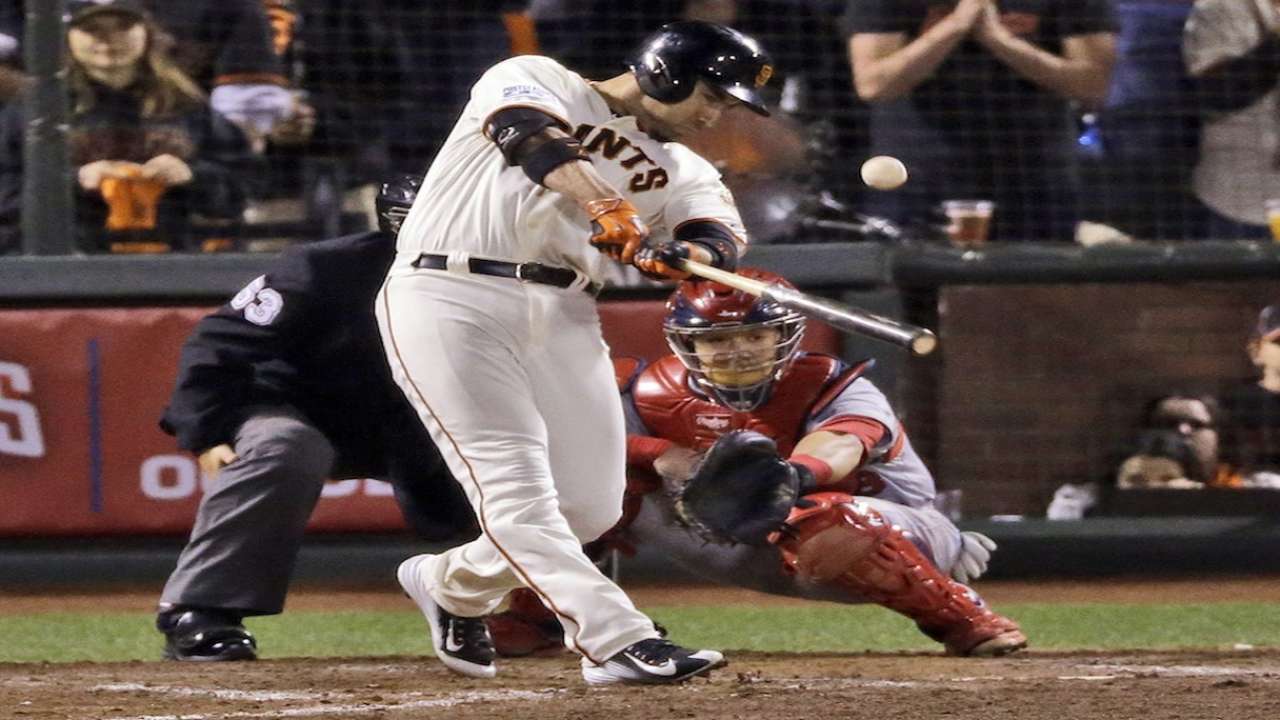 • Video: Ishikawa on almost retiring
With that, Ishikawa became the latest out-of-nowhere reclamation to buoy San Francisco to an NL pennant. Four years ago, it was Cody Ross, rebounding from a poor half-season to become an October hero (on a roster that also included Ishikawa). Two years ago, Marco Scutaro seemed headed for retirement -- sound familiar? -- before a San Francisco rebirth made him the NLCS MVP.
In 2014, it is Ishikawa. Had Bumgarner not pitched so brilliantly in two starts, Ishikawa might have even parlayed his .385 average and seven RBIs into NLCS MVP honors.
Not that Ishikawa needs more accolades. Not after how far he has come.
"It's incredible," Ishikawa said. "It's indescribable. And it's not over yet."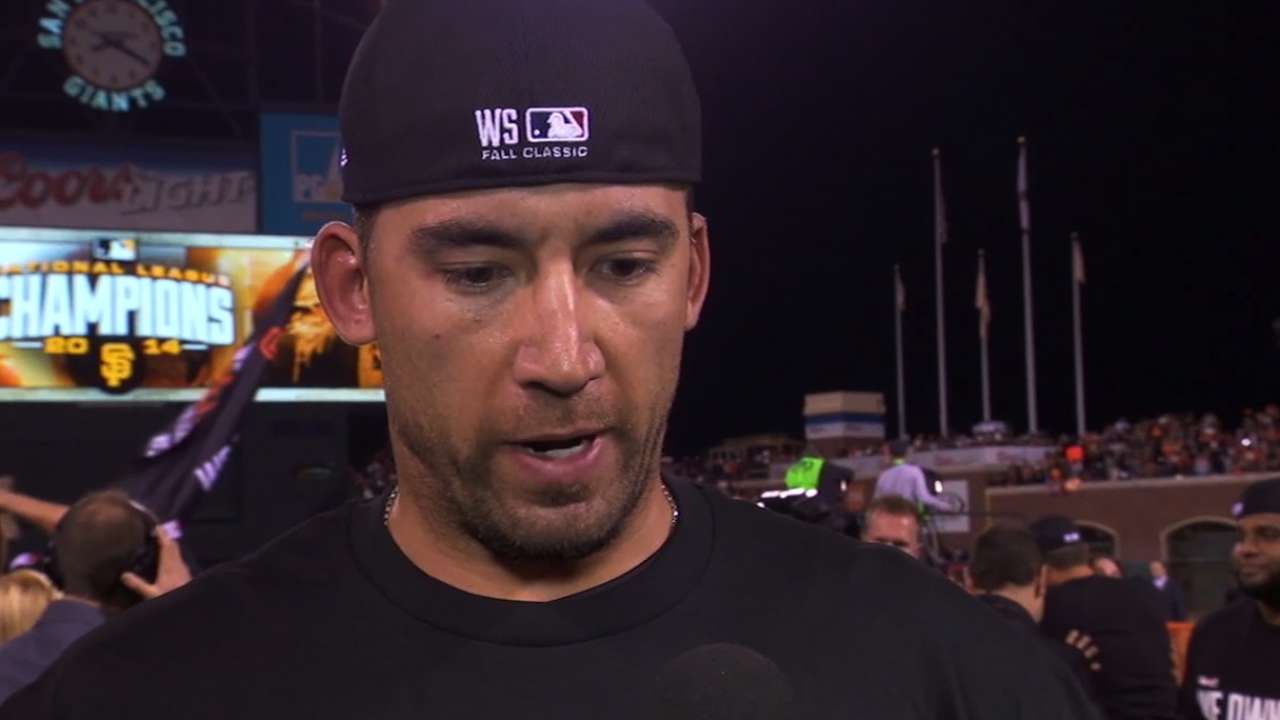 Anthony DiComo is a reporter for MLB.com. Follow him on Twitter @AnthonyDicomo. This story was not subject to the approval of Major League Baseball or its clubs.