Panik's arrival major reason for Giants' success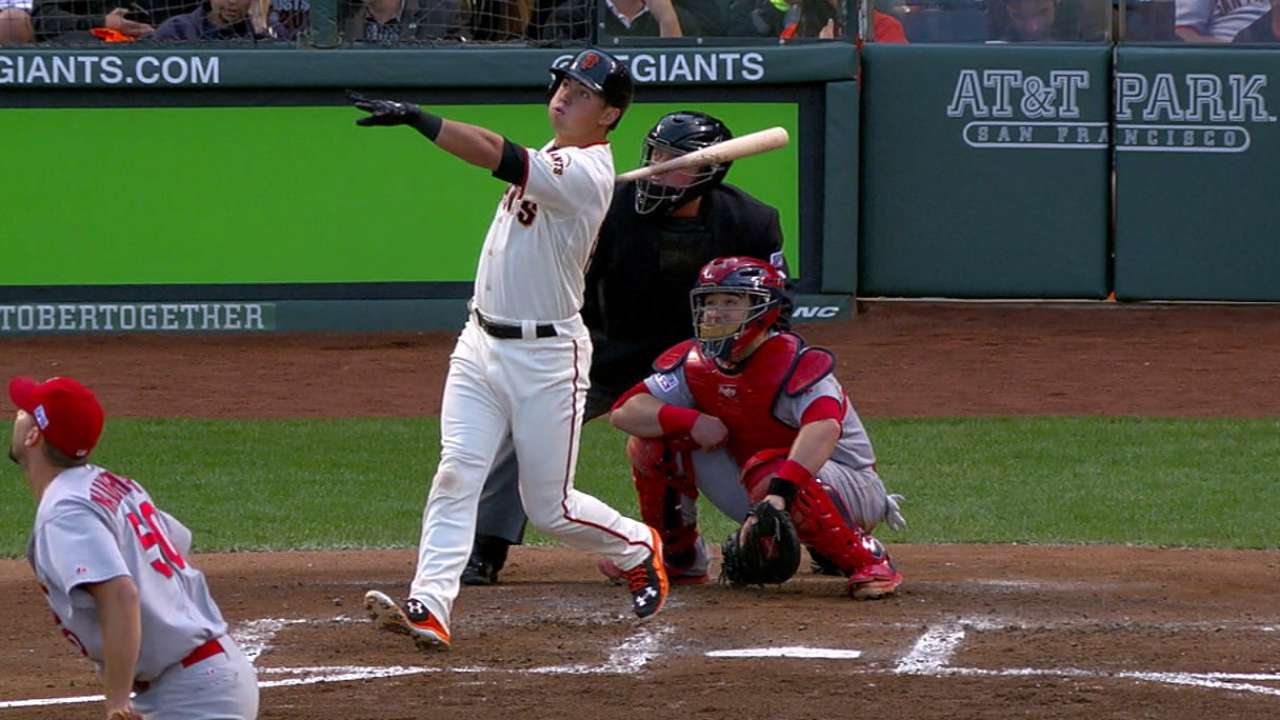 SAN FRANCISCO -- The amazing ride of rookie second baseman Joe Panik began in June at Chase Field with his mother, father and girlfriend in the stands to watch his first start for the Giants. It reached its zenith on Thursday night, when Panik plowed a two-run third-inning homer off Adam Wainwright into the crowd above the 24-foot brick wall in right field at AT&T Park.
The shot was one of three Giants homers in Game 5 of the National League Championship Series, a game that ended with Travis Ishikawa's three-run blast giving the Giants a 6-3 win and their third NL pennant in five seasons. They have a chance to win it all for the third time in those trio of tries when the World Series opens on Tuesday night against the American League champion Royals in Kansas City (4:30 p.m. PT on FOX, with the first pitch at 5:07).
"This is a dream come true," Panik said during the postgame tumult on the field. "Are you kidding me?"
Panik had a debut start for the ages on June 22, collecting his first Major League hit, first RBI and making a scoop throw with his glove fielding an Ender Inciarte grounder that had everyone on San Francisco's bench smiling. The single and RBI double in four at-bats was a big reason why the Giants defeated the D-backs that day. The good times haven't stopped since.
Panik was called up the previous day from the Triple-A Fresno club, which was playing in New Orleans. Quickly, Panik called his mother, Natalie, and father, Paul. And the couple living in Hopewell Junction, N.Y., scattered quickly to arrange plane tickets to meet their 23-year-old son in Arizona.
Panik said his parents weren't in town to see his heroics on Thursday night. They were home watching on TV.
"I know they're excited," said Panik, who was born in Yonkers, N.Y., just north of the Bronx border and just miles from Yankee Stadium. "Hopefully they'll be there in Kansas City. Oh my, God, I have so many fans back at home who are watching. I just want to thank them for their support."
The Giants thought enough of Panik to make him the 29th overall pick in the 2011 First-Year Player Draft. They scouted him as he went under the radar, playing his college ball at St. John's University in Queens, N.Y.
"He's a baseball player," Giants general manager Brian Sabean said on Thursday night. "He wouldn't necessarily knock your socks off with his tools, but he knows how to play the game."
With Marco Scutaro basically out for the season because of a back injury, the Giants found themselves scrounging around early in the season for a second baseman. They tried Brandon Hicks, Joaquin Arias and even picked up Dan Uggla for a brief period after the Braves gave Uggla his release. Almost in a panic, they turned to Panik, who had only played two full professional seasons in the lower Minor Leagues and 76 games at Fresno, where he was hitting .321.
Few thought Panik would have the immediate impact he eventually did with the Giants, for whom he hit at a .305 clip, striking out just 33 times in 287 plate appearances in 73 games. He solidified a position that had become a dark hole.
"Joe, he's been a savior," said Giants manager Bruce Bochy. "We had a need, and he went from Triple-A, and right off the bat, this kid acted like he belonged up here. The defense, the bat, I moved him down him down in the two-hole, and he's the guy who's in the middle of all the rallies. I mean, we needed help. We tried some guys there, but he filled that hole, and he did it consistently."
Giants scouts said Panik wasn't a particularly agile player in their lower Minors, but he arrived in camp this season in shape and with a new purpose, sensing a chance eventually to make it to the Major Leagues. The Giants have a tendency to promote from within, and Panik couldn't help noticing that the rest of the infield -- first baseman Brandon Belt, shortstop Brandon Crawford and third baseman Pablo Sandoval, not to mention catcher Buster Posey -- was all homegrown Giants.
The end result of his preparation and commitment was Panik jumping on a Wainwright cutter inside, sending it hurtling toward McCovey Cove on Thursday night to help win a pennant.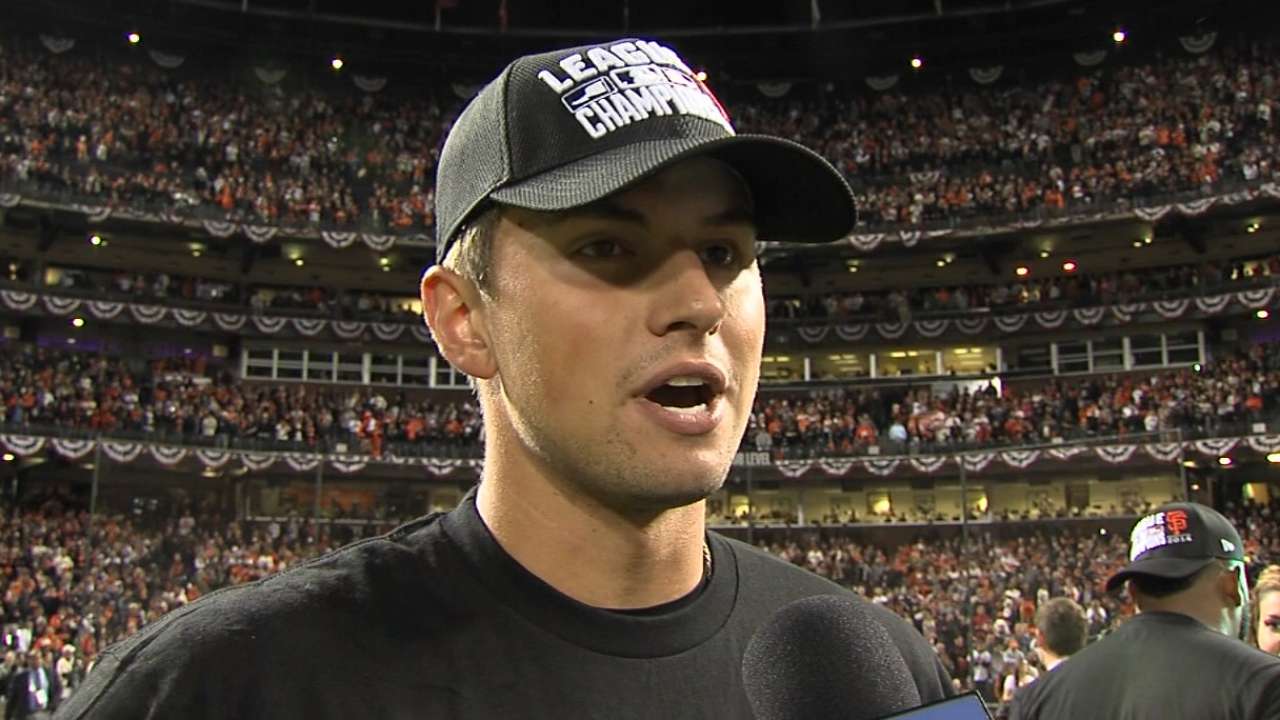 "I was able get the bat on it," Panik said about his second big league homer.
In his mind's eye, Panik always thought it might work out this way. He grew up rooting for the Yankees, those teams that won four World Series titles in five seasons from 1996-2000. Panik was just a youngster then. His favorite player? Derek Jeter, of course. Now Panik is about to experience that ultimate joy -- playing in the World Series.
"When I was a kid, you grow up and you watch October baseball," Panik said. "You always want to win the pennant and go to the World Series. So you've always dreamed this. To live it is just tremendous."
Barry M. Bloom is a national reporter for MLB.com and writes an MLBlog, Boomskie on Baseball. This story was not subject to the approval of Major League Baseball or its clubs.