MadBum adds NLCS MVP to postseason legacy
SAN FRANCISCO -- In Dave Righetti's eyes, they were not mistakes. The pitches that Matt Adams and Tony Cruz hit out of the ballpark in Game 5 of the National League Championship Series were good pitches in good spots that a couple of big league hitters managed to blemish.
So it was entirely unsurprising to Righetti, the Giants' pitching coach, when Madison Bumgarner turned all but perfect after giving up those home runs. Entering the game as -- already, at age 25 -- one of the most accomplished starting pitchers in postseason history, Bumgarner retired 13 straight batters to end his night, setting up the Giants up for a 6-3 win over the Cardinals -- and himself to become NLCS MVP.
"You don't even bat an eye in the dugout," Righetti said. "This guy's a quality pitcher, obviously. He's been through it many times since the day he's gotten here."
One of the handful of Giants players present for all three of the franchise's most recent pennants, Bumgarner won his first World Series ring in 2010 at age 20. He earned it, too, throwing eight shutout innings in Game 4 against the Rangers.
Two years later, Bumgarner highlighted another strong playoff run with seven more shutout innings in the World Series, this time vs. the Tigers. He won another ring. Bumgarner pitched in must-win games. He grew into a leader of the pitching staff, even if Matt Cain was still the ace.
This year, there is no question as to the identity of San Francisco's No. 1 starter. With Cain injured, Bumgarner threw a four-hitter in the Giants' NL Wild Card Game win over the Pirates. He took the mound at AT&T Park five days later, giving up two earned runs to the Nationals over seven innings in a loss. Then Bumgarner blanked the Cardinals over 7 2/3 innings in Game 1 of the NLCS. He was not just becoming a postseason star for the Giants. Bumgarner was becoming an October legend.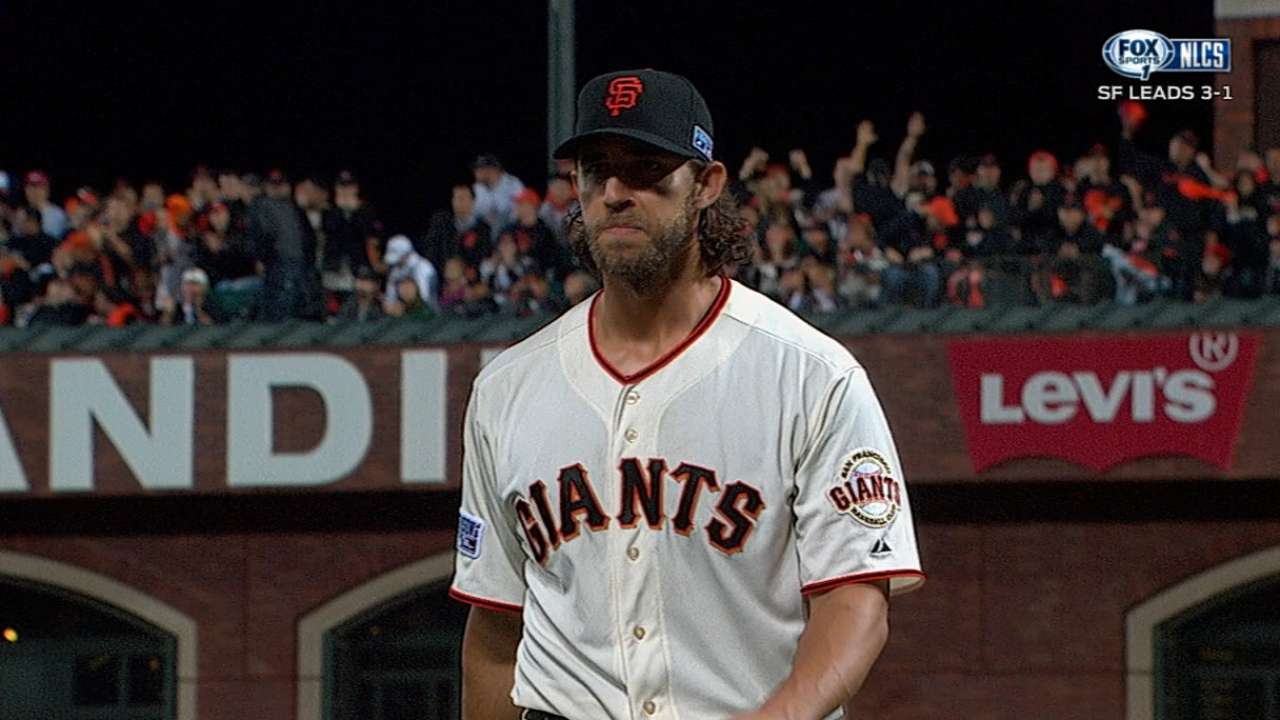 • Video: Bumgarner fans five in eight IP
So it was almost shocking when Bumgarner, if only for a moment, proved mortal in Game 5. After Travis Ishikawa's misplay in left field resulted in a third-inning run, Bumgarner gave up a game-tying solo homer to Adams and a go-ahead shot to Cruz in the fourth.
Then Bumgarner became impossible to hit. His counterpart, Adam Wainwright, did likewise. And Game 5 descended into a belated pitching duel.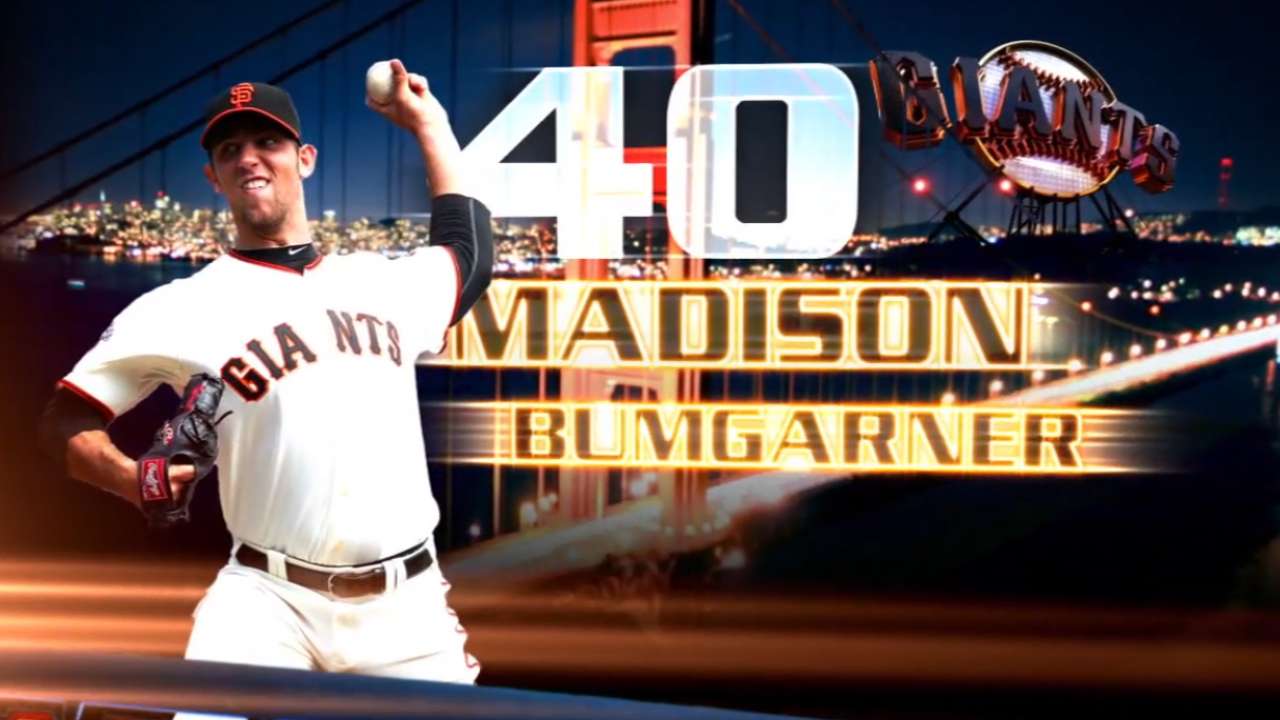 • Video: MLB Tonight breaks down MadBum
"He was good," Cardinals third baseman Matt Carpenter said. "He was definitely good."
"We knew it was going to be a dogfight tonight," added Bumgarner. "We know what kind of team they have over there, and at the same time, we know what kind of team we have. This was as fun a game as you could have had."
• Video: MadBum on winning NLCS MVP
By the end of it, Bumgarner had allowed three runs over eight innings, actually increasing his postseason ERA to 1.72. He all but single-handedly won NLCS Game 1 for San Francisco, then put the Giants on his back for much of Game 5. In doing so, Bumgarner joined Bob Gibson and Mike Mussina as the only pitchers ever to submit five consecutive playoff starts of at least seven innings with seven or fewer baserunners.
And Bumgarner became the first Giants pitcher to become the NLCS MVP.
"Man, that's unbelievable," Bumgarner said. "I don't know if I really deserve it, but I'm really thankful for it."
Anthony DiComo is a reporter for MLB.com. Follow him on Twitter @AnthonyDicomo. This story was not subject to the approval of Major League Baseball or its clubs.