MLB.com Columnist
Tracy Ringolsby
Peavy rewarding Giants' faith in his arm over his record
Righty had gone more than three months without a win before deal to San Fran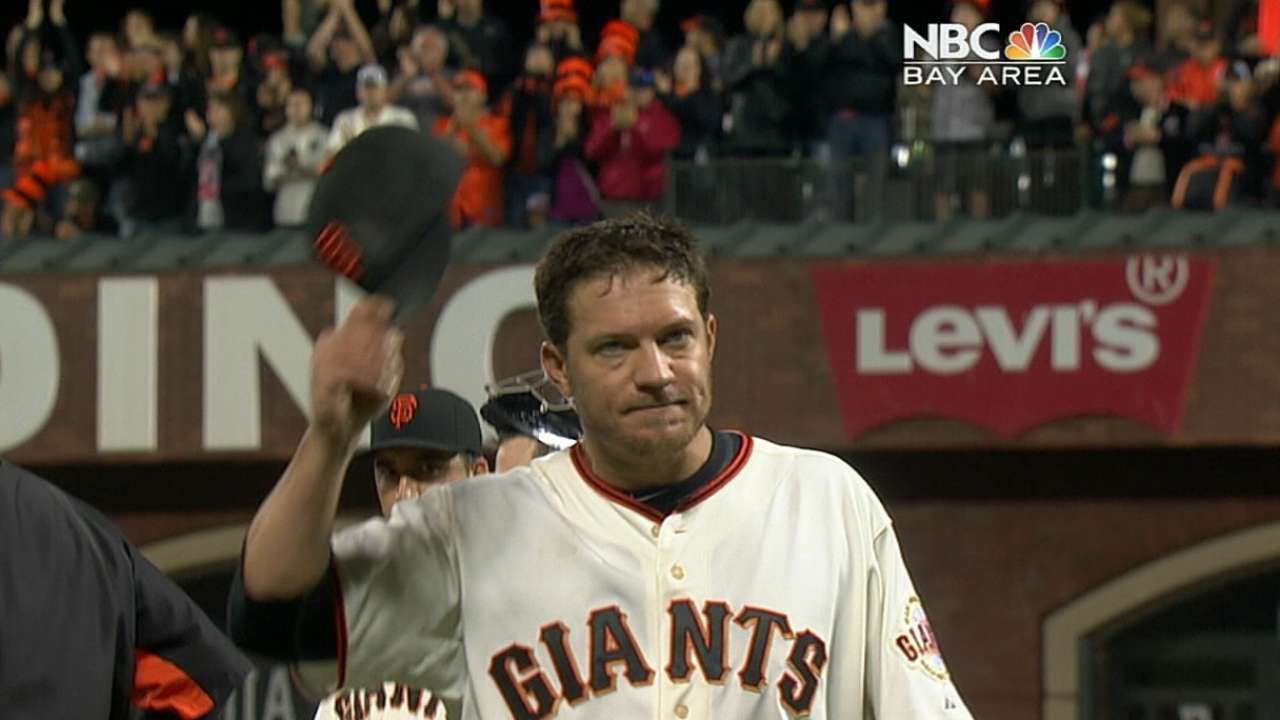 Numbers can lie. Jake Peavy is proof. As much as Peavy had struggled statistically with the Red Sox earlier this year, the Giants were not misled. Their scouts liked what they saw when Peavy threw the baseball. And San Francisco manager Bruce Bochy knew what made Peavy tick from when he managed Peavy when both were with the Padres.
It has all added up to the Giants arguably making baseball's strongest midseason trade. Peavy has provided a much-needed quality arm in a rotation that has been challenged by Matt Cain's season-ending surgery and Tim Lincecum's inconsistency.
The Giants open a three-game weekend series -- with postseason implications -- against the Tigers on Friday night, and Bochy will hand the ball to Peavy, who is looking for his fourth win in his past five starts.
Impressed? You should be.
Peavy's recent success comes after a stretch of 18 consecutive starts in which he failed to earn a win -- his final 15 in Boston and first three with San Francisco. He suffered 12 losses during that stretch, and his teams were 2-16 (2-13 with the Red Sox and 0-3 with the Giants).
The Giants, however, weren't concerned by the stats. They trusted their eyes.
"Our scouts went in and watched him and liked his stuff," said Dick Tidrow, San Francisco's vice president and assistant general manager of player personnel. "Bochy knew him well, and talked about the competitor that Jake is. If [Peavy] still had his ability, and with his makeup, we felt he was someone who was going to be able to help us."
Peavy is 3-4 in his first seven starts for the Giants, but he has a 2.66 ERA. And in his past four starts, he has gone 3-1, allowing four earned runs in 28 2/3 innings (1.26 ERA). Peavy worked seven innings in the first three starts of that stretch, and 7 2/3 innings his most recent time out.
It's how Peavy expects to pitch. He never gave up on himself during that nearly four-month victory drought.
"It was a tough stretch," said Peavy. "I love to win games, but I can't judge my performance strictly on wins and losses, and I can't take anything for granted.
"I have to prove myself every day, no matter how I pitched the last time. It's about getting the job done today. It's always about pushing yourself to do well."
Finding that extra motivation is not difficult with San Francisco.
Peavy is back in a pennant race. The Giants are second in the National League West, two games behind the Dodgers, and leading the NL Wild Card, 2 1/2 games in front of the Brewers and three games in front of the Braves.
It's where Peavy feels comfortable. He has pitched in three previous postseasons -- with Padres teams that were eliminated in the first round in 2005 and '06, and with the Sox during their run to a World Series championship a year ago.
"It means everything," Peavy said of the postseason possibility. "It is why we play this game -- to be in the situation we are in now. It's about having a chance to compete for a world title. It's why you show up, especially this late in a career."
Peavy, 33, is in his 13th big league season, and the sixth in which he has pitched for Bochy, who was in the Padres' Draft room back in 1999. That's when the Padres took Peavy, then a high school kid out of Alabama, in the 15th round, then put together a package that enticed him to pass on a scholarship offer to pitch at Auburn.
Bochy filled out the lineup card for the Padres when Peavy made his June 22, 2002, debut, and he watched the foundation being laid for that 2007 season, when Peavy claimed the NL Cy Young Award and led the NL in ERA, wins and strikeouts.
The history made Bochy comfortable with the addition of Peavy, regardless of the righty's win-loss record and ERA.
"It made it easier on Sabes, too," Bochy said of San Francisco general manager Brian Sabean. "From my standpoint, this was a no-doubter, and it made it easier when the scouts said the numbers were not indicative of how [Peavy] was throwing the ball.
"It was a tough time for an athlete, but he's a tough-minded guy. He's been more than we wanted. He's been so consistent every time."
The Giants need Peavy more than they even knew. When they picked him up in late July for two quality pitching prospects -- left-hander Edwin Escobar and right-hander Heath Hembree -- Lincecum was in his best stretch of the season, and the hope was Cain was suffering from elbow soreness that would subside. Two weeks later, the decision was made for Cain to undergo surgery to remove bone spurs from his right elbow. Then, 10 days ago, Lincecum was removed from the rotation.
"And there is more to [Peavy] than the day he pitches," said Bochy. "He's into every game. He's a factor in the clubhouse. He makes everybody around him better."
Peavy has provided the Giants exactly what they needed in their quest to return to the postseason.
Tracy Ringolsby is a columnist for MLB.com. Read his blog, Write 'em Cowboy. This story was not subject to the approval of Major League Baseball or its clubs.