Petit retires 46th straight to set MLB record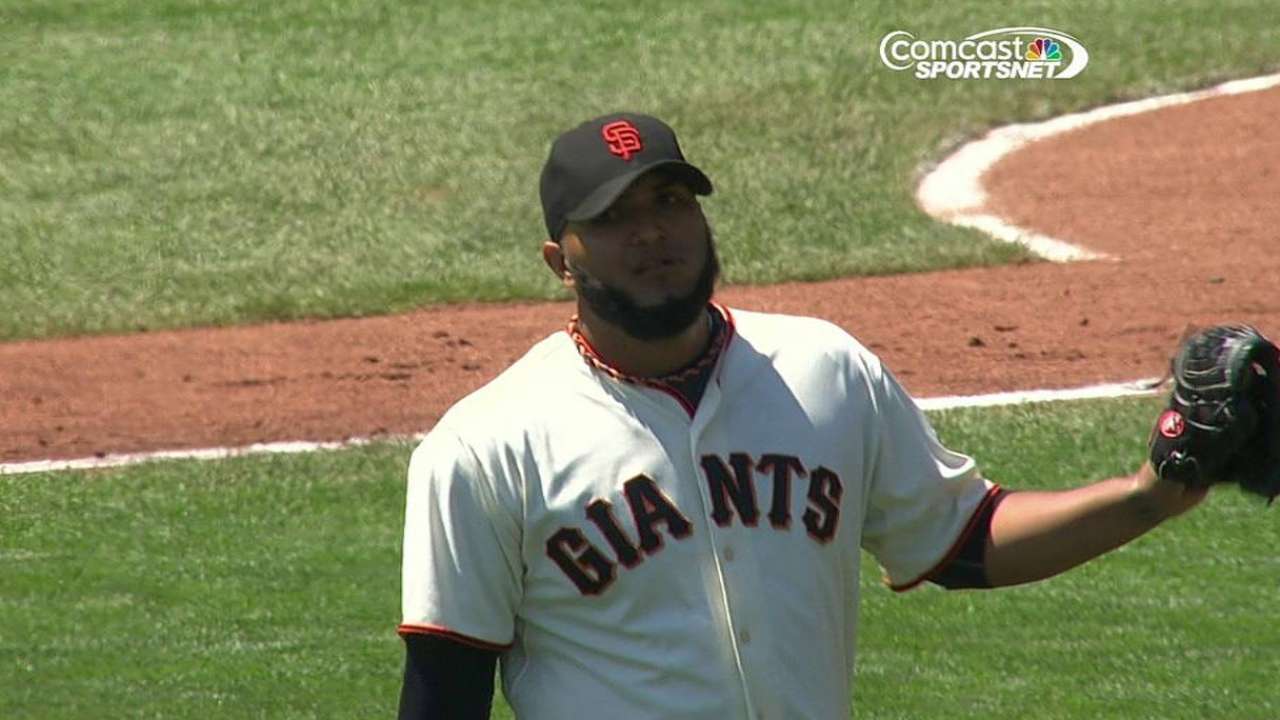 SAN FRANCISCO -- Andrew Susac's innocent mistake reflected the absence of fuss surrounding Yusmeiro Petit's pursuit of history.
After Colorado's Brandon Barnes took a called third strike to end the second inning of Thursday's Giants-Rockies series finale, Susac, San Francisco's catcher, generously tossed the ball to a fan seated in the front row.
Except Susac wasn't supposed to do that. Authenticators were on hand to gather baseballs thrown by Petit as he approached Mark Buehrle's 2009 Major League record of 45 consecutive batters retired.
"I didn't have any clue what was going on," Susac said.
By contrast, Petit maintained a keen sense of everything that involved him. He dominated the Rockies long enough to set down their first eight hitters, enabling him to retire his 46th batter in a row and eclipse the standard Buehrle set as a member of the Chicago White Sox.
"I'm very happy to be able to establish this new record," said Petit, who yielded one run and four hits in six innings to earn the decision in San Francisco's 4-1 triumph. "At the beginning, I didn't know about it, but in Washington I learned I had a streak going, and I tried to focus and do everything possible."
Petit, 29, began amassing his record total at the end of a July 22 start at Philadelphia. Then came six consecutive appearances out of the bullpen, mostly in his role as San Francisco's long reliever. Petit replaced struggling right-hander Tim Lincecum for the start against the Rockies.
Petit pitched 4 1/3 perfect innings in that Washington outing he mentioned, lengthening his streak of bamboozled batters to 38. He amassed five strikeouts in his final surge past Buehrle, including Colorado's Jackson Williams and Charlie Culberson to tie and break the record, respectively, in the third inning. The AT&T Park audience rewarded Petit with a standing ovation after Culberson went down swinging.
Petit's freshly established record held at 46 as opposing pitcher Jordan Lyles doubled to left field.
"I'll definitely be a trivia question down the road somewhere," Lyles said.
Giants manager Bruce Bochy maintained that nothing was trivial about Petit's accomplishment.
"It's really incredible, when you think about it," Bochy said. "This game has been played a long time, and it's quite a record to be proud of. It's amazing to me."
Bochy acknowledged that Petit's steady progress toward Buehrle's standard "kind of went unnoticed for a long time. ... Now he's got it. He should be very proud of that."
Petit was indeed proud, though witnesses said that he profusely thanked teammates during a brief postgame champagne toast for their contributions to his success.
Susac pointed out that Petit deserved to keep some credit for himself.
"Honestly, the only pitch he missed on was the pitch to [Lyles] the next at-bat [after the record was set]," Susac said. "Other than that, he was lights out. He threw his off-speed [pitches] any time he wanted. His cutter was sharp today. But for the most part, he just pounded fastballs and hit the corners."
Petit nearly etched himself into baseball immortality last Sept. 6, when he needed one out to complete a perfect game against Arizona. Eric Chavez spoiled the moment by singling.
Petit drew from the memory of that disappointment to drive himself toward Buehrle's record.
"I said to myself, 'This is not going to happen to me again,'" Petit said. "So I concentrated specifically on getting there. ... I think it's like a reward for all the work I've put into my pitching. I think God gave me a second opportunity."
Chris Haft is a reporter for MLB.com. Read his blog, Haft-Baked Ideas, and follow him on Twitter at @sfgiantsbeat. This story was not subject to the approval of Major League Baseball or its clubs.