After gaffes, Blanco staying aggressive on bases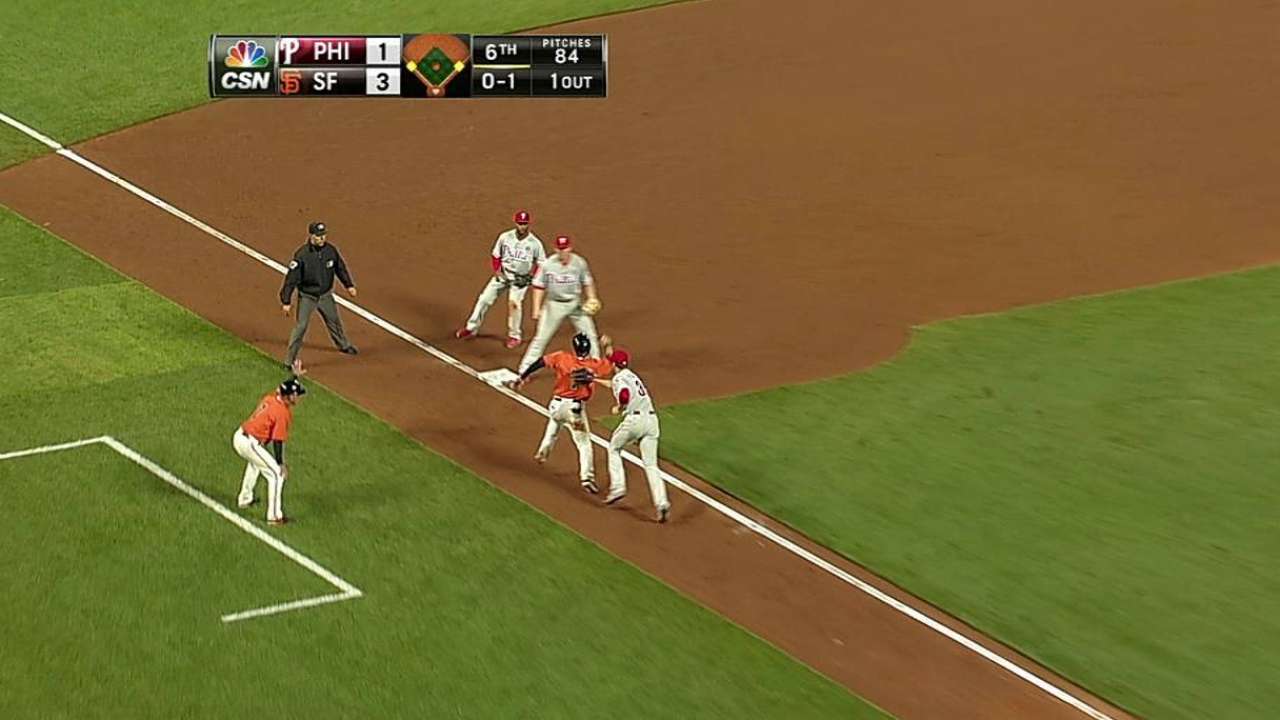 SAN FRANCISCO -- Gregor Blanco has made a handful of curious decisions on the basepaths in the last few weeks, and after two more costly gaffes in the Giants' 5-3 loss on Friday night, manager Bruce Bochy had a meeting with his fastest bench player.
"I talked to him tonight," Bochy said after the game. "It's a fine line between being aggressive and being smart. He can be a very good baserunner. He's just got to keep his focus out there. These guys are trying to make something happen, and sometimes they probably push it too much. When he's going right, he's one of our better baserunners."
In the sixth inning, the Giants put on a safety squeeze, but Brandon Crawford wasn't able to bunt it past the pitcher, and Blanco didn't make sure that happened before heading home. Crawford reached on a fielder's choice, and Blanco was out at the plate.
"On both ends, we didn't execute," Bochy said.
Two innings later, Blanco hesitated before running to first base on a sacrifice bunt attempt that he popped up. The ball ended up dropping, but since he hadn't run immediately after contact, he was thrown out.
"I'm really aggressive. What happened yesterday is in the past," Blanco said Saturday morning. "I was just really worried about bunting the ball, because it's not easy to bunt.
"All I wanted was to move the guy to second base. I wasn't even really thinking about running. I made a mistake there, but at the same time, I did what they asked me to do."
Asked if he'd be making any adjustments to his baserunning approach, Blanco said no.
Ryan Hood is an associate reporter for MLB.com. Follow him on Twitter @ryanhood19. This story was not subject to the approval of Major League Baseball or its clubs.