Bochy: Giants must play well at home down stretch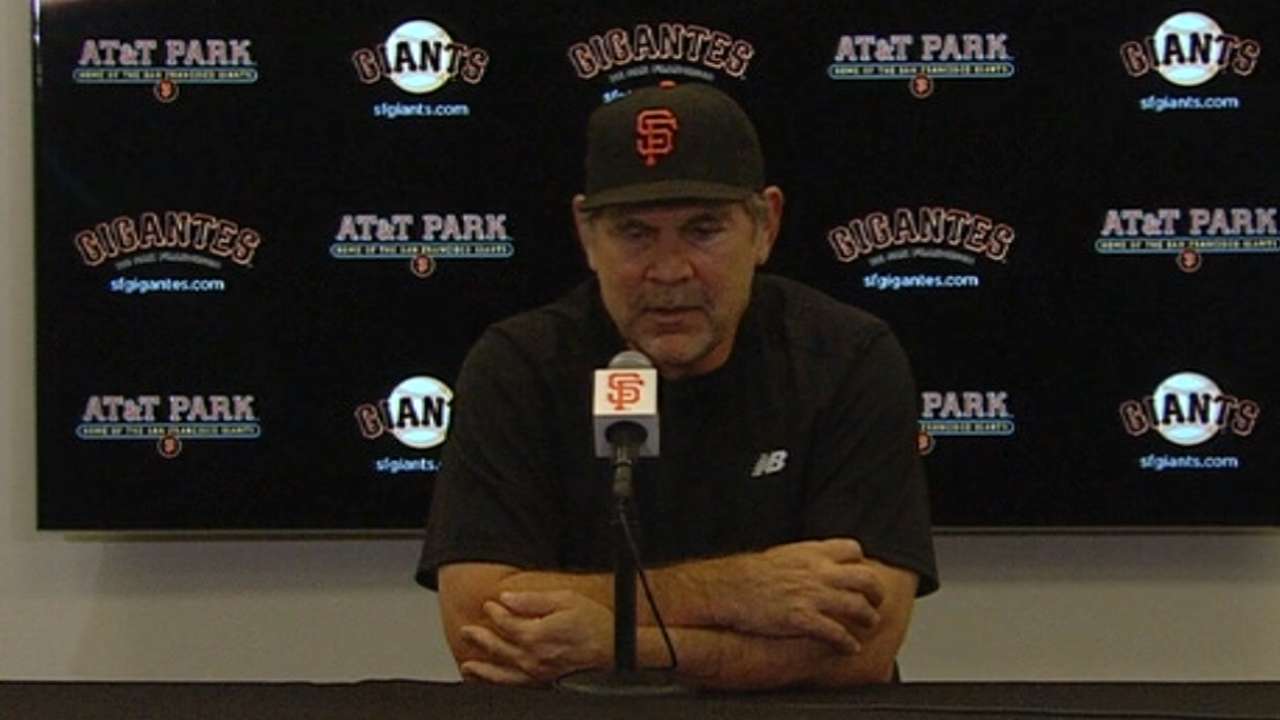 SAN FRANCISCO -- Manager Bruce Bochy's guess is as good as anybody's.
He can't explain why the Giants entered Saturday 30-32 at AT&T Park. He's also confused by Madison Bumgarner's home/road splits (5.17 ERA/1.72), and Buster Posey hitting .239 at home compared to .328 on the road doesn't make much sense to Bochy, either.
"I think it's just one of those years," Bochy said. "We've had some play at home here that's been hard to explain, whether it's individual players or us as a team."
One thing that doesn't need explaining is that the clock's ticking, and time's running out for a turnaround.
With their disheartening 5-3 loss in 10 innings on Friday night, the Giants have lost 15 of their last 22 home games. With 41 games left, they finished Friday 5 1/2 games behind the National League West-leading Dodgers, a half-game behind the Pirates for the second NL Wild Card spot and 1 1/2 games behind the Cardinals for the first NL Wild Card spot.
"We're still in striking distance," Bochy said. "That's how good we were in the first half, and thank goodness that we did play such great ball for most of the first half."
The Dodgers haven't exactly run away with the division, and have recently been hampered by injuries. That'll all be irrelevant unless the Giants start resembling the team they were in the season's first two months more than the team they've been for the last two months.
"It doesn't matter what happens if we don't pick up our play at home, it's not going to matter what happens with the other clubs," Bochy said. "We've just got to control what we can, and that's how we play.
"This is the sprint."
Ryan Hood is an associate reporter for MLB.com. Follow him on Twitter @ryanhood19. This story was not subject to the approval of Major League Baseball or its clubs.