Aoki gets two assists in third thanks to replay
Pence out on right fielder's throw after review; Arias caught at home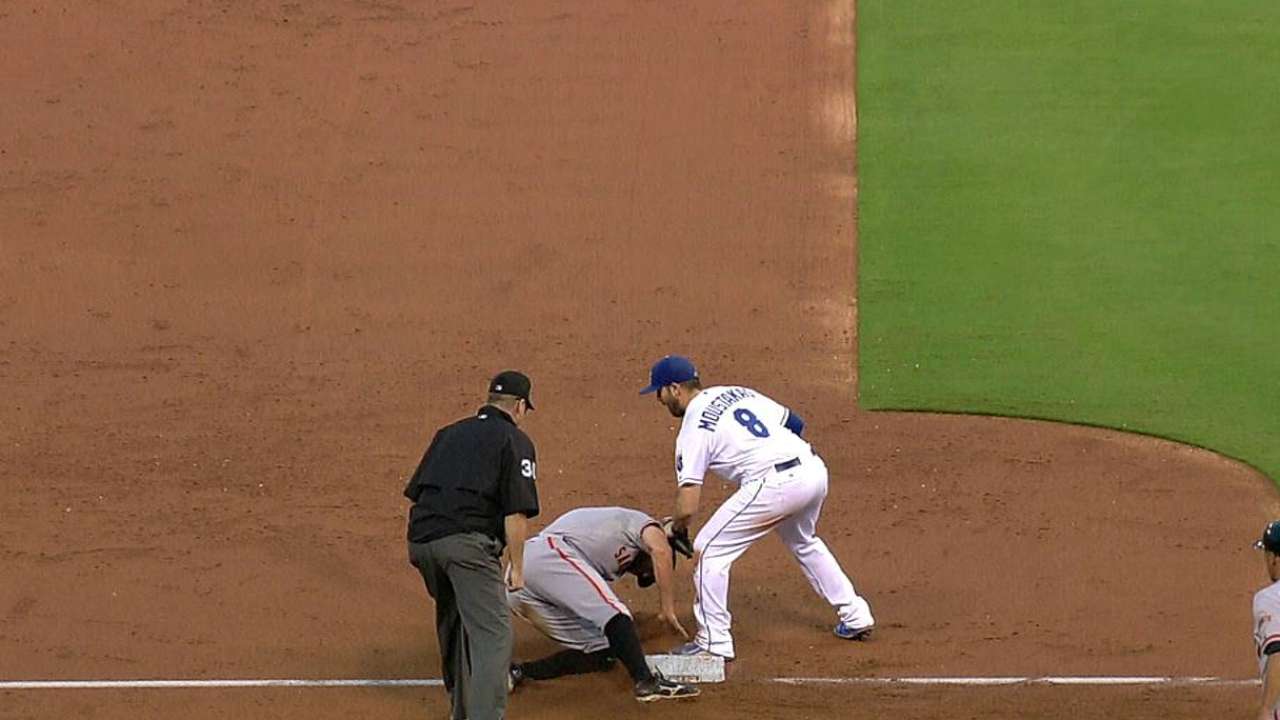 KANSAS CITY -- A successful challenge by the Royals hindered a Giants rally and helped right fielder Nori Aoki get two assists in one inning Friday night.
Hunter Pence led off the Giants' third inning with a single and sprinted to third base as Pablo Sandoval rolled a one-out hit into right field. Third baseman Mike Moustakas took Aoki's throw and tagged Pence, who was called safe by umpire Gary Cederstrom.
The Royals, believing that Pence was off the bag during the tag, challenged the call, and a replay review overturned the decision. Pence became the second out.
"That was a huge challenge," said Royals manager Ned Yost. "I didn't know what to think. It looked from my vantage point that he was safe but Moose put the tag on him, held the tag on him, then gave a look -- like, 'Hey, check this.' So we got on the phone right away."
While Yost went onto the field, replay coordinator Bill Duplissea gave bench coach Don Wakamatsu the go-ahead for a challenge. And it paid off.
"I thought he was safe but, looking at it closer, it looked like he came off the bag, which helped us," Aoki said.
However, the Giants followed with three more hits, including a run-scoring double by Joaquin Arias and an RBI single by Matt Duffy. But Aoki's throw to catcher Salvador Perez caught Arias trying to score a second run on Duffy's hit, and the two-run inning was over, leaving the score 2-2.
Aoki became just the third outfielder in Royals history to have two assists in one inning. Amos Otis did it on April 25, 1970, against Baltimore (first inning) and Bob Oliver was the first on Sept. 16, 1969, against Seattle (sixth inning).
It was a personal first for Aoki. He'd never done it, not even in his Japan League years.
"You might have two in a game but never really in one inning," Aoki said.
The Royals also were on the right side of a crew-chief review in the second inning, which denied Giants left fielder Juan Perez a potential home run.
With two men on, Perez crushed a Jason Vargas offering deep into the left-field stands. But Cederstrom, the third-base umpire, ruled that it landed just on the foul side of the pole.
The umpires called for a review, and replay officials in New York confirmed Cederstrom's call.
Vargas struck out Perez and Brandon Crawford, then retired Angel Pagan on a lineout to end the inning and keep the score 2-0 in favor of the Royals.
Dick Kaegel is a reporter for MLB.com. This story was not subject to the approval of Major League Baseball or its clubs.