Pence embraces fans' playful heckling signs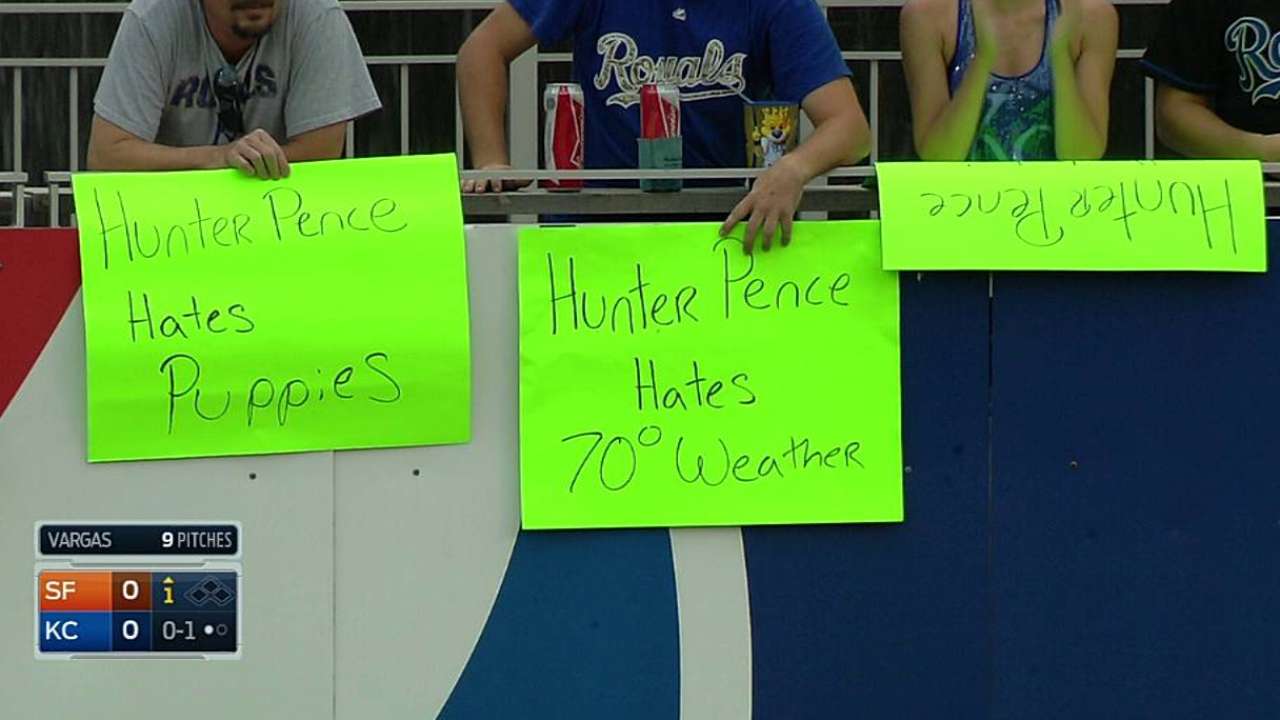 KANSAS CITY -- "Hunter Pence eats kale so you don't have to."
"Hunter Pence always makes sure that his carry-on bags fit in the overhead compartment."
Of the myriad signs and memes percolating in San Francisco's current 10-game road trip, Pence prefers those two.
Last weekend, when San Francisco visited the Mets, New York fans greeted Pence with a few signs poking fun at the Giants outfielder. The playful heckling caught on and carried over to the team's next trip to Milwaukee, as Brewers fans came to the ballpark with similar signs.
Pence has embraced this recent phenomenon, popular on social media with the hashtag #HunterPenceSigns. Before the Giants opened up a three-game series with the Royals on Friday, he joked with Kansas City fans, telling them they should have brought signs of their own.
"I do enjoy it. I think it's funny; I like comedy and fans are extremely creative," Pence said. "It's definitely wild, but I'm having fun with it."
He says the memes derive from a photo he posted to Facebook and Twitter of him in a New York City coffee shop prior to the Aug. 1 game vs. the Mets, with the caption: "These pretzels are making me thirsty," a quote from the television show "Seinfeld."
"These pretzels are making me thirsty" ?? pic.twitter.com/Jetepgk9UJ

- Hunter Pence (@hunterpence) August 1, 2014
The next night, Mets fans greeted Pence with signs, one reading: "Hunter Pence can't parallel park."
"It's like Hunter Pence isn't me anymore," Pence said. "It's like this other entity, and it's an extremely interesting entity."
Jackson Alexander is an associate reporter for MLB.com. This story was not subject to the approval of Major League Baseball or its clubs.