Cain needs surgery, likely done for the season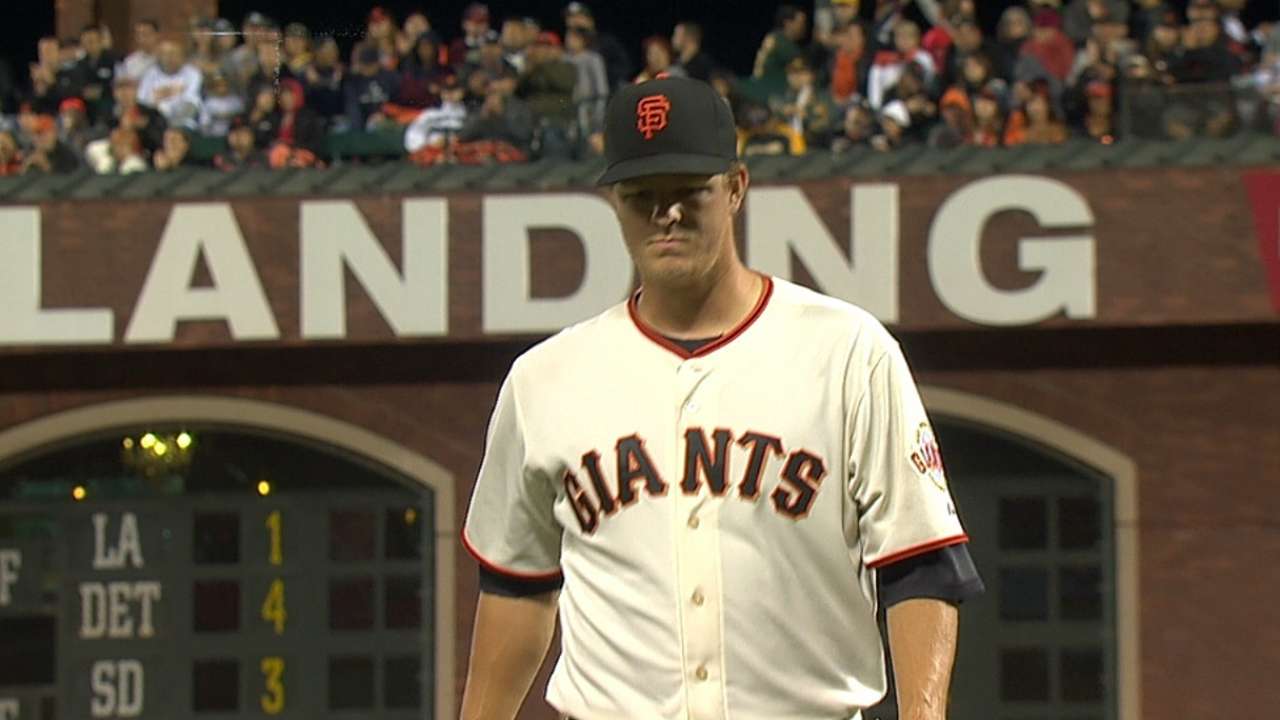 NEW YORK -- Yielding to a unanimous decision from a panel of medical experts, Giants right-hander Matt Cain almost surely will undergo surgery to have bone chips and spurs removed from his throwing elbow.
Given the minimum recovery time for such a procedure, which is around three months, the surgery will end Cain's 2014 season. However, he said Friday that he hasn't decided when he'll have the operation.
"If you're putting odds on it, odds are going to be that he will not pitch," Giants manager Bruce Bochy said.
Cain briefly played catch at a 60-foot distance on flat ground at Citi Field to gauge the feeling in his arm one more time. He indicated that he'll decide when to schedule the surgery after he evaluates how his arm feels following that exercise. He conceivably could wait until early in the offseason to have the procedure and still be ready for Spring Training.
Bochy said that Cain needed this mental and physical pause.
"This will give him the weekend to decide who's going to do [the surgery] and when," Bochy said.
Cain visited renowned orthopedist Dr. James Andrews on Tuesday and consulted Dr. David Altchek, the Mets' highly regarded medical director, on Friday. They agreed with the evaluation of Giants orthopedist Dr. Ken Akizuki.
"All three said the same thing," Cain said. "[The chips and spurs] need to come out."
Cain, 29, said that he has had a "good bit of bone chips" in his elbow for 10 years. Yet he managed to make three All-Star teams and excel in two postseasons with this hindrance.
"They've always been there," said Cain, who's 2-7 with a 4.15 ERA in 15 starts this season. "It's just that now they're mad and they're letting me know about it. For some reason, they got in a different spot and they got aggravated and they are what they are now."
Cain said it was unlikely that the chips could migrate back to an area of his elbow which would free him from discomfort.
Giants general manager Brian Sabean didn't panic over the first arm-related ailment endured by Cain, who pitched 200 innings or more in each season from 2007-12. Asked if Cain's surgery would change the Giants' offseason priorities -- in other words, would they target starting pitching more seriously than usual -- Sabean replied, "I'd say it wouldn't. But it hasn't happened yet."
In other injury-related news, Bochy said that center fielder Angel Pagan (back) was expected to play seven innings for the Giants' Arizona League affiliate on Friday, then would progress to Triple-A Fresno if all went well. Asked if it was "reasonable" for Pagan to rejoin the team during the Milwaukee series that begins Tuesday, Bochy replied, "I'd say."
Recovering from a concussion, first baseman Brandon Belt further increased his baseball-related activities and should soon be activated from the disabled list, unless the Giants determine that he should begin an injury rehabilitation assignment in the Minors.
Chris Haft is a reporter for MLB.com. Read his blog, Haft-Baked Ideas, and follow him on Twitter at @sfgiantsbeat. This story was not subject to the approval of Major League Baseball or its clubs.