Sanchez out 'a little while' with concussion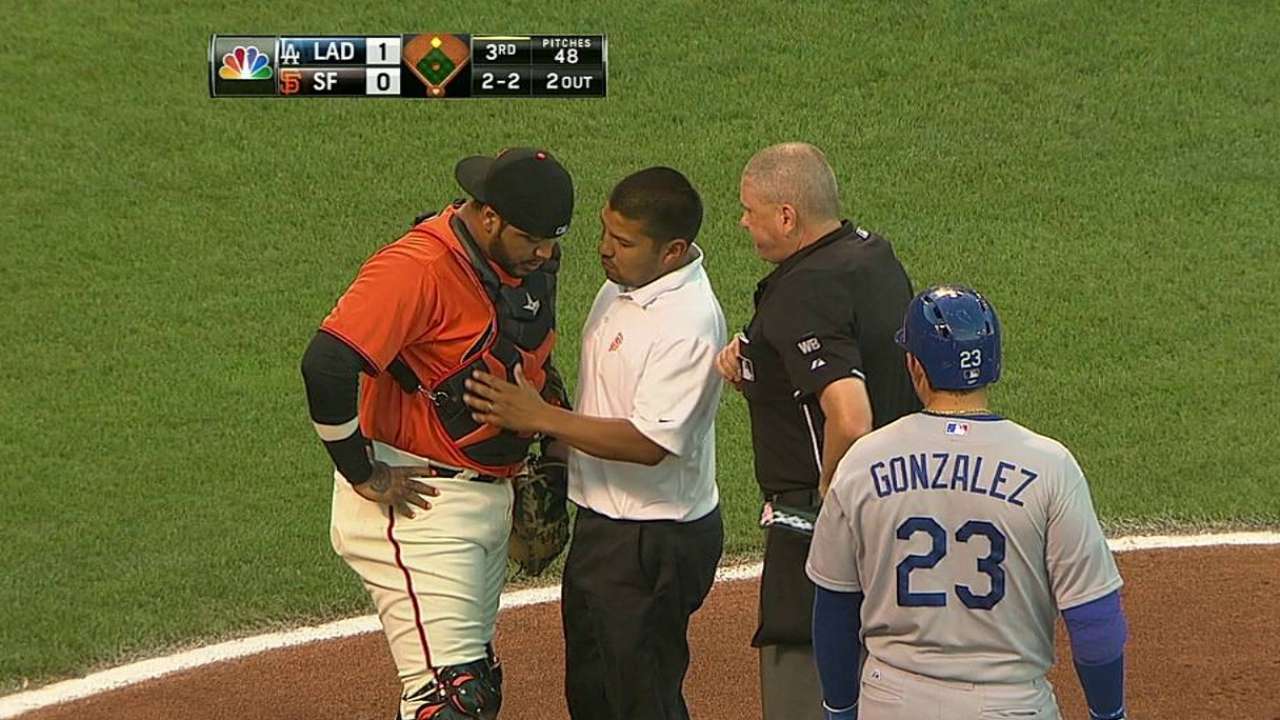 SAN FRANCISCO -- The population of the Giants' already crowded training room has increased yet again.
Catcher Hector Sanchez left the team's 8-1 loss to the Dodgers on Friday night after taking a foul ball to the mask in the third inning. The ensuing tests discovered a mild concussion, manager Bruce Bochy said after the game.
"He's out for a little while" is all Bochy had to offer on is backup catcher's status. A corresponding move had yet to be made. The Giants have Guillermo Quiroz and Andrew Susac at Triple-A Fresno, but neither is on the 40-man roster, so someone would have to be designated for assignment for room to be created.
Susac, the Giants' top-rated position-player prospect according to MLB.com's rankings, is hitting .268 with 10 home runs and 32 RBIs in 63 games with Fresno this season. Quiroz, meanwhile, is hitting .267 with one home run and 17 RBIs in 49 games there.
According to Derrick Goold of the St. Louis Post-Dispatch, free agent catcher A.J. Pierzynski has signed with the Cardinals, so a return to the Giants is no longer an option.
Bochy and a training staff member had a lengthy meeting with a shaken-up Sanchez after the foul tip, but he stayed in the game. Sanchez -- Tim Lincecum's personal catcher -- finished the top half of the inning and struck out in the bottom half. He was taken out of the game afterward.
Two innings later, Lincecum unraveled in a five-run fifth for the Dodgers that effectively ended the game. Lincecum and Sanchez have built a rapport that's both helped Lincecum rediscover his successful ways of yesteryear and allowed Bochy to spare star Buster Posey some wear and tear, given Lincecum's hard-to-catch, sometimes-erratic breaking balls. He gave up five runs on six hits in 1 1/3 innings without Sanchez on Friday.
Buster Posey moved from first base to replace Sanchez at catcher. Posey hadn't caught Lincecum since April 26 against the Indians.
Sanchez is hitting .196 with three home runs and 28 RBIs in 66 games this season.
Ryan Hood is an associate reporter for MLB.com. This story was not subject to the approval of Major League Baseball or its clubs.