Bochy believes bats are ready to come alive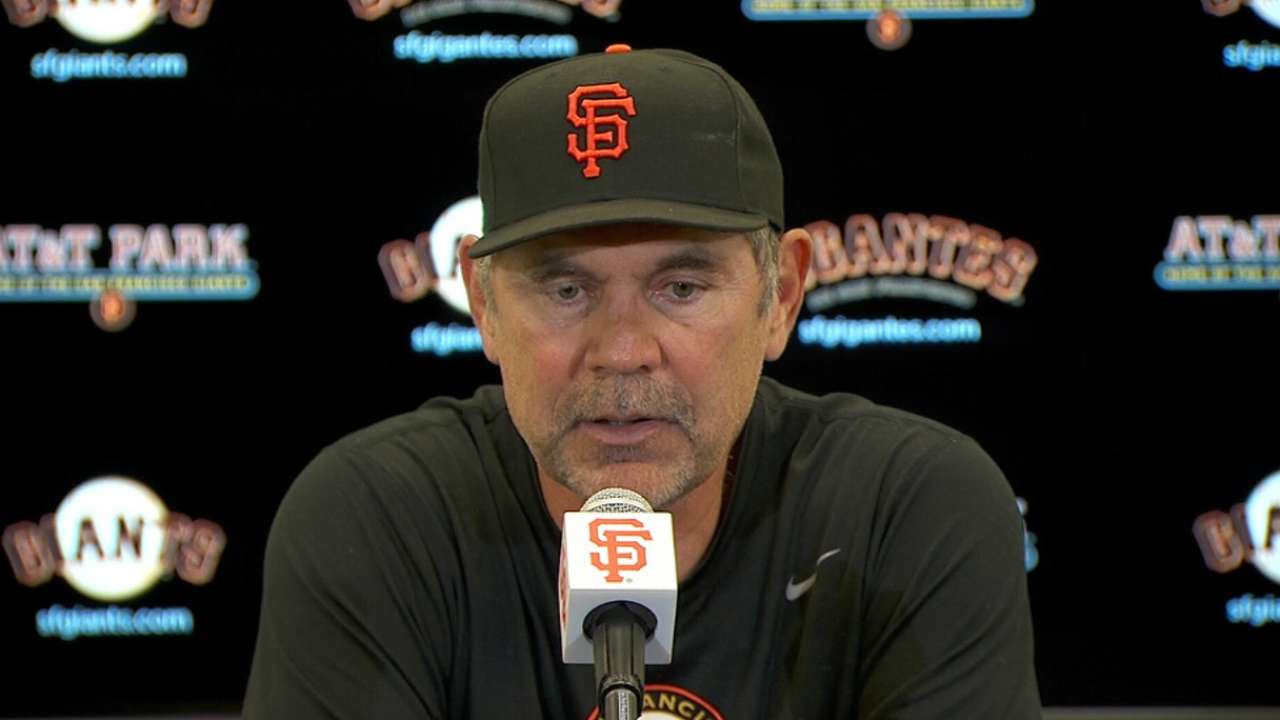 SAN FRANCISCO -- Marco Scutaro walked into the clubhouse for the first time this season on Friday, and Joe Panik instantly noticed a change in his surroundings from his locker stall.
"You can just tell he's such a good clubhouse guy," Panik said Saturday. "The moment he walked through the doors yesterday, everybody got so excited and you could just feel the energy in this clubhouse increase."
Guys left their chairs and walked around and they caught up with their well-respected friend and teammate who'd been missing for the season's first three months. According to Panik, the clubhouse became a livelier place. Manager Bruce Bochy sees signs of the same uptick in energy occurring with the team's bats.
"As a group, it seems like we're getting better at-bats," Bochy said before Saturday afternoon's game.
The Giants scored four runs in the first two innings of their 5-0 victory on Friday, led by Pablo Sandoval's two-run home run. Friday marked the second time in three games that they've scored five runs or more, but it was just the fifth time in the Giants' last 15 games that they've scored five or more runs. It's no accident that those five games are the only five they've won in that 15-game stretch.
Still, Bochy has liked his team's composure through its month-long slide.
"That's the time when guys can get a little cranky, maybe do some finger-pointing, but they hunkered down together and they've been playing through it," Bochy said. "Though, they know we have to pick it up and play better ball."
They did just that on Friday night -- albeit against Arizona's Mike Bolsinger, who entered the game with a 5.13 ERA -- but progress is progress, and Bochy said he saw better pitch selection from his team.
The training room is getting a bit emptier, too. First baseman Brandon Belt recently returned from a broken left thumb. Scutaro made his 2014 debut on Saturday. Catalyst and leadoff hitter Angel Pagan is expected back shortly after the All-Star break.
Given his livelier clubhouse, which is becoming a healthier clubhouse, Bochy sees better days not too far ahead.
"This has been a tale of two different teams here, with the first part of the first half to what's happened the last three weeks," Bochy said, "but I see us coming out of it."
Ryan Hood is an associate reporter for MLB.com. This story was not subject to the approval of Major League Baseball or its clubs.