Bochy shakes up order, drops Blanco to eighth spot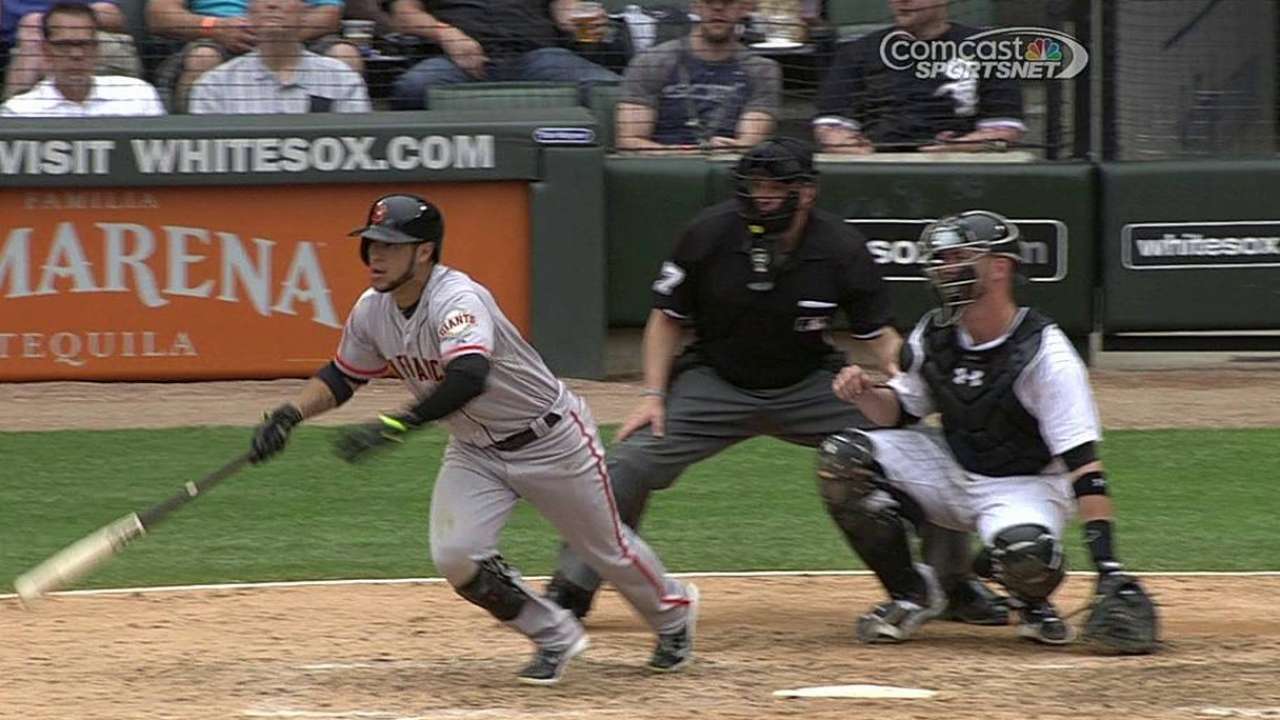 SAN FRANCISCO -- Looking for a spark offensively, manager Bruce Bochy altered the Giants lineup on Thursday. The biggest change came at the top, where Hunter Pence moved from the two-hole to the leadoff spot in place of Gregor Blanco, who was relegated to eighth in the order.
Much like the team as a whole, Blanco has struggled mightily to compensate for the absence of Angel Pagan.
Pagan has posted a .363 on-base percentage this season, and Blanco had hit .140 (6-for-43) in his last 12 games entering Thursday. The lower lineup spot appeared beneficial for Blanco, who went 2-for-4 with a double in the Giants' 7-2 loss on Thursday. Pence went 1-for-4 with two strikeouts.
After an 0-for-4 effort by Blanco on Wednesday night, Bochy said his replacement leadoff hitter had become passive in the batter's box and a change was necessary. Thursday marked the 23rd start in the last 24 games for Blanco, who started just 11 of the team's previous 62 games. He said fatigue from the drastic change in usage contributed to his struggles.
"Being a leadoff hitter demands you to be on base every time," Blanco said Thursday morning. "To me, there's got to be more of an energy level. Your energy level has to be 100 percent every time to be able to fight through and get on base. Angel does a great job doing it.
"It's tough to come from the bench and then play a bunch of games. That's not easy. I try to do the same thing he was doing, but it was a little tougher for me."
Subsequently, the offense has struggled. The Giants scored just 19 runs in their 10-game homestand that concluded on Thursday, and they were shut out three times.
"It's a really bad situation right now, because we need as a team to have better at-bats and to start playing like we were the first couple months," Blanco said. "That's why I'm a little mad sometimes -- I know slumps are going to happen, but I don't need a slump right now, I need to be better for the team right now.
"This [stinks], but it is what it is and I just got to continue to play hard, and I know I'm going to get out of it."
Blanco has grown frustrated, but his confidence hasn't waned, he said. And he anticipates big things from his replacement atop the lineup, so he's fine with the change.
"I'm all for the team to win. I know I'm kind of struggling right now, but it's going to be fun to watch a leadoff hitter like [Pence]," Blanco said. "He's a machine and he's going to be great."
Ryan Hood is an associate reporter for MLB.com. Follow him on Twitter @ryanhood19. This story was not subject to the approval of Major League Baseball or its clubs.