Giants bring up infielder Panik from Triple-A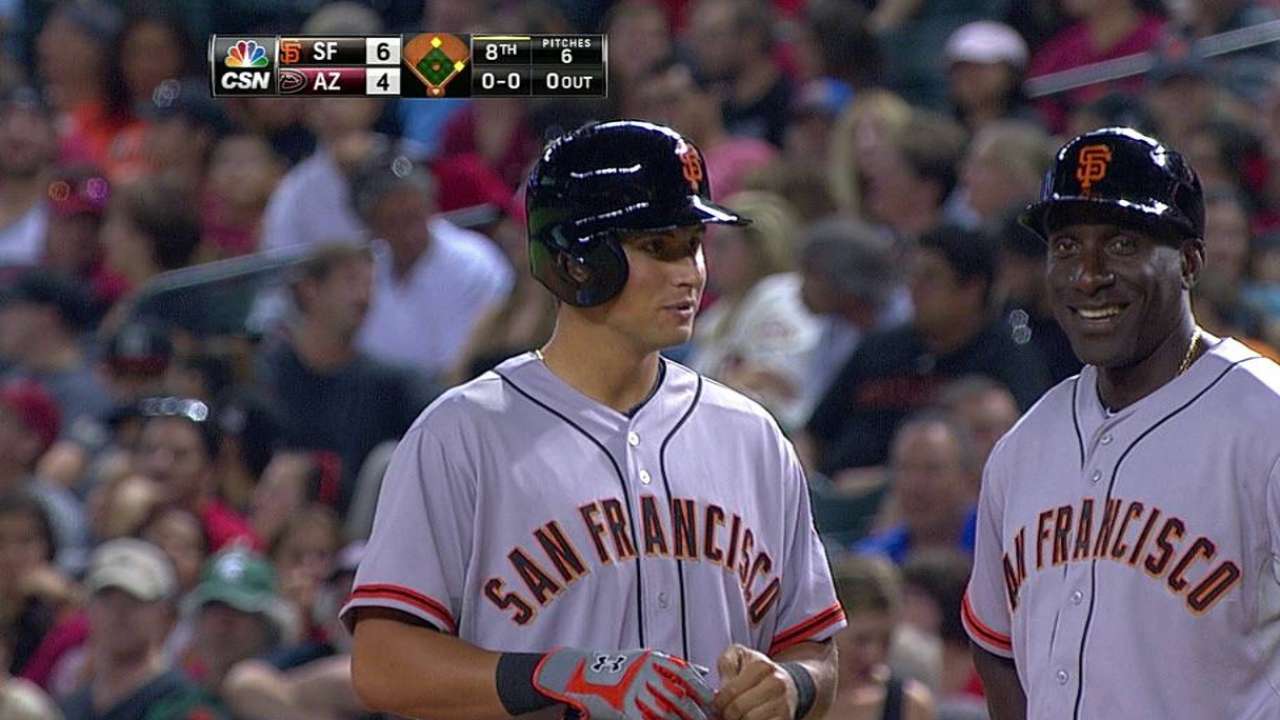 PHOENIX -- Joe Panik has arrived in the Giants clubhouse, but his glove has not.
The 23-year-old infielder was called up from Triple-A Fresno early Saturday morning, and he joined the Giants in Phoenix for their game against the D-backs, but most of his baseball equipment is in a connecting city.
"Makes for a good story," Panik said.
To make room for Panik, the Giants optioned outfielder Juan Perez to Fresno and designated pitcher Jake Dunning for assignment.
Panik, the 29th overall pick in the 2011 First-Year Player Draft, got the call that he would be joining the Giants at about 1:30 in the morning and quickly called his parents in New York.
"My dad answered the phone in his groggy voice, and Mom gets on speakerphone, 'What's wrong?'" Panik said. "'Well, this is actually probably the first good call you'll get at 3 a.m.'"
Panik said his parents, Natalie and Paul, flew into Phoenix for Saturday's game and actually beat him to the airport.
Panik was raking before the Giants called him up. At Fresno, he was hitting .321 in 74 games with a .829 OPS (on-base plus slugging percentage).
"This year, I felt like this offseason I prepared myself well physically," he said.
"I didn't try to press this year; I didn't try to do too much because I knew if I played my game, everything would work out."
Panik, whom MLB.com ranked as the Giants' No. 14 prospect, said manager Bruce Bochy hadn't discussed what his role with the team would be, but Bochy did say that Panik will likely make his first start against the D-backs on Sunday. Panik pinch-hit in the eighth inning Saturday and earned a walk.
"He's doing a real nice job," Bochy said. "This is a promotion he's earned. ... And we think at this point we could use some help at second base."
Adam Lichtenstein is an associate reporter for MLB.com. This story was not subject to the approval of Major League Baseball or its clubs.