Nats manager Williams recalls Giants days fondly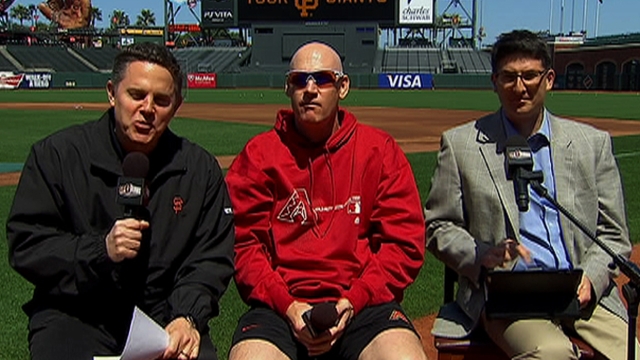 SAN FRANCISCO -- Matt Williams hit 247 home runs in his 10 seasons with the Giants. His home run celebration -- or lack thereof -- was memorable for its humility; he hurried around the basepaths, head down.
Back in the Bay Area as the manager of the Nationals, Williams went for a jog before heading to AT&T Park on Monday. As he had around the basepaths 247 times before as a Giant, Williams ran with his head down. He wore a headband and sunglasses, but he kept his head down.
"I was looking at my feet, trying to make sure I didn't trip," Williams joked.
This time, there weren't thousands of sets of eyes on him. If they were, it was unbeknownst to them; he said no one recognized him during his trot around memory lane.
"The memories come back every time," Williams said. "This city is where I grew up as a baseball player. I had great teaching, great support. There's a long history of fans here that support their teams and I was lucky to be part of that for some time.
"Everybody's welcoming and cordial and says hello; there are a lot of familiar faces around here, for sure. They want to beat you, but nonetheless, it's always special to come here. It's like home."
During the 10 years he played third base for the Giants, Williams hit .264 with 247 home runs and 732 RBIs and made four All-Star appearances before he was dealt to the Indians before the 1997 season.
Ryan Hood is an associate reporter for MLB.com. Follow him on Twitter @ryanhood19. This story was not subject to the approval of Major League Baseball or its clubs.