Giants draft Rice's power-hitting Ewing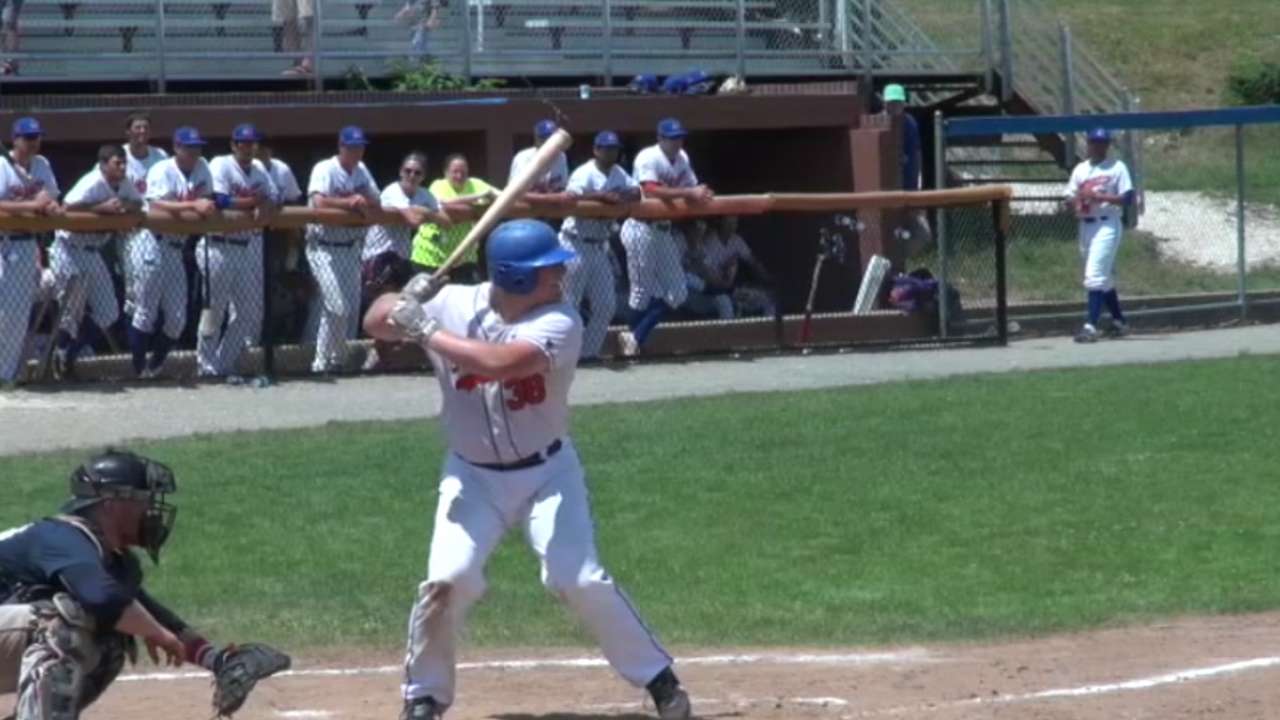 With their sixth-round pick (178th overall) Friday in the 2014 First-Year Player Draft, the Giants selected first baseman Skyler Ewing from Rice University.
In 127 career games at Rice, the 6-foot-2, 220-pound first baseman hit .291 to go along with 13 homers and 71 RBIs. Last season, as a junior, was Ewing's best at the collegiate level. He hit for career highs in average (.335), home runs (nine) and RBIs (48). The Arlington, Texas, native also posted a career-high .403 on-base percentage, up from .347 as a sophomore in 2013.
From MLB.com's scouting report on Ewing:
"In a down year for position players in the state of Texas, Ewing intrigues scouts because he offers right-handed power potential and has a chance to become a catcher. After batting a combined .238 as a part-time player in his first two years at Rice, he won the Cape Cod League home run derby last summer and took a huge step forward as a junior. Ewing's strength always has been evident, and he finally found success at the plate this spring by shortening his swing and improving pitch recognition. He can crush the best of fastballs and while he still can struggle against offspeed pitches, he's making adjustments.
"Ewing hasn't caught regularly for the Owls, so it's hard to know whether he'll be able to stick behind the plate in pro ball. His marginal athleticism and slow release mitigate his arm strength, and he's a bit stiff as a receiver. Scouts laud his work ethic, which should help as he tries to make the transition to a full-time backstop."
So what was the difference last summer in the Cape Cod League for Ewing? According to a story from Prospects Insider, Ewing's success stemmed from a newfound approach at the plate.
"Just simplifying everything," Ewing told Prospects Insider. "The game of baseball can be pretty tough mentally, so you just have to simplify things and obviously work on the things you need to work on."
More from the story: "Ewing was not drafted in 2011 out of high school, where he ranked as Texas' No. 93 prospect (high school or college) as a catcher at Arlington High School. But Rice has depth at catcher, so Ewing was moved to first base last season. Ewing found a groove during Conference USA play, hitting .298.
"I think his mechanics have gotten a whole lot better, he's more rhythmic at the plate," said Rice head coach Wayne Graham, noting Ewing was a top performer during fall ball. "He's got the experience he needed to become a good hitter."
Ewing is the first first baseman the Giants took in the 2014 Draft. They selected Aramis Garcia, a catcher from Florida International, Thursday in the second round.
The Draft concludes Saturday, with exclusive coverage of Rounds 11-40 beginning on MLB.com at 10 a.m. PT.
Ryan Hood is an associate reporter for MLB.com. Follow him on Twitter @ryanhood19. This story was not subject to the approval of Major League Baseball or its clubs.