Fireballing righty goes to Giants in fifth round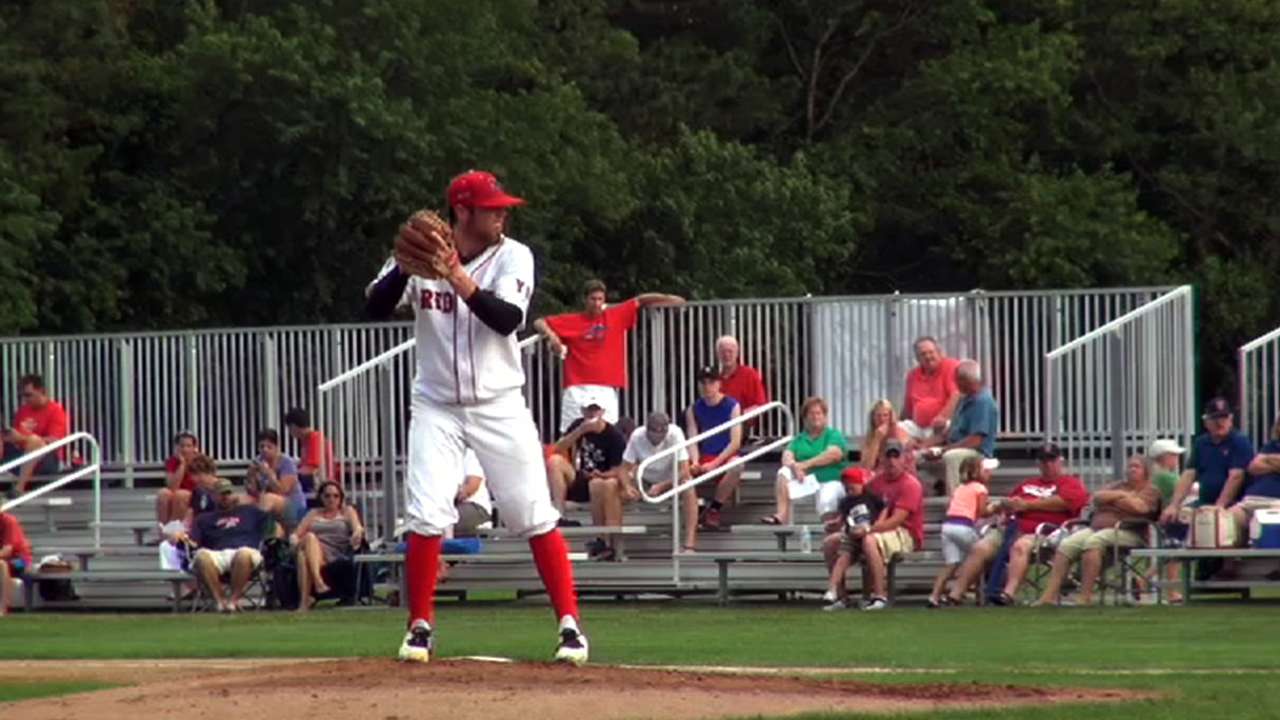 Asked which current Major League pitcher his style most resembles, Sam Coonrod gave an answer sure to pique the interest of Giants fans.
Yes, that Brian Wilson, the eccentric former relief pitcher for the Giants who's now public enemy No. 1 as a member of the Los Angeles Dodgers.
So is that strictly an on-the-mound comparison or does that encompass off-the-field persona, too?
"I think I'm a pretty normal guy, but a lot of people tell me I'm not," Coonrod said while laughing. "People tell me I'm a little off the wall, so I don't know.
"I just say what's on my mind; that's just how I roll. It catches some people off guard sometimes when I say what I think."
The Giants, meanwhile think they may have found the next bright young arm to come through the organization. San Francisco selected Coonrod in the fifth round of Friday's 2014 First-Year Player Draft; he was one of five pitchers taken in the first 10 rounds by the Giants.
In 48 career appearances (40 starts) at Southern Illinois, the 6-foot-2, 180-pound righty is 8-17 with a 3.85 ERA. This past season, Coonrod's junior campaign, was easily his best at the collegiate ranks. He started 15 games and posted just a 2-6 record, but had a 2.87 ERA in 84 2/3 innings, striking out 77 while surrendering 70 hits, 47 walks and a trio of home runs.
Born in St. Louis, Coonrod was raised a Cardinals fan. His dad played college baseball at McKendree University in Lebanon, Ill., where he was a pitcher and a shortstop.
It was Dad's guidance that led Coonrod to baseball at a young age. It's Dad's genes he credits with his abilities.
"I definitely got my arm from him," Coonrod said.
And a powerful arm it is. From MLB.com's scouting report on Coonrod:
"Pro teams have been waiting to get their hands on Coonrod's live arm since he hit 98 mph as a freshman at Southern Illinois. They've also spent three years trying to figure him out, because his results haven't matched his upside. He was winless through his first 10 starts this spring, dropping his college record to 6-16. Coonrod touched 98 mph again as a reliever in the Cape Cod League last summer, but he has spent most of 2014 working at 89-93. His slider has regressed as well after showing potential as a plus pitch in the past. His feel for his changeup is erratic, as is his control and command.
"At his best, Coonrod can display two above-average pitches and a solid third offering. Because he doesn't do so with consistency, he could wind up in the bullpen as a pro."
The Draft concludes Saturday, with exclusive coverage of Rounds 11-40 beginning on MLB.com at 10 a.m. PT.
Ryan Hood is an associate reporter for MLB.com. Follow him on Twitter @ryanhood19. This story was not subject to the approval of Major League Baseball or its clubs.