Giants take two-way player Davis in third round
Likely to be a corner outfielder, junior also has mid-90s fastball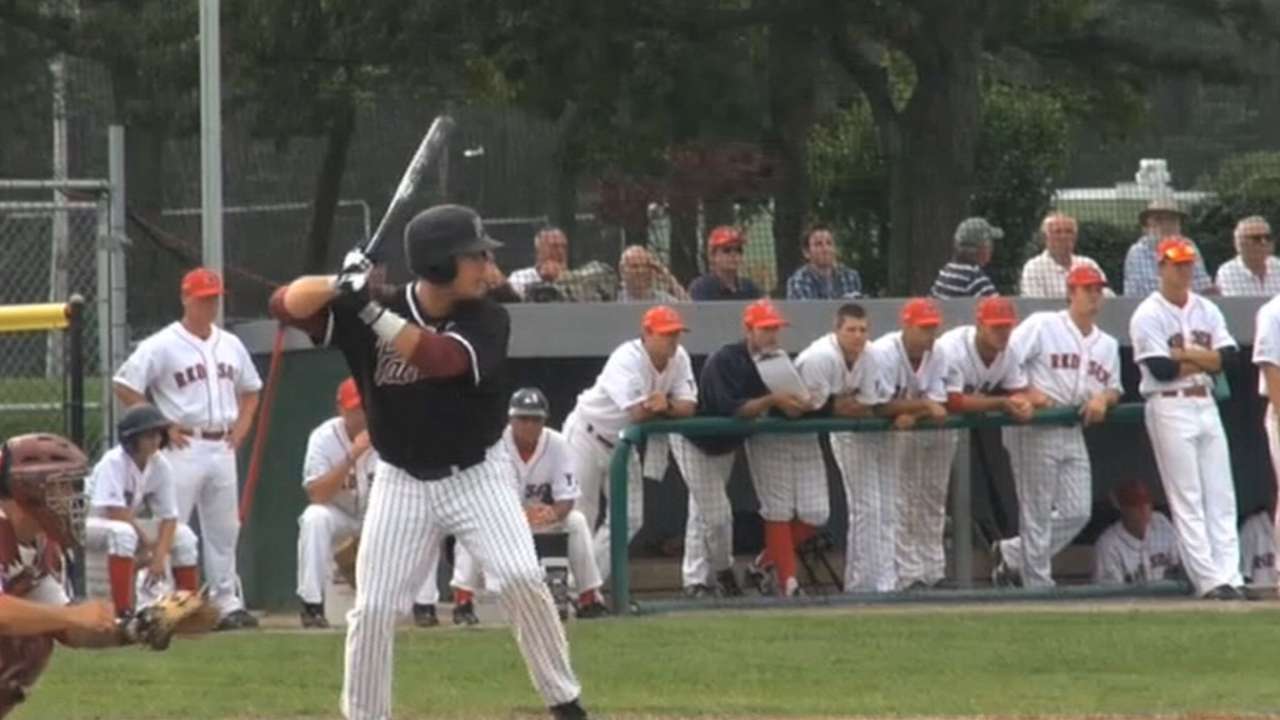 Shortly after her son's cellphone rang on Friday morning, Diana Davis had tears running down her face.
Her son Dylan had just been taken by the Giants with their third-round pick (87th overall) in the 2014 First-Year Player Draft. Given the circumstances, a mother's tears are to be expected.
These tears, however, left a 15-year trail.
When Diana was diagnosed with breast cancer 15 years ago, there were no guarantees she'd ever see her son swing more than the softball bats he'd take hacks with during his father's recreational softball games.
Fast-forward 15 years; Diana has been there for each step on Dylan's path to the Draft: For the beginning of Little League. For his trip to Guatemala as a member of the Team USA 14U team that won gold in 2007. For his trip to Taiwan two years later as a member of the gold-winning Team USA 16U squad. For his being named the best player in Washington during senior year. For his successful collegiate career.
And now for his drafting, the achievement of what Dylan called a lifelong goal.
"Looking back at that right now and seeing what she's been through, it's helped my experience being able to work and cherish what I'm able to do," he said on Friday. "She's really showed me and my dad just how you can do anything if you work hard enough for it."
Diana Davis' inspirational tale of defeating the disease has guided Dylan throughout his life. It helped save his Draft stock, too.
Davis' junior season at OSU didn't start according to plan. The outfielder, who'd mashed his way to first-team All Pac-12 honors as a sophomore, was mired in a slump. He wasn't supposed to struggle. His confidence plummeted with his batting average.
"I wasn't my normal self at the beginning of the season," he said. "I needed to feel like I was back in Little League, just having fun playing the game. It was about getting back to seeing the ball, hitting the ball and having fun with everything."
He turned to his mother for help and inspiration.
"I thought about [her battle with cancer] sometimes and about how she's been through a lot more than a lot of people have," he said. "She's been through a lot tougher stuff than what I'm doing, so I shouldn't be complaining and should just be working hard."
His midseason revival came full circle on Friday when the Giants called.
In 161 career games, Davis hit .297 with 15 homers and 155 RBIs and was 17-for-25 in stolen-base attempts. His sophomore season was his best at the plate; he hit .335 with five homers and 61 RBIs to go along with an on-base percentage of .379. The average dipped slightly this past season as a junior; he hit .290 but recorded career highs in home runs (seven) and RBIs (64).
In 26 innings pitched, Davis compiled a 3.12 ERA. He allowed 17 hits, walked 24 and struck out 24.
The Draft concludes on Saturday, with exclusive coverage of Rounds 11-40 beginning on MLB.com at 10 a.m. PT.
Ryan Hood is an associate reporter for MLB.com. Follow him on Twitter @ryanhood19. This story was not subject to the approval of Major League Baseball or its clubs.