Mays reflects on Giants' 1954 World Series win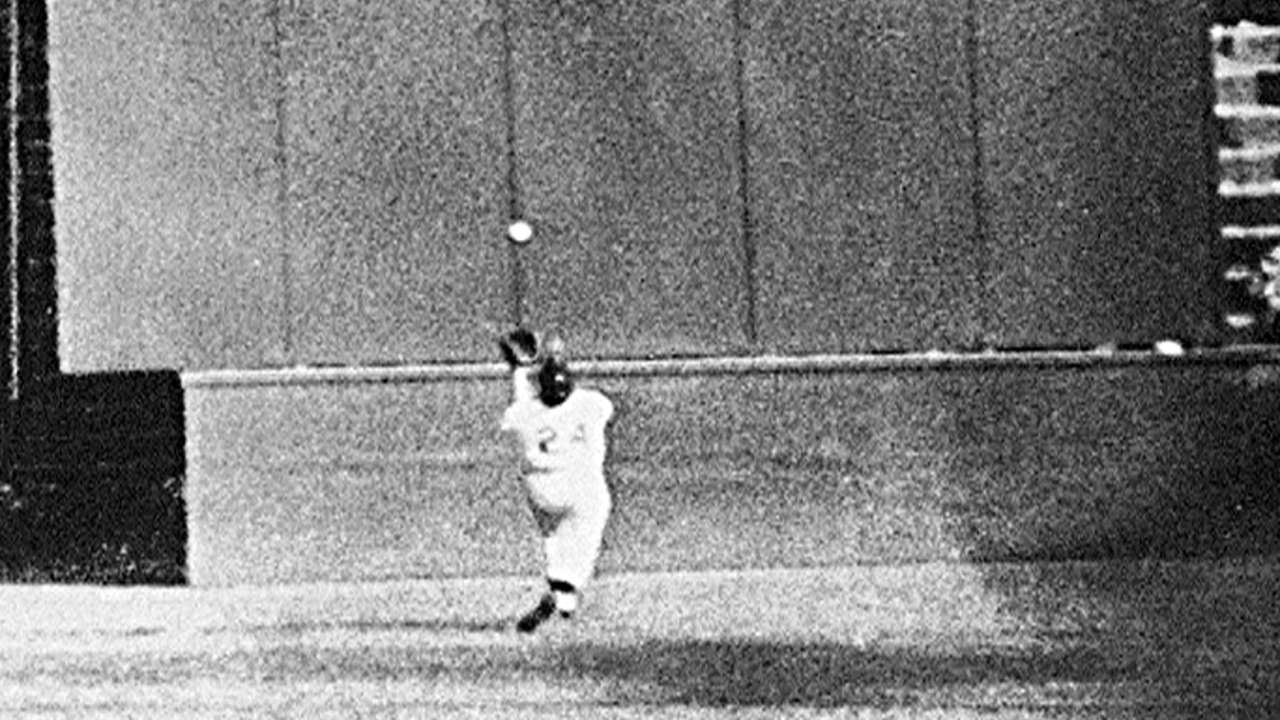 SAN FRANCISCO -- The 1954 World Series rings that fans received Saturday at AT&T Park were replicas.
The man who participated in a brief pregame ceremony to commemorate the Giants' triumph over the Cleveland Indians in that year's Fall Classic was the real thing.
Willie Mays, who led the then-New York Giants to the '54 Series while winning the National League Most Valuable Player Award, reminisced about that charmed season before the current Giants and Indians met in an Interleague rematch.
Dispensing with false modesty, Mays agreed with a reporter's suggestion that his famous catch of Vic Wertz's fly ball to deep center field in Game 1 gave the Giants momentum they did not relinquish during their four-game sweep of Cleveland. Mays made his memorable play with the score tied, 2-2, two Indians on base and nobody out in the top of the eighth inning.
"Yeah, that was the key right there, I thought," Mays said. "Because if I hadn't caught that, you got to get three runs some kind of way. Vic would have been on third some kind of way and the other two would have scored. So I think that was the key to the whole World Series."
Asked if he thought he had the ball all the way, Mays replied, "I don't know, man. It wasn't no lucky catch. I usually catch fly balls like that all the time. But you're talking about a World Series. You're talking about something that doesn't happen all the time., Even if you make a catch like that, which I did, in the regular season -- to catch it [when] the world is looking at you [is] remarkable, I think."
Mays aficionados insist that he made more difficult plays during his Hall of Fame career. But the 12-time Gold Glove Award winner considers such matters trivial.
"I never ranked catches. I think it's important to make sure that you try and catch everything that comes out there," he said. "This is my theory, now; I don't know how other people think. I just feel that if I start ranking them and all that kind of stuff, you guys ain't got nothing to write about."
Mays recalled 1954 as a "special" year for several reasons.
He excelled in his first full season after his 1952-53 Army stint, batting a league-high .345 with 41 homers and 110 RBIs. Mays proceeded to hit 51 homers in 1955, furthering the notion that he might have had a chance to surpass Babe Ruth, the home run record holder at the time with 714. Mays finished with 660.
"If I hadn't been in the service for two years, I would have gotten to the Babe without any problem," Mays said. "But you had to go serve your country."
Mays also credited shortstop Alvin Dark, who later managed the San Francisco Giants, with helping him defensively by flashing signs to indicate what delivery the pitcher was about to throw.
"That's how I learned to play the outfield at the Polo Grounds," Mays said.
Mays praised the Indians, who won 111 regular-season games. Second baseman Bobby Avila won the American League batting title with a .341 average. Larry Doby (32 homers, 126 RBIs) and future Giants general manager Al Rosen (24 homers, 102 RBIs) provided thump. And 23-game winners Early Wynn and Bob Lemon led a starting rotation that included future Hall of Famer Bob Feller as the fifth starter.
"That'll scare you right there," Mays said. "... We were just better [in] the four games we won."
Chris Haft is a reporter for MLB.com. Read his blog, Haft-Baked Ideas, and follow him on Twitter at @sfgiantsbeat. This story was not subject to the approval of Major League Baseball or its clubs.