Adrianza in position to land utility role with Giants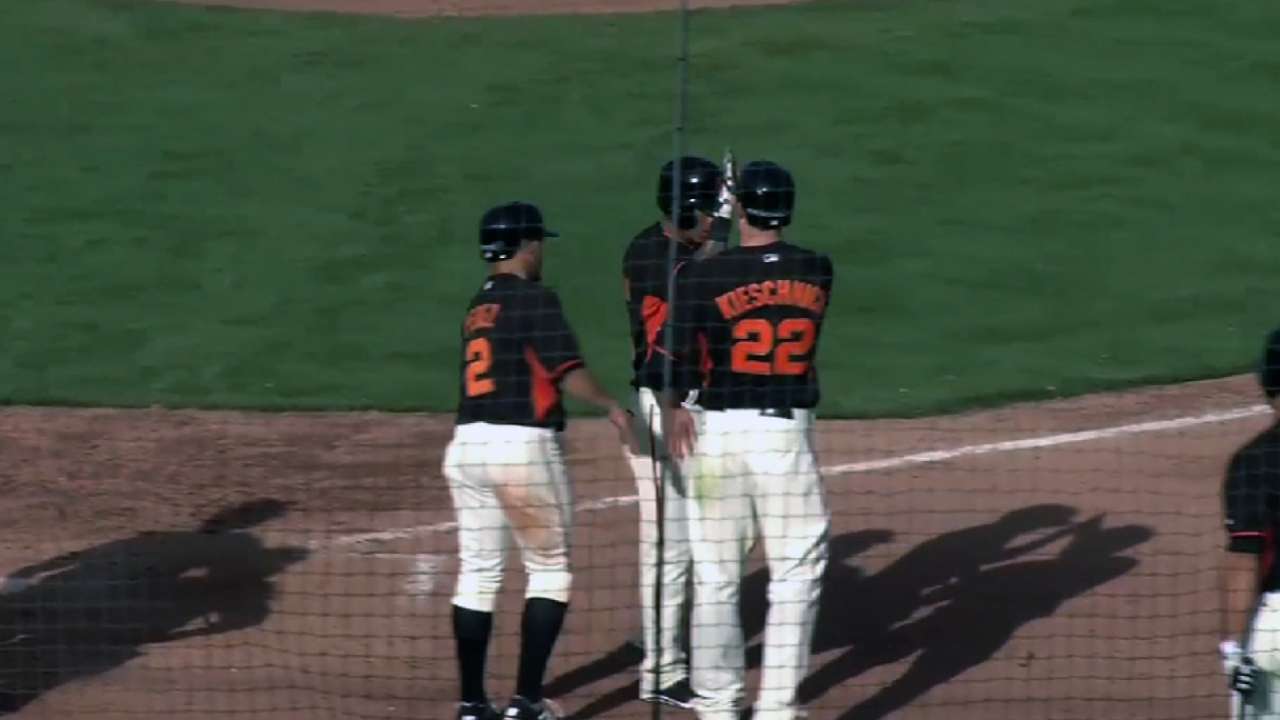 SCOTTSDALE, Ariz. -- Giants infielder Ehire Adrianza was back at shortstop on Saturday, a day after seeing his first action at second base in the Giants organization since 2006.
Adrianza has garnered praise this spring for his performance at the plate, where he has already notched a triple and a homer. In the field, there has never been any concern, and Adrianza projects as one of the organization's best defensive prospects.
With at least one utility infield spot available, Adrianza appears to be a leading candidate. That, of course, means he'll have to see more time at second base in order to truly become a utility man.
Adrianza has spoken with veteran Joaquin Arias about what the job entails, and he received some sage advice.
"When you see the lineup, and you're the second baseman, forget about anywhere else," Adrianza said. "You're a second baseman. That's it."
Although Adrianza hadn't played second base for the Giants since rookie ball, he estimates that he played there about 30 times over the past two Venezuelan Winter League seasons.
"The throw's shorter, and you have to know the bunt hitters who might bunt hard to first base -- you have to be able to get to first," Adrianza said. "But really, to me, there's no real difference."
Giants manager Bruce Bochy has taken note of Adrianza's successes in camp.
"He's made so much progress over the past two years," Bochy said. "He's getting stronger with the bat. ... He's probably playing as well as anybody right now."
Adrianza is out of options, which means the Giants will need to make a decision regarding whether he's a part of their future. In the past, the biggest concern has always been his offense.
This spring, Adrianza is hitting .250 with a .667 slugging percentage through six games entering Saturday.
"I feel pretty good, man," Adrianza said. "I'm seeing the ball well, and for me, being on time is a big key for me. Sometimes I get a little bit late, and that's when I get in trouble."
AJ Cassavell is a reporter for MLB.com. Follow him on Twitter @ajcassavell. This story was not subject to the approval of Major League Baseball or its clubs.