Cain fine with skipping final start of season
Cain fine with skipping final start of season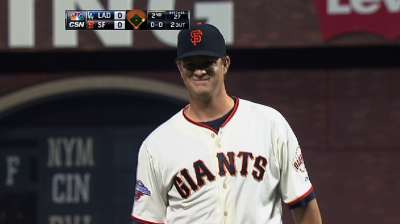 SAN FRANCISCO -- Matt Cain had no problem accepting the early beginning to his offseason.
Scheduled to start Sunday's series finale against San Diego, Cain was removed from that assignment and replaced by Guillermo Moscoso. Giants manager Bruce Bochy essentially reasoned that Cain already has filled his quota of hard work.
"If we wanted to pitch [Sunday], that would be fine," said Cain, who finished 8-10 with a 4.00 ERA in 30 starts. "It was nothing health-wise or anything like that. It felt like that was enough, and we'll go with that decision."
Cain had no concrete explanation for his erratic performance this year. The right-hander recorded a 5.06 ERA in 19 outings before the All-Star break, then fashioned a 2.36 ERA in 11 second-half starts. Cain theorized that he improved "maybe because I was thinking it really couldn't get much worse."
Except for Madison Bumgarner, San Francisco's starters struggled overall early in the season. Cain agreed with general manager Brian Sabean's assessment that the Giants' rotation must regain its elite status for the team to resume being competitive.
"We just didn't give these guys a chance to win some games we thought we could have," Cain said.
Chris Haft is a reporter for MLB.com. This story was not subject to the approval of Major League Baseball or its clubs.