Moscoso to start 2013 finale in place of Cain
Moscoso to start 2013 finale in place of Cain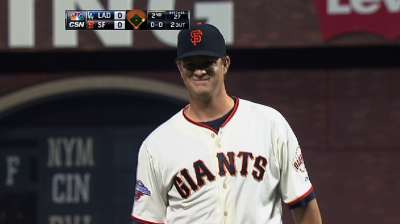 SAN FRANCISCO -- Matt Cain received an early start to his offseason, as Giants manager Bruce Bochy said Friday that the right-hander would be replaced by Guillermo Moscoso as the starter for Sunday's season finale against San Diego.
Bochy emphasized that nothing was physically wrong with Cain, who finished 8-10 with a 4.00 ERA in 30 starts.
"As much as he pitched the last few years, it's time to give him a break," Bochy said of Cain, San Francisco's Opening Day starter.
Cain is among three Giants pitchers since the franchise moved west in 1958 to have reached or exceeded the 200-inning level for six consecutive seasons. Hall of Famers Juan Marichal (10 years, 1962-71) and Gaylord Perry (six years, 1966-71) are the others. Cain totaled 184 1/3 innings this year.
Bochy also said left-hander Jeremy Affeldt, already sidelined for the season with a groin injury, had surgery Friday to treat a sports hernia. Bochy said Affeldt would require six to eight weeks of recovery.
Chris Haft is a reporter for MLB.com. This story was not subject to the approval of Major League Baseball or its clubs.