Bumgarner would have preferred to pitch again
Bumgarner would have preferred to pitch again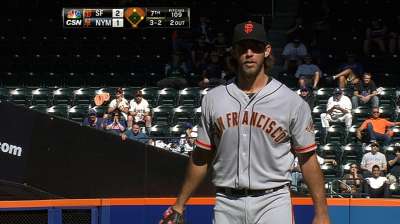 SAN FRANCISCO -- As an employee, Madison Bumgarner accepted the Giants' decision to end his season one start early.
As a competitor, he felt differently.
Asked Wednesday if he would have preferred to pitch once more, Bumgarner replied, "Definitely. Nobody in here's ever going to say, 'Well, I think I'm done this year.'"
But, he added, "That's the front office's job to do whatever they see fit. ... I didn't try to argue too much. They're the boss. I'm working for them. I'm just going to do what they say."
Bumgarner did what he said he would do before the season began. Intent on not giving in to hitters, Bumgarner finished with a 1.033 WHIP (walks and hits per inning pitched), improving in that category for the third year in a row.
Bumgarner also was vastly better at holding runners on base. According to baseball-reference.com, opponents stole eight bases in 15 tries against him, compared with 27 in 37 attempts last year.
The 24-year-old took pride not only in exceeding the 200-inning level for the third consecutive year but also in limiting opponents to three earned runs or fewer in 19 straight starts.
"That means you're keeping your team in the game. That's what we're out there for," he said.
Bumgarner barely missed becoming the franchise's sixth left-hander to amass 200 strikeouts, finishing with 199.
"It would have been nice, I guess," he said. "But I'm not here for personal success."
Chris Haft is a reporter for MLB.com. This story was not subject to the approval of Major League Baseball or its clubs.