Zito to make start in place of Bumgarner
Zito to make start in place of Bumgarner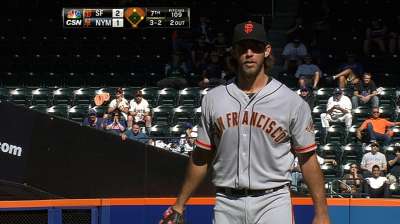 SAN FRANCISCO -- Many have pegged the homestretch of the 2013 season to be Barry Zito's last hurrah as a member of the Giants. After Tuesday's game, manager Bruce Bochy confirmed that Zito will start Wednesday's game in place of Madison Bumgarner against the Dodgers.
"I wanted to give him one more start this homestand," Giants manager Bruce Bochy said after Tuesday's 2-1 loss. "Looking at it, we decided tomorrow would be the best time to give him this start. It gives Madison a break and he's done a lot."
Bumgarner is 13-9 with a 2.77 ERA and 199 strikeouts over 201 1/3 innings this season. He logged 208 1/3 innings in the regular season last year, then pitched an additional 15 innings in the postseason. In 2011, Bumgarner worked 204 1/3 innings.
"We talked about it quite a while and talked about it with Madison," Bochy said. "We just feel that this time it's been enough. He's done great this year and it gives us a chance to give him a break. If we were in a different situation, he'd be out there."
Zito's six-year run has been closely scrutinized since he signed a seven-year, $126 million deal as a free agent before the 2007 season. Since joining the Giants, Zito has posted a 62-80 record and a 4.63 ERA, failing to consistently maintain the form that made him one of baseball's best young southpaws to start his career in Oakland.
With a $7 million buyout or an $18 million club option for 2014, Zito is not expected back in San Francisco next season.
Bochy also addressed the status of Tuesday starter Matt Cain, who could be in line to start the season finale against San Diego on Sunday.
"We haven't made that determination yet," Bochy said. "If he's healthy, he could have that start."
Alex Espinoza is a contributor to MLB.com. This story was not subject to the approval of Major League Baseball or its clubs.