Banged-up Scutaro to sit out remainder of season
Banged-up Scutaro to sit out remainder of season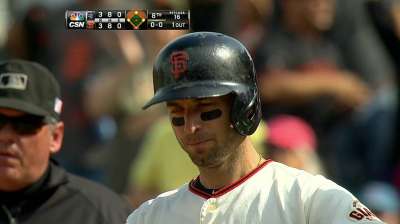 SAN FRANCISCO -- Hours before the Giants opened up their final 2013 homestand with a Tuesday nightcap against the Dodgers, manager Bruce Bochy announced that Marco Scutaro will miss the rest of the season as he recovers from finger and back issues.
"I don't think you'll see Marco out there again," Bochy said. "We're probably going to hold him out the rest of the year and start getting him ready for Spring Training."
Bochy said Scutaro had his left hand looked at by a specialist Tuesday and will have a splint placed on his pinkie finger soon. Scutaro initially injured his fingers after being hit by a pitch on June 11 and has been dealing with the pain since, while he's also been battling intermittent back issues.
The veteran infielder turns 38 on Oct. 30, and hasn't played since Sept. 15. Scutaro will finish the 2013 season with a .297/.357/.369 slash line, two home runs, 31 RBIs and 57 runs scored in 127 games played.
The Giants signed Scutaro to a three-year deal this past offseason which keeps him under contract through 2015. Bochy said he's optimistic Scutaro will be able to return to the form which made him a crucial contributor to the team's 2012 World Series run.
"I'm confident," Bochy said. "There's some adjustments to make and he knows it, the things he needs to do. But the fact that he played as much as he did in the pain that he was in sometimes, it says who he is. I really expect to see Marco back in the condition that he's normally in -- that's in great shape and ready to go."
Alex Espinoza is a contributor to MLB.com. This story was not subject to the approval of Major League Baseball or its clubs.