Hembree, Dunning could land bullpen roles next year
Hembree, Dunning could land bullpen roles next year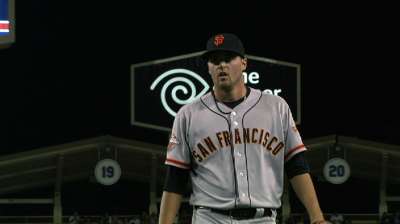 NEW YORK -- Although it's a little early to project the Giants' 2014 Opening Day roster, manager Bruce Bochy named rookie right-handers Heath Hembree and Jake Dunning as serious competitors for bullpen roles.
"They'll be in the mix going into Spring Training," Bochy said Saturday.
Entering Saturday, Hembree had pitched five scoreless innings spanning five appearances, striking out seven and yielding just one hit. The organization's No. 6 prospect has impressed Bochy with his improved secondary pitches to complement a lively fastball.
Dunning has received more exposure, compiling an 0-2 record with a 2.82 ERA over 25 appearances in two stints with the Giants.
Bochy acknowledged that after Friday night's 5-1 loss to the Yankees that was decided by Alex Rodriguez's tiebreaking seventh-inning grand slam, he and Giants staffers discussed the merits of using Hembree in that situation instead of George Kontos.
"You'd like to get the young guys in less stressful situations," said Bochy, who also indicated that Hembree and Dunning might be ready to perform under more challenging circumstances. "One of the keys [to development] is experiencing those types of situations."
Chris Haft is a reporter for MLB.com. This story was not subject to the approval of Major League Baseball or its clubs.