Scutaro sits after MRI reveals inflammation in finger
Scutaro sits after MRI reveals inflammation in finger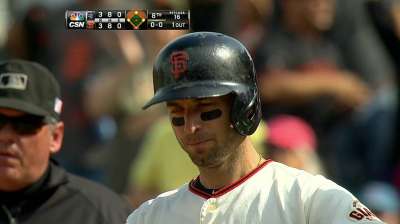 NEW YORK -- Giants second baseman Marco Scutaro will likely continue to rest his injured left ring finger until at least Friday, when manager Bruce Bochy said his condition will be re-evaluated.
Scutaro hasn't played since he left Sunday's game at Los Angeles with lower back tightness. Though Scutaro's back continues to bother him, Bochy said "the finger is the issue right now."
An MRI exam Tuesday revealed inflamation in the finger, Bochy said. Scutaro also injured his left pinkie when it was hit by a pitch from Pittsburgh's Tony Watson on June 11.
In another injury-related matter, Bochy said right-hander Sandy Rosario, who injured his right hip trying to pitch in Tuesday's ninth inning, will be sidelined for at least a couple of days.
"Hopefully we'll get him on the mound before the season's over," Bochy said.
Chris Haft is a reporter for MLB.com. This story was not subject to the approval of Major League Baseball or its clubs.