Giants pull Scutaro with stiff back
Giants pull Scutaro with stiff back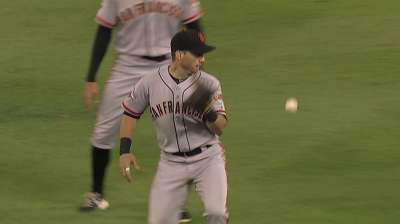 LOS ANGELES -- Giants second baseman Marco Scutaro left Sunday's series finale against the Los Angeles Dodgers with tightness in his lower back.
Scutaro departed after ending the Giants' half of the third inning by taking a called third strike from Dodgers starter Edinson Volquez. Scutaro went 0-for-2, combined with a first-inning groundout.
Scutaro, who has been bothered intermittently by back discomfort this season, has appeared in 127 of the Giants' 150 games.
Nick Noonan replaced Scutaro in San Francisco's lineup.
Chris Haft is a reporter for MLB.com. This story was not subject to the approval of Major League Baseball or its clubs.