Decision on Gaudin's possible return imminent
Decision on Gaudin's possible return imminent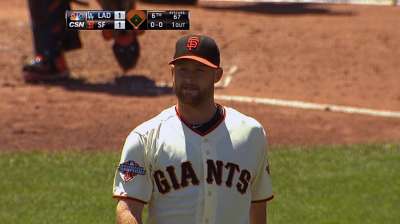 LOS ANGELES -- With the season about to end and pitching opportunities dwindling, the Giants likely will decide Saturday whether to activate right-hander Chad Gaudin from the 15-day disabled list.
"We think the best thing to do is to wait until tomorrow and see how he feels then," Bochy said Friday after Gaudin threw 25 to 30 pitches in a simulated game at Dodger Stadium.
Both parties are interested in seeing Gaudin, who's trying to overcome carpal tunnel syndrome, pitch again. Gaudin's eligible for free agency after the season and would appreciate another chance or two to prove his worth. The Giants, who will seek pitching depth this offseason, would feel more comfortable about pursuing Gaudin if he can perform ailment-free.
Gaudin, 30, has not pitched since Aug. 16 at Miami.
Chris Haft is a reporter for MLB.com. This story was not subject to the approval of Major League Baseball or its clubs.