Return could be imminent for Gaudin, Affeldt
Return could be imminent for Gaudin, Affeldt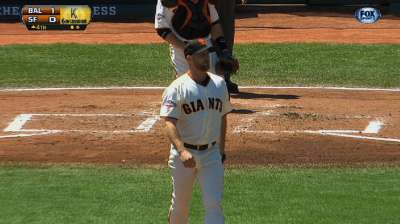 SAN FRANCISCO -- The Giants likely will decide Tuesday whether to reinstate left-hander Jeremy Affeldt and right-hander Chad Gaudin from the disabled list and add them to an already bulging pitching staff.
Affeldt and Gaudin threw the equivalent of two innings apiece in a simulated game Monday. The veterans sharpened their skills against rookies Ehire Adrianza, Roger Kieschnick, Nick Noonan, Francisco Peguero and Juan Perez.
"Chad was ahead of where I thought he may be, and Jeremy was right there," manager Bruce Bochy said.
Whether Affeldt (groin) or Gaudin (carpal tunnel syndrome) are activated will depend on their physical state Tuesday.
If they're reinstated, finding them opportunities to pitch could be challenging. The Giants currently have a 12-man bullpen and five starters, with Barry Zito, Guillermo Moscoso and Gaudin, if he's healthy, capable of making spot starts.
Gaudin, who was firmly established in the rotation when he was sidelined, therefore might have to spend the rest of the season as a reliever. Bochy sounded as if he were leaning toward keeping the current rotation intact, but he held the door open slightly for the likes of Gaudin, Moscoso and Zito.
"They all want to pitch," Bochy said. "There's no backing off with these guys, which is what you want to see."
Chris Haft is a reporter for MLB.com. This story was not subject to the approval of Major League Baseball or its clubs.