Posey back in action, plays first base
Posey back in action, plays first base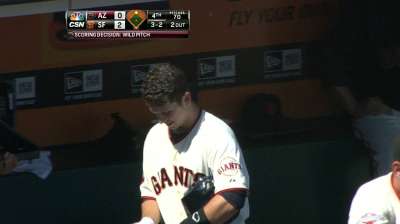 SAN FRANCISCO -- Buster Posey rejoined the Giants' lineup Sunday after a four-game absence with a mild fracture on the tip of his right ring finger.
Injured Tuesday at San Diego when a ball struck his hand while he was catching, Posey played first base in the series finale against the Arizona Diamondbacks and went 2-for-5 with a double and a run in the Giants' 3-2 victory in 11 innings.
"He really surprised me yesterday when he took batting practice on the field," Giants manager Bruce Bochy said of Posey, who boasts a team-high .310 batting average.
Despite his proficiency at the plate, Posey said he felt more discomfort when he gripped a bat than when he threw.
"We'll have to see tomorrow. I can't give you a definitive answer," Posey said after the game regarding when he might resume catching.
The Giants would find it convenient if Posey can catch in Monday's series opener against Colorado at AT&T Park. Right-hander Jhoulys Chacin is the Rockies' scheduled starting pitcher, which usually would prompt Bochy to start left-handed-batting Brandon Belt at first base.
Since a 13-run, 17-hit outburst last Wednesday at San Diego in the first game Posey missed, the Giants scored six runs and batted .250 (23-for-92) in three games without him in the lineup.
Chris Haft is a reporter for MLB.com. This story was not subject to the approval of Major League Baseball or its clubs.