A day after, Petit reflects on near-perfect game
A day after, Petit reflects on near-perfect game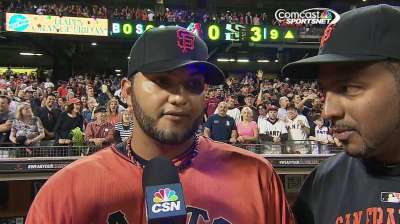 SAN FRANCISCO -- Of all the people who telephoned or sent text messages to congratulate Yusmeiro Petit on his spectacular near-perfect game Friday, one well-wisher meant the most to the Giants right-hander: His father, Alberto, who called Saturday from Venezuela.
"He told me he started crying after the sixth inning," Petit said.
Some pitchers might have wept had they endured the conclusion Petit did. He still couldn't believe that pinch-hitter Eric Chavez refrained from swinging at a 2-2 curveball that spun close to the strike zone. Chavez swung at Petit's next pitch and ended the night of perfection by singling with two outs in the ninth inning.
"I threw that curveball all game, and everybody swung at it," Petit said. "I'm surprised. I don't know how he didn't swing. He took it like he knew the curveball was coming."
Too excited to fall asleep immediately, Petit said that he watched a replay of the game until he dozed off around 3 a.m. PT. He'll need to catch up on his rest to continue his bid for a spot in next year's starting rotation. Petit has commanded attention by recording a 3-0 mark with a 1.71 ERA in three outings since the Giants summoned him in late August.
"He is a guy who should be considered in the rotation and will help out on the staff anywhere," manager Bruce Bochy said. "He's doing what he needs to do, and that's make a lot of noise with his starts."
Chris Haft is a reporter for MLB.com. This story was not subject to the approval of Major League Baseball or its clubs.