Monell takes inspiration from Kaepernick
Monell takes inspiration from Kaepernick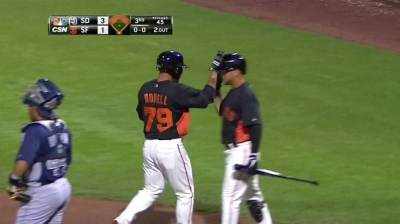 SAN FRANCISCO -- Johnny Monell doesn't wear a San Francisco 49ers jersey emblazoned with No. 7, but he's as big a believer in Colin Kaepernick as anybody.
Part of the Giants' contingent of September callups, Monell intensified his approach to baseball after hearing a remark made by Kaepernick, the 49ers' richly talented quarterback, during an interview before Super Bowl XLVII.
"He said, 'Pressure is a lack of preparation,'" the rookie catcher recalled Thursday. "It just kind of sank home with me, as far as being able to prepare yourself for every obstacle that you face on a given day. That's why we take batting practice and do all those drills, to play baseball at the highest level."
Monell's first few days with the Giants have confirmed Kaepernick's bromide. He has seen how diligently and steadily Major Leaguers perform pregame routines, which leads to positive results once the first pitch is thrown.
"It seems like the game is so clean," said Monell, 27. "It just all comes together."
Monell embraced the need to prepare this year with Triple-A Fresno as he established personal bests in batting average (.275), home runs (20) and doubles (27, equaling his 2012 total with Double-A Richmond).
"I set some goals, as far as making sure my focus is there," Monell said. "Nobody's perfect, but [I tried] to perfect my craft, showcase my skills on a given night and help the team win. When you play to win, I feel like all your talents come out."
Chris Haft is a reporter for MLB.com. This story was not subject to the approval of Major League Baseball or its clubs.