Posey could miss finale after ball hits finger
Posey could miss finale after ball hits finger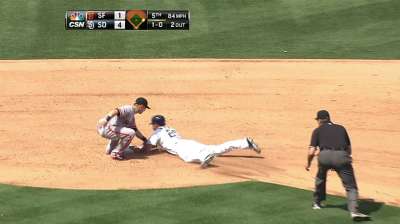 SAN DIEGO -- Giants catcher Buster Posey was removed from Tuesday night's game in San Diego after being hit in the hand while trying to block a curveball in the dirt in the sixth inning.
After the Giants' 3-2 loss to the Padres, Posey, who sported a wrap on his right ring finger, was unsure if he'd be ready to play in Wednesday afternoon's series finale.
"We'll have to see," Posey said. "I think there's a possibility."
The ball in the dirt took a funny hop and hit Posey in the tip of his finger, nearly ripping the nail off. Posey remained in the game initially, but backup catcher Hector Sanchez pinch-hit for him in the seventh.
Posey was 2-for-3 on the night when he was removed.
AJ Cassavell is a reporter for MLB.com. Follow him on Twitter @ajcassavell. This story was not subject to the approval of Major League Baseball or its clubs.