Giants will find spots for callups to see action
Giants will find spots for callups to see action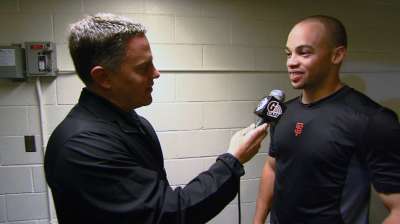 SAN DIEGO -- The Giants clubhouse was noticeably more crowded Tuesday in San Diego, with eight September callups having joined the ballclub.
But manager Bruce Bochy said he isn't planning on changing much in terms of his game preparations, despite the expanded roster.
"I'll find my spots to get [the callups] in the game," Bochy said. "Some of them will start, but at the same time, we're going to be playing to win every game. Our regulars are going to be out there."
Juan Perez started in left field Tuesday night -- a day after he started in center for Triple-A Fresno. Bochy plans to platoon Perez with Francisco Peguero and Roger Kieschnick based on matchups this month.
In the infield, Bochy noted that he'd like to see what Ehire Adrianza is capable of, so Adrianza will likely get a start at some point. Bochy also has Nick Noonan as a potential double-switch candidate.
Don't expect to see catcher Johnny Monell too frequently. His presence is mostly to provide security for Bochy should he choose to pinch-hit with backup catcher Hector Sanchez.
"I'm just going to take advantage of whatever opportunity I can get," said Monell, whose first game will mark his Major League debut. "Whether I'm coming off the bench to pinch-hit, whether I'm starting the game, I'm just happy to be here and be able to showcase my talent."
AJ Cassavell is a reporter for MLB.com. Follow him on Twitter @ajcassavell. This story was not subject to the approval of Major League Baseball or its clubs.