Hembree enjoys scoreless inning in debut
Hembree enjoys scoreless inning in debut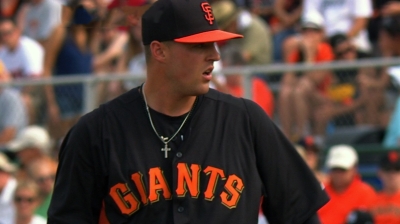 SAN DIEGO -- Heath Hembree arrived in San Diego on Tuesday, trying to convey a sense of normalcy to himself in order to remain focused on the task at hand.
Of course, that's easier said than done when the task at hand is a Major League debut.
Hembree, the Giants' No. 6 prospect who was called up before Tuesday's 3-2 loss to the Padres, tossed a 1-2-3 eighth inning. His fastball/slider mix looked very sharp and he needed just 11 pitches -- seven strikes -- to retire the side.
"It's something that I've dreamed of," Hembree, a hard-throwing 24-year-old right-hander, said. "Everybody was excited. I can't really put it into words."
Hembree's parents and sister booked a cross-country flight from South Carolina to San Diego the moment they heard the news. Hembree made their trip worthwhile, getting the first batter he faced to fly out to center before striking out the next two.
Manager Bruce Bochy came away impressed.
"Nice job," he said. "He threw strikes, used his slider, had good command. It was a good debut for him."
Hembree's high-velocity fastball has been well-documented. But the key to his recent success at Triple-A Fresno has been increased confidence in his secondary pitches -- specifically his slider.
"I can throw them in different situations, different counts," Hembree said. "I've gained a lot of confidence in my secondary pitches."
Hembree said the pitches haven't changed much since Spring Training -- only the frequency with which he uses them.
He made 54 appearances this season for Fresno, and he recorded 31 saves, while posting a 4.07 ERA. Though Hembree was used almost exclusively as a closer with Fresno and projects as a late-inning guy at the big league level, manager Bruce Bochy doesn't plan on pitching him in too many high-leverage situations early on.
Hembree was given No. 38, the same number worn by three-time All-Star closer Brian Wilson, who notched the final out of the 2010 World Series for the Giants. No pressure, kid.
But Hembree didn't pay any mind to the connection between him and another hard-throwing reliever with a fastball/slider mix, who wore the same jersey number.
"I'm just happy to get a jersey," Hembree said.
AJ Cassavell is a reporter for MLB.com. Follow him on Twitter @ajcassavell. This story was not subject to the approval of Major League Baseball or its clubs.