Top prospect Crick leads Giants' AFL group
Top prospect Crick leads Giants' AFL group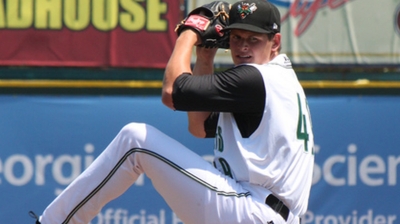 SAN FRANCISCO -- Right-hander Kyle Crick, rated as the Giants' top prospect by MLB.com, headed the list of five players named Tuesday to play in the Arizona Fall League for the Scottsdale Scorpions.
Crick, 20, posted a 2-1 record with a 1.75 ERA in his first 13 starts for Class A San Jose. An oblique injury interrupted Crick's season in late April, but he has improved since returning on June 21. He walked nine batters in 9 2/3 innings before the injury and 30 batters in 52 innings since. Opponents have hit .213 off Crick overall, including just .201 in 10 starts since his return.
The 6-foot-4 Crick has drawn inevitable comparisons to Matt Cain and Madison Bumgarner, pillars of the Giants' starting rotation who also possess large physical frames and were drafted out of high school.
Catcher Andrew Susac, San Francisco's No. 2 selection in the 2011 First-Year Player Draft, will join Crick on the Scorpions' roster. In 84 games with Double-A Richmond, Susac, the Giants' 15th-ranked prospect on the MLB.com list, hit 12 homers with 46 RBIs and an .820 OPS.
Another Top 20 prospect headed for Scottsdale is left-hander Adalberto Mejia, rated No. 19, who posted a 6-4 record with a 3.38 ERA in his first 15 starts for San Jose.
Outfielder Jarrett Parker (.243, 17 homers, 55 RBIs at Richmond) and right-hander Cody Hall (4-1, 1.55 ERA, 10 saves in 44 games for San Jose and Richmond) complement San Francisco's AFL contingent, which will be completed by a pitcher to be named.
The Scorpions are stocked with players from the Braves, Mets, Pirates and Yankees organizations, besides the Giants.
-- Chris Haft
Jack Etkin is a contributor to and Chris Haft is a reporter for MLB.com. This story was not subject to the approval of Major League Baseball or its clubs.