Abreu, Affeldt continue injury recovery
Abreu, Affeldt continue injury recovery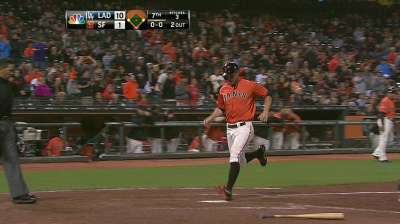 DENVER -- Infielder Tony Abreu (left knee burstitis) rejoined Triple-A Fresno and was scheduled to play five innings Monday. Abreu has been on the 15-day disabled list retroactive to July 29.
Left-handed reliever Jeremy Affeldt (left groin strain) threw his second bullpen session Monday at the Giants' facility in Scottsdale, Ariz. Manager Bruce Bochy said Affeldt, who last pitched for the Giants on July 20, would throw a simulated game next Monday at San Diego before the Giants open a three-game series with the Padres and be activated if that goes well.
Outfielder Andres Torres (left heel strain) traveled Monday to Charlotte, N.C., to see Dr. Robert Anderson, the Carolina Panthers' orthopedist and a foot specialist Tuesday.
Jack Etkin is a contributor to MLB.com. This story was not subject to the approval of Major League Baseball or its clubs.