DL stint is Cain's first in nine MLB seasons
DL stint is Cain's first in nine MLB seasons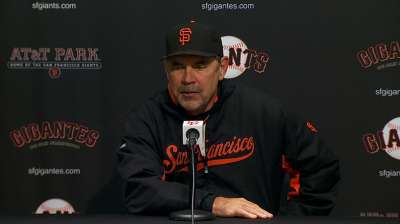 SAN FRANCISCO -- Matt Cain listed a litany of colors that appeared on his right forearm after getting hit by a line drive by the Pirates' Gaby Sanchez on Thursday night.
"Blue ... purple ... pink ... taupe ... lavender ... teal," he said, trying to come up with 50 shades of black and blue.
In other words, the color didn't matter nearly as much as the time he's going to miss.
Cain is making his first appearance on the disabled list in his nine years and 261 starts in the Major Leagues.
"I take pride in going out and taking the ball every fifth day," Cain said. "Not being able to do that will be a different situation."
Right-hander Yusmeiro Petit was recalled from Triple-A Fresno to take Cain's place on the roster. Giants manager Bruce Bochy said Petit probably will start Tuesday in Colorado.
"He gives us another arm and will be in the bullpen today and Saturday, if he's needed," Bochy said.
Cain will miss his first start due to injury since first donning a Giants uniform in 2005.
"As long as he's been pitching, he won't know what to do," Bochy said. "Never being on the DL before, to me, is incredible. It shows how durable he is and his toughness."
Cain was philosophical about the whole thing, saying it was a good decision to allow the arm to heal properly.
"I probably would have been pushing it to make my next start," Cain said. "If I had to wait the next couple of days, it would have been unfair to the team."
Bochy said that if the Giants were in a pennant race, he might have waited longer to see if Cain could return sooner.
"Why take a chance now?" Bochy said.
"I'll just make a new streak," Cain said.
Petit has pitched in parts of six seasons in the Major Leagues and made a start for the Giants last July. He appeared in one game earlier this year, allowing two runs over 5 1/3 innings on July 23 against the Reds.
Petit broke in with the Marlins and also has pitched for the D-backs. He owns a 10-20 overall record.
Rick Eymer is a contributor to MLB.com. This story was not subject to the approval of Major League Baseball or its clubs.