Cain could miss start after liner bruises arm
Cain could miss start after liner bruises arm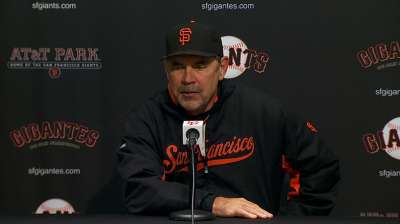 SAN FRANCISCO -- Even Matt Cain's durability is being threatened in this flawed Giants season.
Cain was diagnosed with a contusion on the middle of his right forearm after being struck by a line drive hit by Pittsburgh's Gaby Sanchez in Thursday night's fourth inning. Giants manager Bruce Bochy indicated that Cain's status for his next scheduled start, Tuesday at Colorado, is doubtful.
"We're not going to take any chances," Bochy said after the Giants' 10-5 loss to the Pirates. "He'd have to make a tremendous recovery."
Cain maintained a cautious approach.
"We'll have to see how it goes in the next couple of days," he said. "... You have to figure out what your body's going to let you do and go from there."
X-rays of Cain's arm were negative.
"We are fortunate, and he is fortunate," Bochy said. "That ball was smoked. But he's tough."
Cain has remained remarkably steady since ascending to the Giants in August 2005. Except for a one-game demotion to the bullpen in 2006, he has made every assigned start, totaling between 31 and 34 in each of his seven full Major League seasons.
Cain's one of only three Giants pitchers to amass at least 200 innings in six consecutive seasons (2007-12) since the franchise moved to San Francisco in 1958. Hall of Famers Juan Marichal (10 seasons, 1962-71) and Gaylord Perry (six, 1966-71) are the others. He has accumulated 156 1/3 innings this year.
"It's pretty amazing, really, all the innings he has thrown," Bochy said of Cain, a three-time All-Star and this year's Opening Day starter for the reigning World Series champions.
Cain endured three rough innings against Pittsburgh, yielding three runs and seven hits, before taking the mound for the fourth. Sanchez led off the inning by lashing a 1-1 pitch up the middle. The ball was hit so hard that Cain couldn't dodge it as it caromed off his forearm to second baseman Marco Scutaro, who scooped the ball from his glove to first base for the out.
Cain, who remained on his feet, propped his hands on his knees as he watched the play unfold. Once the out was recorded, Bochy and head athletic trainer Dave Groeschner rushed to the mound to examine Cain, who didn't consider staying in the game. Only a few moments passed before he strode from the field and was relieved by right-hander Guillermo Moscoso.
"It caught me pretty good," Cain said. "It didn't feel very good right off the bat."
Cain nearly missed a start for physical reasons in 2009, when a line drive hit by San Diego pitcher Tim Stauffer struck him in his right elbow on July 11. But the All-Star break allowed Cain to gain extra rest and enabled the Giants to push back his turn in the rotation until July 19, providing sufficient time for the bruise to subside.
Cain had flashbacks to the Stauffer incident after he absorbed the impact of Sanchez's liner.
"Knowing how I felt before when I got it in 2009, I kind of had the same feeling that it wasn't very good."
Chris Haft is a reporter for MLB.com. This story was not subject to the approval of Major League Baseball or its clubs.