Troublesome Achilles puts Torres on DL
Troublesome Achilles puts Torres on DL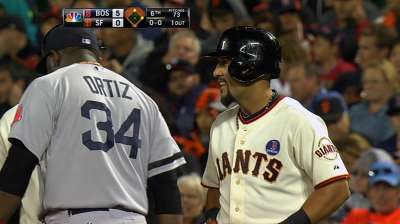 SAN FRANCISCO -- No longer able to endure his mostly private agony, Giants outfielder Andres Torres went on the 15-day disabled list Thursday with a left Achilles tendon strain.
Torres acknowledged that the condition of his foot has been "up and down" this season. His pain became too excruciating after Wednesday's game against Boston, prompting him to seek medical help. The popular switch-hitter said that he likely will visit Dr. Robert Anderson, a foot specialist in Charlotte, N.C., for advice on how to treat his injury. Giants manager Bruce Bochy said surgery is a possibility though not a certainty.
Bochy said he became aware of the extent of Torres' ailment three or four days ago. But Bochy wasn't upset about the 35-year-old's reluctance to be entirely open with the medical and athletic training staffs. Torres said his ailment has "been bothering me for a long time" but didn't specify the duration.
"These players have their aches and pains and don't always talk about them," Bochy said. "If they can play, they'll go out there and play. This isn't a case where we thought he was hiding anything. You always appreciate a player who wants to be out there and play. I can talk to almost every one of them out there, and there's probably something going on, especially here in August. Including my [coaching] staff. It goes with the territory."
Torres initially injured his Achilles tendon early in the 2011 season and went on the disabled list. He has a bone spur in the afflicted area, which has worsened the pain and affected his performance.
"I've always said that age doesn't matter," said Torres, 35. "But you want to play at 100 percent. You don't want to play at 80 percent. That's why my defense hasn't been the best."
Torres acknowledged that his sore foot has robbed him of his power by denying him the physical foundation every hitter needs. He hit .250 in 103 games, including 64 starts, with two homers and 21 RBIs. Torres batted .206 left-handed and .291 right-handed, but both of his homers occurred swinging left-handed. He stole only four bases in seven attempts this year after stealing 58 bases in the previous three seasons.
"I respect this organization," said Torres, whom San Francisco traded to the Mets during the 2011 Winter Meetings before signing him to a one-year, $2 million deal last offseason. "Playing like this is not going to be good for me or the organization."
Chris Haft is a reporter for MLB.com. This story was not subject to the approval of Major League Baseball or its clubs.