Pagan set to move rehab up to Triple-A
Pagan set to move rehab up to Triple-A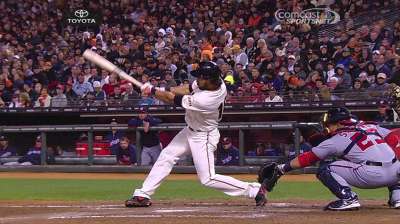 MIAMI -- San Francisco manager Bruce Bochy expects outfielder Angel Pagan to return to the Majors on Sept. 1. After success in the first two games of a rehab stint with the Arizona League Giants, Pagan could join Triple-A Fresno "in a few days."
"He felt good," Bochy said. "No issues there, so [he will] continue his schedule."
Pagan finished 0-for-2 with a walk and a run scored in the second game of his rehab assignment Saturday. He was limited to five innings after playing only three and finishing 0-for-1 with a walk Friday.
Pagan underwent surgery to repair a tendon on the inside edge of his left knee June 25. He has not played in the Majors since May 25 and aggravated his injury while running to first in a rehab game with Class A San Jose on June 20.
The switch-hitter was batting .262 with three home runs, 24 RBIs and 30 runs scored when he went down. He is in the first year of a four-year, $40 million contract.
Joe Morgan is an associate reporter for MLB.com. This story was not subject to the approval of Major League Baseball or its clubs.