As expected, Posey sits in finale vs. Marlins
As expected, Posey sits in finale vs. Marlins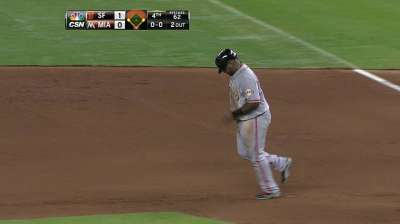 MIAMI -- Giants manager Bruce Bochy decided to give catcher Buster Posey his second game off in three days Sunday afternoon. He previously discussed the possibility prior to Friday's game against the Marlins.
Bochy wanted to sit Posey before the Giants return to San Francisco to face the Red Sox in a three-game series beginning Monday. The skipper hopes to keep the All-Star catcher fresh during the club's current stretch of 16 games in 16 straight days.
"We're in August, and it's a good time to give him a little bigger break," Bochy said.
Posey, who entered Sunday batting .319 (37-for-116) against left-handers, will be a key bat against Boston southpaws Jon Lester on Monday and Felix Doubront on Wednesday.
Giants not named Posey entered Sunday batting .247 (276-for-1,118) against lefties, a clip that ranks below the MLB average of .250.
"I want Buster out there," Bochy said of Monday's game. "We are facing a left-hander."
Backup catcher Hector Sanchez made Bochy's decision to spell Posey easier. Sanchez has shown some pop with his bat in recent days, hitting home runs in each of his past two games.
Sanchez hit a game-winning three-run shot in a pinch-hit appearance with two outs in the ninth against the Nationals on Thursday. One day later, he hit another three-run home run in the Giants' 14-10 win against the Marlins.
His recent power display has encouraged Bochy. Sanchez entered Thursday's game batting .213 (10-for-47) with only three RBIs and two runs scored.
"Hector's playing well," Bochy said. "He's swinging the bat well. ... Two three-run homers, that helps get you back in the lineup a little quicker."
Joe Morgan is an associate reporter for MLB.com. This story was not subject to the approval of Major League Baseball or its clubs.