Tight back keeps Scutaro out of lineup
Tight back keeps Scutaro out of lineup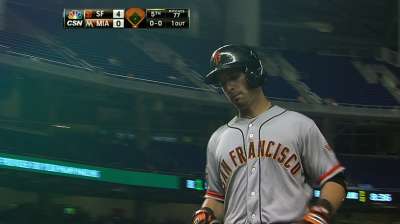 MIAMI -- Marco Scutaro was out of the starting lineup Sunday after leaving Saturday's game with a tight lower back. He popped out as a pinch-hitter in the sixth inning of the Giants' 6-5 loss to the Marlins.
Scutaro is uncertain whether he will be available to start Monday night's game against the Red Sox. The second baseman will see how his back feels once the Giants return to San Francisco.
"It's fine," Scutaro said of his back. "I have to wait for the six-hour flight. It might be there."
Gregor Blanco batted leadoff Sunday in place of Scutaro, who is hitting .250 (11-for-44) with six runs scored since moving to the top spot in the order Aug. 5.
Joaquin Arias manned second base and batted eighth Sunday.
Scutaro is batting .303 with two home runs, 23 RBIs, 20 doubles and 49 runs scored in 106 games.
Joe Morgan is an associate reporter for MLB.com. This story was not subject to the approval of Major League Baseball or its clubs.